Performance
Director of Learning - Mr T Webster Email
The Performance Team is a highly successful and vibrant team, consisting of three departments; Dance, Drama and Music.
All students follow a curriculum in these specialist subjects during Key Stage 3. At Key Stage 4, students can choose to take GCSEs in Dance, Drama, or Music. At A Level, options include Dance, Music, and Drama and Theatre Studies.
Overall the team achieves excellent examination results.

We have a thriving and well attended extra-curricular programme, with clubs in Dance, Drama and Music taking place at all Key Stages, providing all students with the opportunity to further their interests, skills and to enjoy the arts. Students also have the opportunity to attend residential courses, specialist arts projects and trips.
We run many theatre trips to venues around the North West and have touring theatre and dance companies and music bands in School to support various curriculum areas. We have run successful trips to New York and London.
Our students are also successful in auditioning for The National Youth Theatre and Musical Theatre, Cheshire's Homegrown Youth Dance Company, Cheshire Dance Youth Company and various orchestras including the Halle and Stockport as well as bands across the region, such as Poynton Youth Brass Band. Some of our students are in the prestigious National Children's Choir and the Halle Youth Choir.
Each department showcases work throughout the year locally, in Cheshire, and much wider afield.
Our facilities have improved considerably in the past few years as a result of Performing Arts status and we now have a professional, large well-equipped Dance studio and a number of other purpose-built spaces; a Drama studio, Performing Arts studio, two recording studios and several practice rooms. The school Hall is fitted with retractable tiered seating and has lighting and curtains to transform it into a theatre for public performances.
We are committed to raising standards in our subject areas which are already outstanding and contribute considerably to the social, cultural, moral and spiritual ethos of the school. We are also actively involved in the wider community, both in terms of projects in partnership with local arts groups, organisations, theatres, schools, and Universities and by supporting and providing access to our facilities, resources and expertise.
The Performance Team consists not only of highly qualified specialist teachers but also has a resident technician.
Dance Co-ordinator- Mrs C Hardicre Email
The Dance Department is staffed by an enthusiastic, specialist teacher who is passionate about her subject.
At Key Stage 3, we teach a variety of topics and styles ranging from an introduction to dance terminology to stylistic features of Lindy Hop, Rock 'n' Roll, Street and Contemporary. We actively engage all our learners through different learning styles and enthusiastic teaching. All lessons at Key Stage 3 are taught practically and these are enhanced by the use of ICT through video clips and exciting music, making the subject accessible to all.
At Key Stage 4, we follow the AQA syllabus. Over the two years, students will develop performance, technical, and choreographic skills. They will use these skills to create pieces of Dance which to be assessed on. Students will also learn how to analyse professional work in preparation for a written examination.
At A Level we follow the AQA syllabus which comprises of two practical units and two written units. Within the practical, students will be assessed on their technical, performance and choreographic ability. Within the written students will learn the history of dance, analyse professional works and put practical knowledge into a theoretical context. This course leads on extremely well from GCSE Dance.
All students have the opportunity to take part in extra-curricular clubs and specialist projects, many of which are in partnership with our arts organisations. Throughout the year students can enjoy performing in showcases at school, in Poynton, Stockport and Cheshire, attend theatre trips, Summer School and so much more! These activities help to support our students in the classroom and enrich their learning, improving confidence, self-esteem, creativity and self-motivation.
The Dance Department
Dance Co-ordinator
Mrs C Hardicre
Coordinators of Drama: Mrs A Cutler (KS5); Mr C Kelly (KS4)
Welcome to the Drama department here at Poynton High School! We thrive as an exciting, highly creative and enjoyable subject within the School. The outstanding level of achievement accomplished by our students is the result of inspirational teaching and the wide range of opportunities made available to them. The extensive extracurricular activities help to support our students in the classroom and enrich their learning and life-experience, improving discipline, creativity and self-motivation. This empowers them and helps to develop confidence.
The department is staffed by highly creative and enthusiastic specialists. At the core of our teaching there is a strong emphasis on building strong, positive working relationships with the students. We are passionate about the subject we teach and take great pride in our work. The students are assisted in developing skills in performance, communication, presentation, technical aspects, direction, design and analysis. We aim to encourage students to fulfil their potential by working hard in lessons and rehearsals, leading to student autonomy and responsibility.
At Key Stage 3, there is always a strong emphasis on working as part of a group, developing team-working and communication skills. We refer to the use of Personal Learning and Thinking Skills (PLTS) and encourage a friendly, supportive, hard-working and fun environment. The curriculum also emphasises the essential skills needed for self-expression and confidence in public presentation. Our students experience a range of drama skills and explore a variety of topics. Our KS3 curriculum combines the skills of Making, Performing and Responding.
At GCSE we follow the Eduqas specification. Students are encouraged to be physically active, creative, imaginative and express their own opinion. The Drama GCSE course is 75% practical for Year 11 and 60% practical for Year 10, which means that the vast majority of lessons are practical workshops teaching students skills such as; performing, devising, improvisation, interpretation of texts, exploration of topics and the technical knowledge required in order to transform play texts and their own work into pieces of performance. Students get the opportunity to work with a range of professional practitioners at Drama Menai (residential weekend) and go on theatre visits.
At A level we follow the Eduqas specification. This course is taught through experiential and practical lessons. These often take the form of workshops where students use their own time to reflect upon their learning. There is a large emphasis on group work and students committing to rehearsals in their own time outside of lessons. Theatre visits are regularly organised and students are encouraged to attend as much live performance work as possible to support their studies. There is an annual weekend organised at the Garrick Theatre in Stockport, giving the students an opportunity to work with a range of professional directors; exploring, staging and performing extracts from the set texts being studied. This practical approach forms a strong basis for the continued class work. All of our Performance Examinations take place in the evening which allows students to share their achievements with friends and family.
The Drama Department
Co-Ordinator of Drama at Key Stage Five
Mrs A Cutler
Co-Ordinator of Drama at Key Stage Four
Mr A Magrath
Teacher of Drama
Mr C Kelly
Music, Head of Department - Mr C Western
The Music Department consists of three full-time members of staff and eleven peripatetic staff. The staff are all very passionate about music and the way in which it is taught in the school. We offer Music at KS3, 4 and 5.
Instrumental lessons are available in most instruments and these lessons happen on a weekly basis in one of our practice rooms.
Music lessons are taught in Music specific rooms all of which contain various instruments both melodic and percussive and PC workstations running Presonus and Sibelius as well as other educational software.
At Key Stage 3, students have two lessons per fortnight and within these lessons, we teach the musical elements through a variety of structured topics.
GCSE Music students follow the AQA syllabus.
A-Level Music students follow the AQA syllabus,
A large number of our students take either ABRSM or TRINITY Music Examinations over the course of the year.
Extra Curricular activities within the Music Department cater for all students and abilities and consist of; Jazz Band, Concert Band, Poynton Junior Singers, Senior Choir, Rock Bands, and we also host and help lead Poynton Music Academy instrumentalists and singers on a Monday and Tuesday evening which is open to all students at the high school as well as students from our primary schools and local community.
We put on a wide range of concerts within the school and in the local and wider community and participate in a larger number of musical initiatives in Cheshire and beyond.
The Music Department
Head of Department
Mr C Western
Teachers of Music
Mr M Rawling
Mr T Webster
Physical Education, Head of Department and Assistant Director of Learning for Performance - Mr M Henderson Email
The Physical Education Team

Head of Department

Mr M Henderson

Coordinator of Core and Vocational Physical Education

Miss J Hancock

Coordinator of Examined Physical Education

Miss C Wilson

Teachers of Physical Education

Mrs A Kennedy

Mr K Shaw

Mr C Megarell

Mrs C Hardicre
The Physical Education department at Poynton High School offers a plethora of opportunities to students. At Key Stage 3 students follow a wide range of activities which allow them to experience challenge, be active, develop skills and understand how to evaluate performance. Activities covered include football, rugby, netball, basketball, badminton, fitness, gymnastics, dance, tennis, softball, athletics, rounders and trampolining. Our activities make full use of our fantastic facilities which include a swimming pool, a large sports hall, gymnasium and multi-gym.
At Key Stage 4, all students continue to develop their skills and understanding of Physical Education. Students can choose to follow courses in activities which they have already enjoyed at Key Stage 3 there are also opportunities to try out new activities such as Zumba, cheerleading and fitness training in the multi-gym. Students who wish to study this subject in more depth can opt to follow examination courses in GCSE Physical Education (OCR) or Cambridge National Certificate in Sport (OCR). These courses are growing in popularity and we have a very good record of examination success.
In the Sixth Form examination courses in A level Physical Education (OCR) and BTEC National in Sport (Pearson) are offered. These courses have proved very popular and results are excellent, consistently achieving higher than national standards.
Extra Curricular

We offer an extensive range of extra-curricular clubs at school and we strive to ensure that these are fully inclusive to all students and cater for all abilities. We have fostered strong links with many external clubs where a number of our students regularly train and compete. Any student that is interested in pursuing a sporting activity outside of school should speak with a member of the team.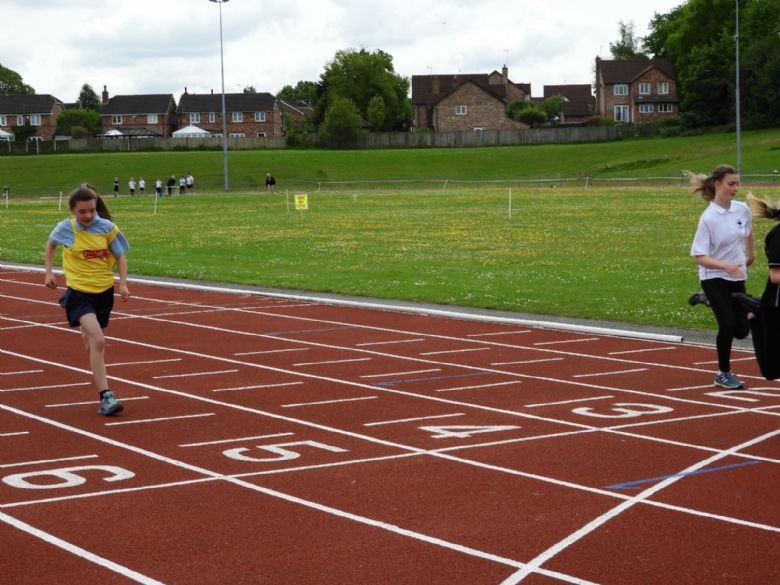 In winter we play regular fixtures in football, rugby and netball. There are often other competitions in sports such as basketball and badminton. In summer we have teams in cricket, tennis, rounders, orienteering, lacrosse and athletics. In addition, we work in collaboration with external specialist coaches to provide access for our students to activities outside those taught on the curriculum. A large number of students represent the school in inter-school fixtures and a number have been successful at District and County level.