ParentPay & EVOLVE
We have two main means of payments being made in school. ParentPay and EVOLVE.
ParentPay is our online payment system for school meals.
Using ParentPay:
Stops you having to write cheques or search for cash to send to school. We no longer accept these for payment.
Gives you peace of mind that your payment has been made safely and securely.
Eliminates the risk of cash being lost before arriving in the school office.
Gives you the freedom to make payments to school whenever and wherever you like.
Further information can be found in the ParentPay Information document below.
EVOLVE
School Trips
We use EVOLVE for school trips. You will be sent an email with a link to make a booking and this is now combined with the payment information.
Purchasing other items
Sometimes departments offer revision guides or other optional resources. Parents can also purchase locker rental, bus tickets, performance tickets etc. These are all purchased through EVOLVEshop
You access these through myEVOLVE. This is the parent portal allowing you to view and book activities, pay for trips and equipment or make donations. This is available as an app or online. We recommend if using the website that you are using Google Chrome.
To enable these items to be linked to your child please create a myEVOLVE account by clicking on the link below and following the instructions.
https://evolve.edufocus.co.uk/myevolve/setup.asp?id=poyntonhigh
Once you have created an account, you will see the page below. This gives you access to the shop, trip consent and payment etc.
The shop icon is where you will see a range of different items available to purchase.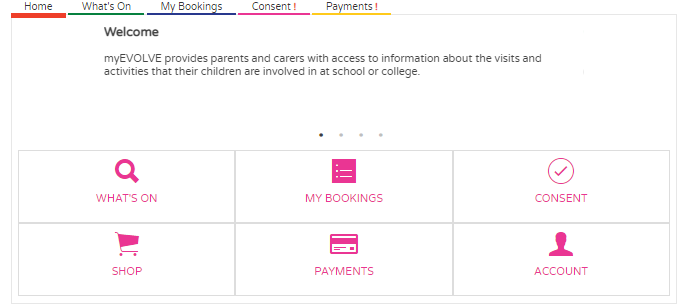 There is a Parents' Guide to myEVOLVE below.
If you require help accessing the system then please either send a request via Student Enquiries or email : finance@phs.cheshire.sch.uk.