Modern Foreign Languages
Director of Learning: Mr S Farrell
Email
Curriculum Ambition
"To have another language is to possess a second soul."

Charlemagne
Learning a Modern Foreign Language (MFL) is an important part of a student's education. The study of a foreign language is much more than simply learning vocabulary; as well as the obvious linguistic skills acquired, there are also many personal, cultural, social and career benefits as students discover more about the wider world around them.
With the internet facilitating international relations and creating a more globalised society, the MFL department at PHS believe that learning a foreign language is more useful now than ever. Our curriculum not only focuses on students' linguistic abilities but also prepares them to be global citizens through fostering an awareness of other cultures.
Throughout our ambitious Key Stage 3 curriculum and the subsequent GCSE and A Level courses, we aim to develop students':
communication skills
knowledge of grammar in both their own language and the language they study
problem-solving skills through application of grammatical rules
deduction skills by using context to understand new items of vocabulary
awareness and understanding of other cultures
memory
ability to express ideas and opinions
awareness of social issues such as health, homelessness and unemployment
awareness of global issues such as the environment and poverty
confidence in speaking in a range of contexts
listening skills
vocabulary, both in the language of study and through links with English
"If you talk to a man in a language he understands, that goes to his head. If you talk to him in his language, that goes to his heart."

Nelson Mandela
In the classroom, students follow a programme of study with a logical progression of grammar and which builds up their vocabulary on a range of topics. As part of normal classroom teaching, students have access to a range of authentic resources including literature, music, videos and other printed media from a range of contexts such as websites, menus and TV guides.
At A Level, the programme of study includes a range of cross-curricular links:
geography/sociology – knowledge of countries around the world where the target language is spoken and the cultures of the people living in those countries
history – study of key events in target language countries
politics – specific units on the different political systems around the world
English language – through explicit grammatical instructions
English literature – through the analysis of a literary text written in the target language
media studies – students also study a film in the target language
music/art/performing arts – students study a variety of media from the countries where the target language is spoken
We also offer a range of experiences to enrich students' experience of language learning outside the classroom. These include:
German exchange trip to Kassel
Spanish exchange trip to Madrid
French trips to Paris/Normandy
language ambassador roles in the 6th form
participation in national competitions such as Mother Tongue Other Tongue
At PHS we believe that through the study of a foreign language, students will leave with a set of skills enabling them to become active members of the globalised society we live in, communicate with those around them and have access to a wider variety of future study and work opportunities.
Bienvenue! Wilkommen! Bienvenido!
The department of Modern Foreign Languages is a lively and enthusiastic subject area which offers students of all abilities a wide range of opportunities. They can experience both the intellectual and personal enrichment that comes with learning new languages and encountering the diverse cultures that they represent. Our department features well qualified and experienced staff, teaching French, German and Spanish up to A level.
The school has a strong tradition with foreign languages, regularly exchanging with partner schools in Germany and Spain. We are extremely proud of these exchanges which are amongst the longest partnerships in the country with the German exchange recently celebrating its 40th year. Our students in Years 9-13 have the fantastic opportunity to spend a week with a family and in return their families welcome their partners to show them a slice of English life.
We also organise Key Stage 3 Language trips abroad with French trips to Normandy and Paris for students from year 7. In addition, Poynton High School also achieved the International School Award for its involvement in the Erasmus+ programme working collaboratively with eight other schools in the EU.
| | |
| --- | --- |
| Director of Learning | Mr S Farrell (+Spanish coordinator) |
| Assistant Director of Learning | Mrs G Ferrandon-Latch (+French coordinator) |
| German Coordinator | Mrs C Graves |
| French teachers | Mrs N Cornwall |
| | Mrs G Ferrandon-Latch |
| | Mrs C Graves |
| | Mr S Farrell |
| | Mr J Wallace |
| German teachers | Mrs G Ferrandon-Latch |
| | Mrs C Graves |
| | Mrs E McGuire |
| | Mr N Wright |
| Spanish teachers | Mrs N Cornwall |
| | Mr S Farrell |
| | Mrs E McGuire |
| | Mr J Wallace |
| | Mr N Wright |
A Parent's Guide to MFL @ PHS
Please click on the image below to view the full guide for parents of MFL students:
---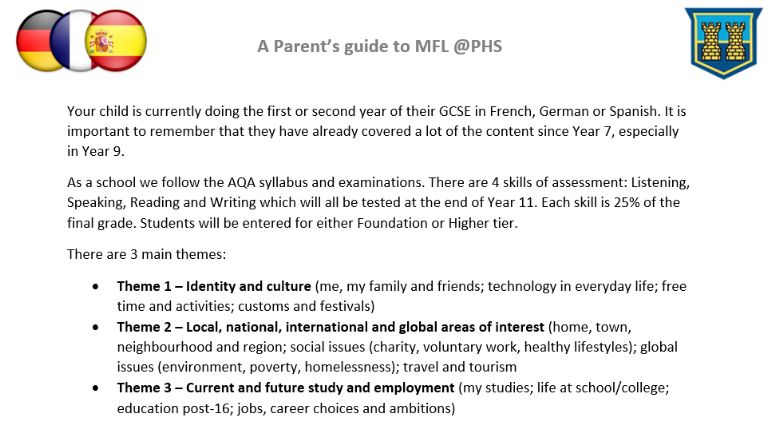 ---