Careers

Careers Leader- Mrs Bibby
Email Address: SBibby@phs.cheshire.sch.uk
Phone number: 01625 871811
The Careers department provides all students with access to information advice and guidance to help them make realistic choices to reach their goals. We aim to guide students to reach their full potential.
Poynton High School recognises the value that employers can provide to students' education and decision making about their future. We actively recruit employers to contribute to our Careers Programme and also welcome offers of support and involvement from across all industries. Employer volunteers are involved in several careers events throughout the academic year, including mock interviews, career talks and careers learning through the curriculum. Apprenticeship training providers and representatives from Further and Higher Education are also regularly invited to contribute via assemblies, Careers Fairs and Student Development Day activities. Please contact Mrs Bibby if your organisation would like to engage with the CEIAG (Careers Education, Information, Advice and Guidance) at PHS.
The Careers Year at PHS: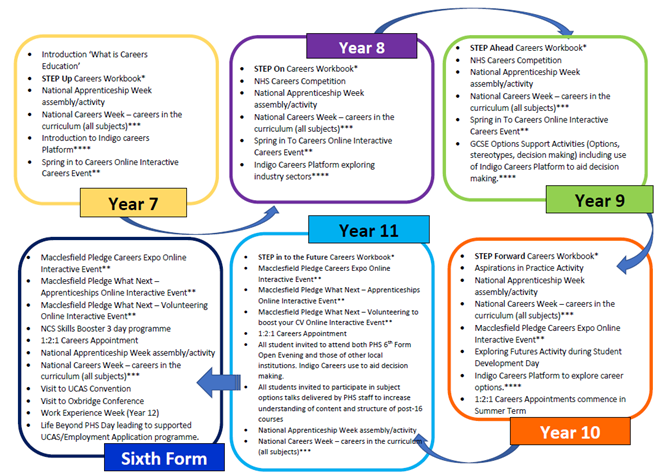 At Key Stage 3 careers learning is provided through form time activities using the STEPs series of workbooks. STEP Up (Year 7) STEP On (Year 8) and STEP Ahead (Year 9) provide progressive and relevant careers education for each age group. They have been created in conjunction with the Gatsby Benchmarks and the CDI Skills Framework. We also devote time on the student development days to develop knowledge of work, careers and the next steps options for students. We are available for advice during the Year 9 Options process.
At Key Stage 4 careers learning is provided through form time activities using the STEPs series of workbooks. STEP Forward (Year 10) and STEP Future (Year 11) provide progressive and relevant careers education for each age group. Additionally, during the Spring Term, additional time is devoted to completion of the workbook tasks to ensure students have fully considered their post 16 options.
Through activities on student development days, students will develop knowledge and understanding of future options, and what it is like in the work place.
Our Careers Adviser is available on and after GCSE results day to assist our students with their progression.
At Key Stage 5 careers education runs in conjunction with the Sixth Form team. Students are given guidance on UCAS applications, choosing appropriate Universities, Colleges of FE, and places of work. Students have access to specialist external advisors, form tutors, the Sixth Form team and the Careers team to receive advice on their future after Poynton High School. There are Careers fairs, Industry Insight Events, Further Education fairs, and a 'Life Beyond Poynton Day'. All students will also be able to receive careers advice after A level results. Students looking for employment after Sixth Form will also be able to join the Employment Readiness Programme for further support in applications (see below for further details).
We are proud to be part of the Macclesfield Pledge. The Pledge Partnership, part of the Cheshire and Warrington Local Enterprise Partnership, puts employers at the heart of inspiring, informing and communicating with the next generation of employees in Cheshire and Warrington. A number of the Careers events offered to all students are provided by the Macclesfield Pledge. The Employment Readiness Programme runs in the Sixth Form from the end of Year 12 and throughout Year 13 and is supported by our partners at The Macclesfield Pledge. Aimed at students who are not applying to University the programme provides access to careers planning, help applying for jobs and Apprenticeships, plus the chance to meet local and national employers and receive advice and guidance on a range of topics including CV writing, preparing for interviews and assessment centres, understanding post 18 options other than university and employability skills development.
Work Experience
Year 12 students are allowed allocated time to undertake self-placed work experience in the summer term. This is a core part of their study programme. Students are encouraged to source a meaningful work experience placement that is either relevant to their future career plans, or will develop their employability skills.
New for 2021-22 - Indigo Careers Platform.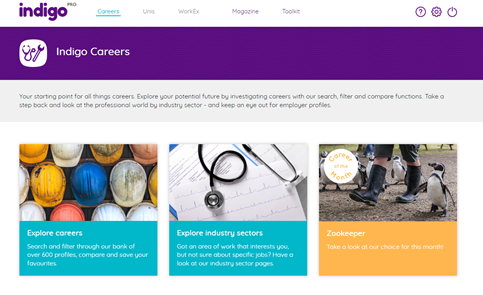 Students now have access to a careers development programme called Indigo which will help students from Years 7-13 explore careers and develop an action plan that they can regularly update to reflect their evolving destination plans and careers choices.
Indigo is an online careers platform designed to connect 11-18 year olds with their future career potential. It combines a comprehensive source of information with a personalised experience and career planning tools, helping our students to make more informed decisions about their future study and career options, as well as developing their employability.
Students should go to https://indigo.careers/ and log in using the username and password they have been provided. Students are encouraged to access the Indigo Platform both at school, and at any time at home, particularly when approaching important decision points such as GCSE, post 16 or post 18 options. Please see below a short guide to help students get started, The Indigo Student Guide - Careers.
Careers Advice
We have a qualified adviser, Mrs Rush, who provides independent Careers Advice and Guidance. Students are able to make appointments to have a guidance interview in school by requesting this from their Form Tutor.
Get the Jump: Explore your education and training choices
Get the Jump: explore your education and training choices | National Careers Service
Students should go to the link above to explore their future options. There is really helpful information available from the National Careers Service.
Help for Parents
If parents have any careers related questions, Mrs Rush operates a Careers Helpdesk via email at careers@phs.cheshire.sch.uk responses will be sent on her PHS working days which are Monday and Tuesday. Please also see the Mumsnet Parent Guide to Careers and a Useful Careers Websites document attached below.
Talking Futures is a resource that has been created to help you have informed and constructive conversations with your child. A parents' toolkit for career conversations (talkingfutures.org.uk)
How do we measure the impact of the careers programme on students?
The Careers programme is reviewed annually and then discussed at the governing board. As part of this review we seek the views of parents and students through questionnaires during the year. We also monitor progress against the Gatsby benchmarks using Compass+ and students are periodically asked to complete the Future Skills Questionnaire to measure their understanding and progress of careers learning.
The next review date is Autumn 2022.
Cheshire and Warrington Jobs Portal
https://www.candwopportunities.co.uk/
The Local Enterprise Partnership provides this portal which has job adverts, funded training courses, traineeships and apprenticeships and information about sectors etc Parents and students can use the portal to find out more about LMI, apprenticeship availability etc and it will help students to make an informed decision about the next step on their career path. There is also information on job searching techniques and interview skills, along with which sectors are experiencing growth and actively recruiting. There is a section focussing on 'Spotlighted Vacancies' which are promoted jobs that employers are keen to fill quickly, and advice on what to do if you have been made redundant or looking to start your own business.
Careers Maps and Labour Market Information
The links below will take you to the Skills and Growth website which provides useful information about the top employment sectors, growth, population etc. in the Cheshire East area and includes Poynton. The map shows the location of large employers and the numbers of small to medium size employers (SME), as well as some demographic information from figures published by the Office for National Statistics (ONS) from the National Online Manpower Information System (NOMIS).
Please Note: The demographics are based on published the most recent Census 2011 information; and the strategic businesses listed are those companies with over 250 employees, with a turnover of £1m or more and with a head office – or main operating base – in Cheshire East.
Labour Market Information for Students, Parents and PHS Teaching Staff
LMI is an important tool to help students research the demand for future jobs in their area, salary levels and skills needed. Please use the link below to visit the Labour Market Profile of Cheshire East.
https://www.nomisweb.co.uk/reports/lmp/la/1946157071/report.aspx
A great place to explore Labour Market Information is the LMIForALL website at:
https://www.lmiforall.org.uk/explore_lmi/
Students can use data from LMIForALL above and combine it with research on Indigo Careers or https://icould.com/ to discover different roles, workplaces and how the subjects they are studying, or hoping to study, can get them there. There is also a useful skills and interests quiz, the 'Skillsometer' which can be a great starting point for a student's research combined with the 'Careerometer' widget which provides access to a selection of UK headline data relating to pay, weekly hours of work and future employment prospects for different occupations, as well as description of the occupation.
Students simply type in the title of the job they are interested in and the widget provides a series of options from which they can select the most relevant to them. They can then look up another two occupations and compare. They can also select 'display the UK average' and compare the information with the occupation they have selected.
Students seeking to learn more about post 16 or post 18 options could research the following:
Macclesfield College https://macclesfield.ac.uk/college/college-life/poynton-high-school-schools-information/
Stockport College https://stockport.ac.uk/our-courses/
Aquinas College https://www.aquinas.ac.uk/sixth-form-courses/
Cheadle and Marple College https://cheadle.ac.uk/our-courses/ https://marple.ac.uk/our-courses/
Poynton High School Sixth Form https://www.phs.cheshire.sch.uk/sixthform
Find an Apprenticeship https://www.gov.uk/apply-apprenticeship
Tytherington High School Sixth Form http://www.tytheringtonschool.co.uk/sixth-form/
The Careers Team
Careers Leader
Mrs A Bibby
Careers Advisor
Mrs K Rush
SLT Careers Link
Mr A Bennett
Governor Careers Link
Mr R Stocco