Careers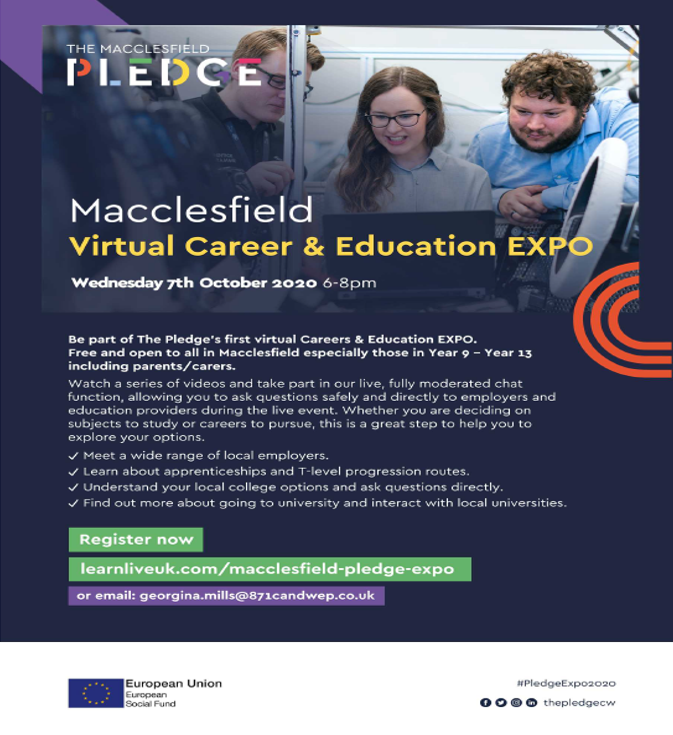 All students in Years 9 to 13 are invited to participate in an online Careers Expo taking place on the evening of Wednesday 7th October. The two hour Careers Expo will give students the opportunity to watch a wide range of videos from many local employers across a wide range of sectors. As the event will take place on the Learn Live platform, there will be a live chat function allowing students to ask questions in real time of the companies and providers present. There will also be features on Apprenticeships, T Levels, Further Education and Higher Education options.
Invitations to register have been sent out in advance of the event. Please see below (Introducing the Expo to Students) for some preparatory activities that we suggest students complete to ensure they get the most out of the Expo on the night.
Following the Expo, students will be invited to attend more focused sector events of their choosing.
Careers Focus Week 18-22nd May 2020
Our extra curricular challenges for the week commencing 18th May had a careers focus. We recognised that it was essential at this time, that students continue to learn how to research and plan for their futures. With this in mind Years 7 to 9 were set daily careers related challenges via the year group social media accounts.
https://twitter.com/PHSYear8and9
Years 10, 11 and 12 were invited to participate in an online careers festival called 'Paving the Way'. The four day event was provided by our partners at the Cheshire and Warrington Pledge and the Local Enterprise Partnership, with the assistance of more than 40 local employers and business owners. The aim of the careers festival was to enable students to explore and understand a variety of careers and employment options in our local area.
We were delighted that students participate so enthusiastically with this great opportunity.
Careers Leader- Mrs A Bibby
Email Address: SBibby@phs.cheshire.sch.uk
Phone number: 01625 871811
The Careers department provides all students with access to information advice and guidance to help students make realistic choices to reach their goals. We aim to guide students to reach their full potential.
At Key Stage 3 careers advice is taught through the student development days and aims to develop knowledge of work, careers and the next steps for students. We are available for advice during the Year 9 Options process.
At Key Stage 4 careers education is provided in two ways.
The first method is through student development days, developing knowledge and understanding of future plans, and what it is like in the work place.
The second is through the student development lessons, where they will become aware of searching for courses and jobs, the application processes and interview techniques.
At Key Stage 5 careers education will be run in conjunction with the Sixth Form team. Students will be given guidance on UCAS applications, choosing appropriate Universities, Colleges of FE, and places of work. Students will have access to specialist external advisors, form tutors, the Sixth Form team and the Careers team to receive advice on their future after Poynton High School. There will be Careers fairs, Further Education fairs, and a 'Life Beyond Poynton Day'. All students will also be able to receive careers advice after A level results. Students looking for employment after Sixth Form will also be able to join the Employ programme for further support in applications.
Employ is a programme run in the Sixth Form from the end of Year 12 and throughout Year 13. This is aimed at students who are not applying to University. This will provide access to careers planning, help applying for jobs and Apprenticeships, plus the chance to meet local and national employers.
Work Experience
All Year 12 students undertake work experience in the summer term. This is a core part of their study programme.
We are also using a programme called Start Profile to help students from Years 7-13 work on an action plan that they can regularly update to reflect their current destination plans and careers choices.
Start Profile can be accessed at home on this website https://login.startprofile.com/Login.aspx. Students should be regularly updating their online 'Lockers' with any notes, media or documents that give evidence of their skills and qualities. This will then be a useful resource for them when applying for future careers.
Impartial Careers Advice
In addition to our own school staff we have an external specialist advisor working from school to provide further impartial Careers Advice and Guidance. Students will be able to make appointments to have a guidance interview. Students should see Mrs Bibby or their form tutor to arrange an appointment.
How can students, parents and teachers find out more about the careers programme?
If there are any questions that the website doesn't answer then Mrs Bibby will be able to answer any questions about Careers.
If you are a local employer who is looking to get involved with careers at Poynton High School, please contact Mrs A Bibby.
How do we measure the impact of the careers programme on students?
The Careers programme is reviewed annually and then discussed at the governing board. As part of this review we seek the views of parents and students through questionnaires during the year. We also monitor progress against the Gatsby benchmarks using Compass. The next review date is Autumn 2020.
Careers Maps
The link below will take you to the Skills and Growth website which provides useful information about the top employment sectors, growth, population etc. in the Cheshire East area and includes Poynton. The map shows the location of large employers and the numbers of small to medium size employers (SME), as well as some demographic information from figures published by the Office for National Statistics (ONS) from the National Online Manpower Information System (NOMIS).
Please Note: The demographics are based on published the most recent Census 2011 information; and the strategic businesses listed are those companies with over 250 employees, with a turnover of £1m or more and with a head office – or main operating base – in Cheshire East.
Below you will find further information about the Careers Programme.
Below you will find information about Work Experience and also some useful web addresses.
The Careers Team
Careers Leader
Mrs A Bibby
Careers Advisor
TBC