Exam Results
Sixth Form Results 2021
With the publication of this summer's examination results this week, Poynton High School was celebrating outstanding results from its A Level and BTEC students on Tuesday 10th August. Students were rewarded for their hard work, dedication and resilience with excellent final results across the full range of academic and vocational subjects.
12 students received at least three A* grades in their A levels with many more gaining A*s in one or two A level qualifications.
These results have enabled students to progress to a wide array of different university courses right across the country. 90% of our students were placed in their first choice of university which is impressive in such a competitive year. Students have also been successful in attaining places on very competitive Degree or Higher Level Apprenticeship courses and others have moved on into employment with further training. A small number of examples of these successes can be seen below:
Anna C studied A Levels in Maths, Biology and Chemistry, plus an Extended Project Qualification and will now be embarking on a career in Medicine with the University of Sheffield.
Euan C studied A Levels in Maths, Further Maths, Chemistry and Physics and will be studying a General Engineering degree at the University of Sheffield.
Louise B studied A Levels in History, Psychology and German and will be realising her ambition to study Archaeology at the University of York.
Saskia G who studied A levels in Computer Science and D&T (Product Design, and a Level 3 BTEC Extended Certificate in Information Technology will be joining AJ Bell Investment in Manchester following a Degree Level Apprenticeship in Digital and Technology Solutions.
Jack M who studied A levels in Business, Economics and Biology will be joining Lloyd Piggott Accountants on an Accountancy Apprenticeship.
Rachel G studied Maths, Further Maths, Geography and Chemistry and will be joining the prestigious Bird College to study Professional Dance and Musical Theatre.
Nicholas J studied A Levels in History, Biology and Business and will be designing buildings of the future when he has completed his degree in Architecture with the University of Liverpool.
Aimee B studied A Levels in Art, History and Religious Studies and has secured a Degree Level Apprenticeship Paralegal Studies with SAS Daniels Law in Macclesfield.
Philippa L studied A Levels in Art and Business, and A BTEC Level 3 Extended Certificate in Information Technology and will be progressing to Macclesfield College to complete an Art Foundation course.
Lucas H studied A level Media Studies and BTEC Extended Certificates in Sport and Business and will be studying Football Business and Media at the UCFB in Manchester (University Campus of Football Business).
Sixth Form Results 2020
Simply put, our students are amazing! Over 130 Year 13 Poynton students have today received their final A-Level and BTEC grades, known as "Calculated Grades" and if these were 'normal times' then I would be quoting how these are the best results ever achieved, but these are not 'normal times' and these are not 'normal grades'. There is such mixed emotion flying around with regard to these grades, in all schools nationally. With the cancellation of all exams this summer, students across the country today have received grades based on a series of calculations made by the examination boards. As agreed with all other head teachers in Cheshire East, we will not be releasing headline measures this year, suffice to say we are celebrating amazing outcomes and progression routes for our students.
Head Teacher, Mr David Waugh said "…this year group is so very special for so many reasons. They have today been awarded an amazing set of qualifications. They are also very special to me personally, as this is the year group that I started with as a new Head Teacher back in September 2013. This year group has consistently performed amazingly in every aspect of their studies and school life. They have been an inspiration for us all here at Poynton High School and as they now progress on to the next chapters in their lives I just wanted to say directly to them…you truly are an inspirational group of young people who will go on to brilliant and amazing things. Please remember what I said in that last assembly to you back in March…stay safe, be kind, gain knowledge and be a good citizen. Now go out into this world and make it a better place, "…sometimes it falls to a generation to be great, you can be that generation!"
We have 138 brilliant Yr13 students, who are unfortunately too numerous to mention in this press release. As a flavour of our great students, we have included below some examples of the brilliant things our students are going to progress on to:
Sam F will be progressing to the University of Plymouth to read Medicine. Sam's hard work and commitment was evident throughout his time in our Sixth Form, not only did he work hard to achieve his own grades, but also lead a Medicine Preparation group for younger students to share his experience of the Medicine recruitment process.
George S will be progressing to Barclays Bank to complete a Digital Solutions Apprenticeship. His placement was hard fought as Barclays receive a huge number of applicants for their Degree Level Apprenticeships. George's hard work in his studies was also complemented by following the Career Ready Programme which undoubtedly helped him hone his interview skills.
Benjamin P's outstanding results mean he will be progressing to the University of Edinburgh to read Artificial Intelligence and Computer Studies. Having gone above and beyond with his Year 12 work experience placement, securing a placement in Silicon Valley California with the Google Head Quarters, Ben's interest in this field was very evident!
Daisy B has secured an Accountancy Apprenticeship with Global Accountancy Firm KPMG, a real achievement due to the large number of applications they receive. Daisy achieved highly at A level and can now progress confidently to her chosen career.
Ewan T's hard work was rewarded, he achieved very highly in his four A levels and this has secured his place to read Materials Science at the University of Oxford. Ewan's focus was evident when he gained a coveted place on the Headstart Summer School studying Materials Science at Oxford. Additionally gaining work experience working at East Midlands Airport assisting Aircraft Engineers check the integrity of aircraft wings enabled him to clearly illustrate his passion and understanding for this field.
Anna C will be progressing to become a Vet of the future, her hard work in her studies and extensive fund raising to enable her to participate in the Camps International Expedition to the Galapagos Islands, allowing her to visit the Charles Darwin Research Centre. This cemented her plans to become a Vet and she will be reading Veterinary Science at the University of Liverpool.
Charlotte D's outstanding A Level results, have enabled her to progress to the University of Oxford to read German. Charlotte's passion for the subject began with her GCSE, participating in the German Exchange and subsequently visiting the country multiple times to immerse herself in the language and culture. She was able to complete an Extended Project Qualification during the Sixth Form, through which she chose to focus on Childhood Language acquisition, in particular bilingualism.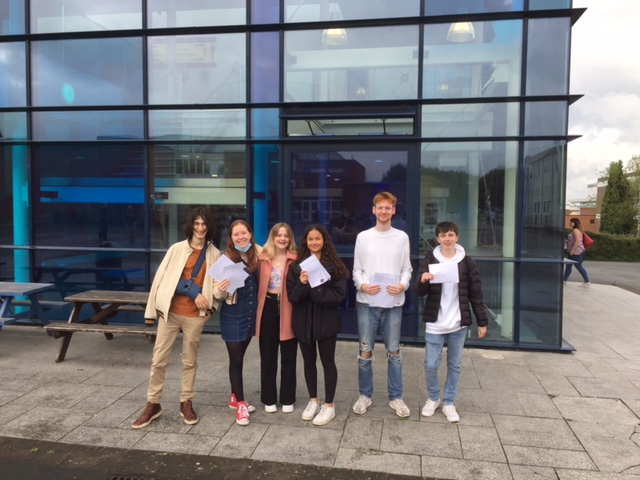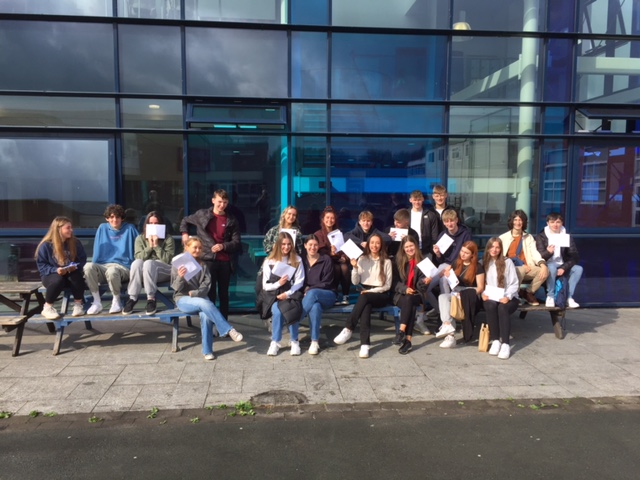 Examination Results 2019
Once again our students have achieved outstanding results at both GCSE and A level. Our students embraced the challenge presented to them by the reformed qualifications and achieved impressive progress. This group of inspirational young people have excelled, with nearly 30% of all students being awarded an A or A* at A level and 80% achieving 5 or more GCSEs at grade 4+, including English and maths.
2019 GCSE Results are now available on the government school performance website (see above). We are proud that in 2019 our students' results were the best in Cheshire East for:
Attainment 8
% of students achieving 9-4 grades in English and Maths
the EBacc average points score.
The progress students made was even better than in 2018, when we were recognised by the SSAT for exceptional student attainment as we were in the top 10% of non-selective state schools nationally for student attainment.
Progress 8 - + 0.29
This is the fourth year Progress 8 has been used as a measure and our students have again showed that they are making much better progress than students nationally. It is particularly pleasing that our students combine this good progress with very high attainment levels.

Attainment 8
Our attainment is very strong. It is again significantly better than both the Cheshire East and the England average.

Grade 5 or above in English and Maths GCSEs
A 5 is a strong pass, equivalent to an old B or high C. We outperform the England and Cheshire East average.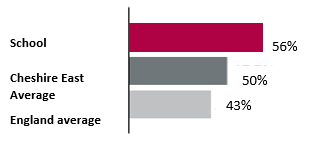 EBacc average point score
Our curriculum is a broad academic curriculum. Our EBacc average point score (Maths/ Science/ English/ Humanities/ MFL) is significantly higher than the England and the Cheshire East average. We are pleased that so many of our students succeed in the EBacc subjects.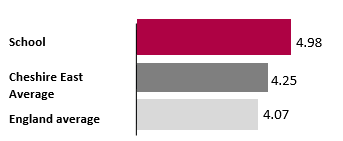 Entering for the EBacc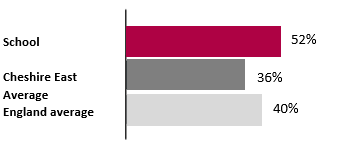 Staying in education or entering employment

Link to the 2019 Performance Tables
https://www.compare-school-performance.service.gov.uk/school/111436/poynton-high-school/secondary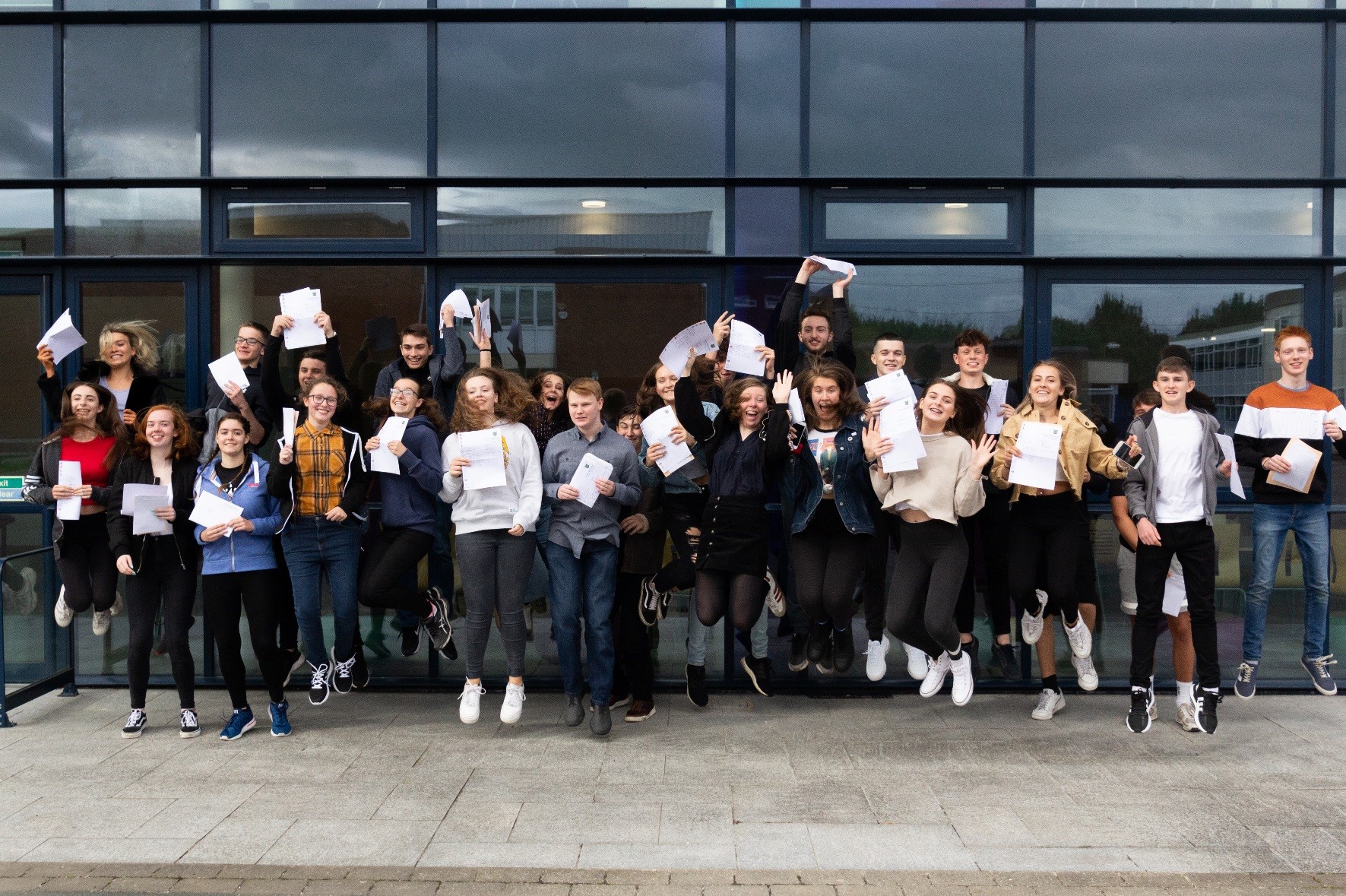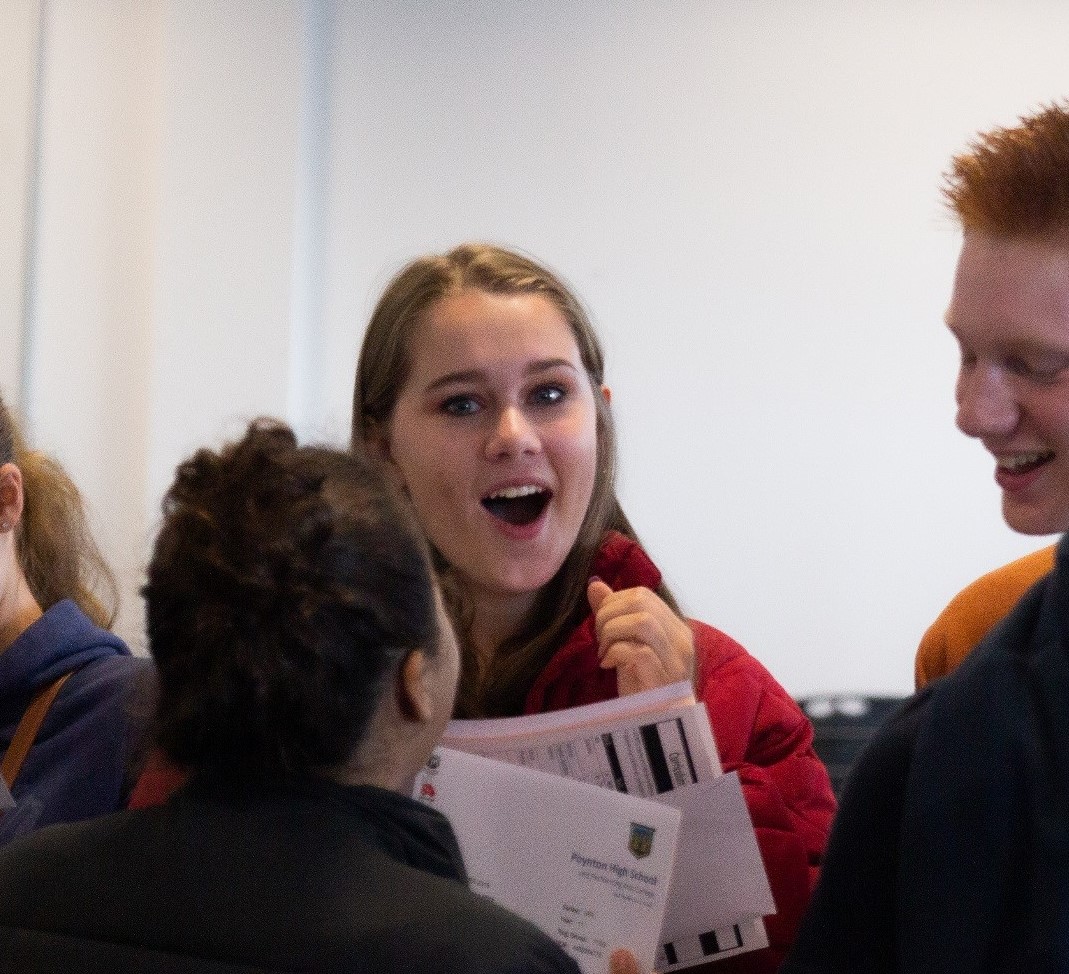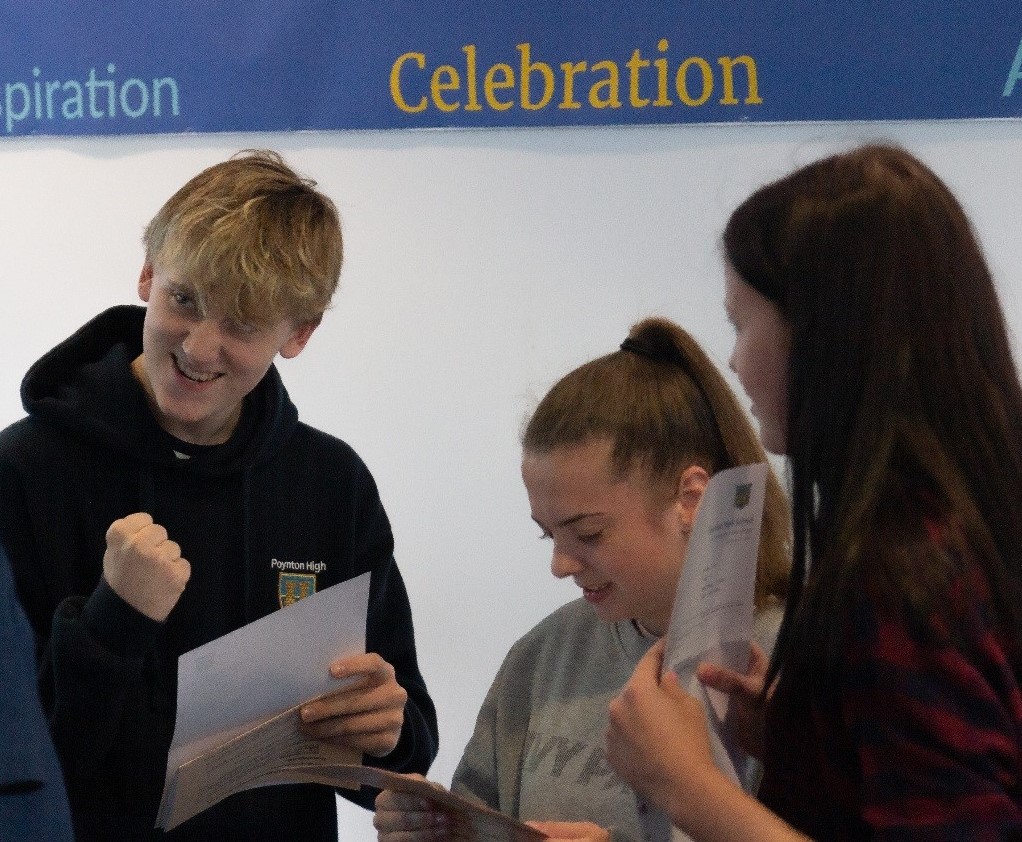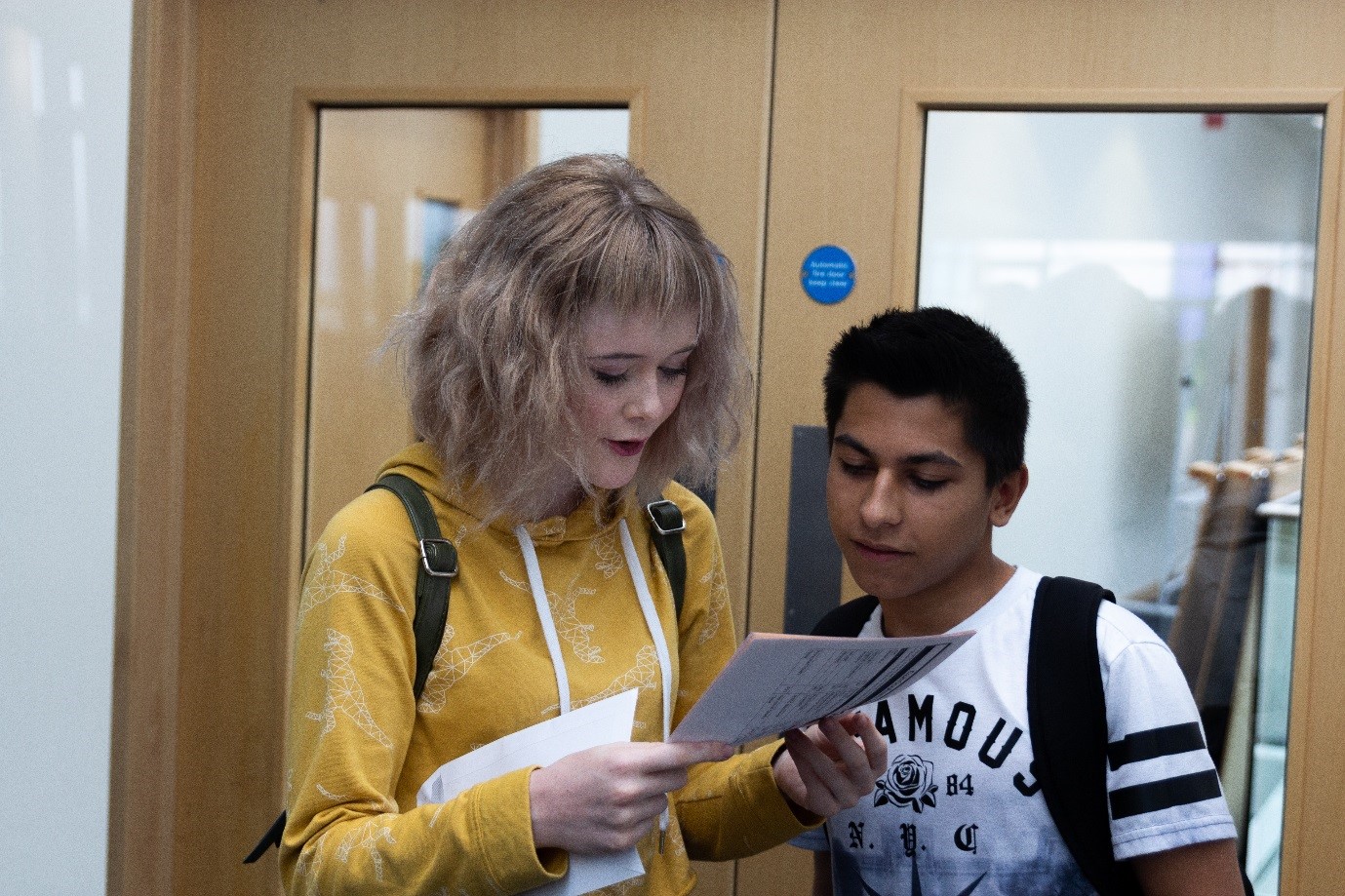 A Level Examination Results 2019
This summer our 152 Year 13 students took over 450 A- Level examinations and BTEC assessments and have achieved record results across the board, including almost 10% of all A-Levels being graded at the prestigious A* grade and 30% graded as A* or A. Student results have been exceptionally high at all levels and in all subjects with 17 students gaining straight A*/A grades and 80% of all A-Levels graded A*-C, with an overall pass rate in excess of 99%.
It is yet another year of great success by our students and recognition of all the hard work by them, their families and our staff. These results are transformational for them with the vast majority going on to follow courses at their first choice of university.
Examples of destinations for individual students this year are below:
•Daniel O gained A* A* A* in his A Levels and will be reading Natural Sciences at Durham University.
•Christopher H gained B B B in his A Levels and will be reading Computer Science with an Industrial Placement at Newcastle University.
•Matthew H gained A* A* A* in his A Levels and will be reading Mathematics at Durham University.
•Ben P gained B C D in his A Levels and is joining Siemens to undertake a Digital Coding apprenticeship.
•Megan J gained C C C in her A Levels and will be reading Applied Terrestrial and Marine Ecology at Bangor University.
•Isobel S gained A* A A in her A Levels and will be reading Liberal Arts and Sciences at the University of Birmingham.
•Lucy S gained B B and Distinction* in her A Levels and BTEC course and will be reading Interactive Media at the University of York.
•Theo C gained A A B in his A Levels and will be reading Biomedical Science at the University of Sheffield.
•Benjamin H gained A B C in his A Levels and will be reading Sports Management at Loughborough University.
Sixth Form Student Progress 2019
This figure tells you how much progress students who studied qualifications at this school made between the end of Key Stage 4 and the end of their Sixth Form studies, compared to similar students across England. We are really proud that our students are working above national levels and making more than expected progress. The 2019 results show even greater progress than the pleasing 2018 results.
Academic Qualifications Progress score

This score shows progress across A levels and other academic qualifications such as the EPQ.
Average Grade Achieved
| | | |
| --- | --- | --- |
| | Average result | Points |
| School | B- | 35.02 |
| Cheshire East | C+ | 33.82 |
| England | C+ | 34.33 |
English and Maths Progress Measure
This figure measures the progress made by students who are resitting GCSE English and maths to achieve a Standard Pass (Grade 4) or higher while studying their Level 3 qualifications with us in the Sixth Form. The figures show excellent progress made by these students compared to the national figures.
In English, 100% of the students required to re-sit their GCSE Language qualification during 2018-19 (19 students) passed this qualification. The national figure was 33.7%.
In Maths, 65% of the students required to re-sit their GCSE Maths Mathematics qualification during 2018-19 (11 students) passed this qualification. The national figure is 27.5%. This gave us an average progress score of 0.92 compared with a national figure of 0.1.
In both cases, these results are significantly above all national figures.
Retention
Retention figures show the percentage of students completing their main study programme.
Retention rates are well above national figures and show how successful students are within Poynton Sixth Form at completing courses that they start. The high quality induction and the guidance given on types and models of suitable programmes of study mean that students complete the courses they begin.
In 2018 98.1% of students completed their main study programme which was a higher figure than Cheshire East (95.1%) or England (94.2%).
2019 data will be available in March 2020.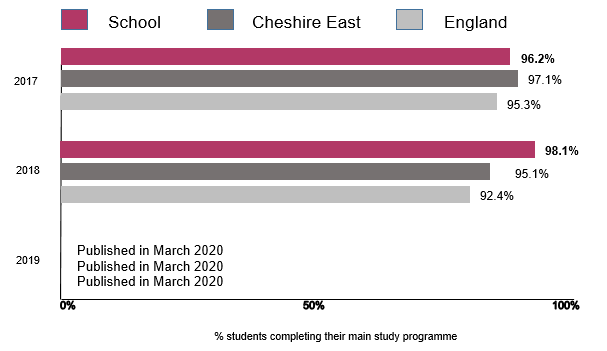 Student destinations
(The data below was published in January 2020 and refers to the 2017 leavers).
Students progressing to education or employment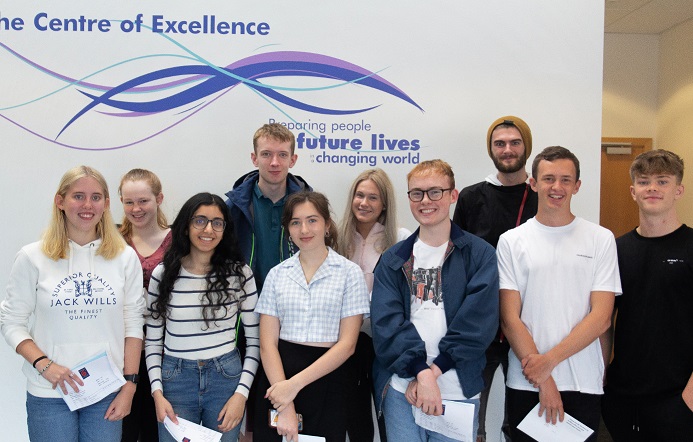 16-18 Performance Tables
https://www.compare-school-performance.service.gov.uk/school/111436?tab=ks5-16-to-18