Examination Results
2018 GCSE Results
Poynton High School GCSE Class of 2018 have brilliantly risen to the challenge of the new, more academic GCSE qualifications, and have achieved truly phenomenal results – officially the best results the school has ever achieved.
Head Teacher, Mr David Waugh, said "…simply put, I am in awe! I am honestly genuinely moved and in awe of just how well our students have done. Their results are so very well deserved and are a great reward for their unwavering dedication to their studies and their participation in school life. My first day as Head Teacher of Poynton High was also this year group's first day, five years ago now. Since that day, this group of young people have been truly inspirational in all that they have done. The Class of 2018 have risen to the challenge that we have set them every day … to jump in with both feet! I am truly humbled to see how well each and every one of them has achieved in their GCSE exams. I am particularly pleased to see their achievements across the whole curriculum, with English, mathematics and science achieving well over 80% of all students gaining Grade 4 or above.
Poynton High School Class of 2018 have achieved outstanding results in their GCSE examinations with over 88% of all students gaining their Grade 4 or above in English and 83% in mathematics. With 75% in English and 65% in mathematics gaining the new "strong pass" grade our students and staff are celebrating the great depth of their achievement.
Today is about every single one of our 237 students and their own individual achievements. Every student has their own story and their own challenges that they have overcome. For example, Txell Gonzalez-Jiminez joined us from Spain in 2015 with limited English and she has been superb since the day she arrived, achieving 11 GCSEs with Grades 7 in French, Art and two sciences, Grade 9 in Spanish and Grades 4 and 5 in English Language and literature. Not only has she achieved brilliantly but that is also on the back of her sister gaining the grades she needed to start university this September from our sixth form last week. In addition, I would like to make a particular mention of Archie Cunningham, who despite some significant specific learning barriers has achieved his Grade 4 in English Language, achieving 7 GCSEs and has surpassed his target grades in 5 of his subjects. Archie has been an inspirational student, who has worked so hard to overcome his barriers.
The battle for "top spot" was keenly fought with Samantha Ford achieving a massive eight Grade 9s with Charlotte Davies in Mrs Hall's form group, Megan Valentine and Eve Gibbons achieving seven Grade 9s, closely followed by Anya Nevitt and Ewan Timms with six, Anna Chartres, Sian Bennett, Joseph Bulman, Jessikah Fildes and Holly Cartledge with 5 and Alexander Chapman, Jack Marsden, Jessica Parker, Emilia Cole, Sarah Fore and Tegan Williams with four.
Poynton High School traditionally delivers an inclusive academic curriculum and our cohort of students this year have achieved brilliant results in their full range of subjects. Ranging from 90% Grade 4+ in GCSE PE to 81% Grade 4+ in GCSE RE, 83% Grade 4+ in GCSE Drama to 84% Grade 4+ in GCSE French. With 83% Grade C+ in GCSE Product Design and 80% Grade 4+ in History our students have once again proved their great abilities across the entire spectrum and broad range of subjects available to them here at Poynton High School.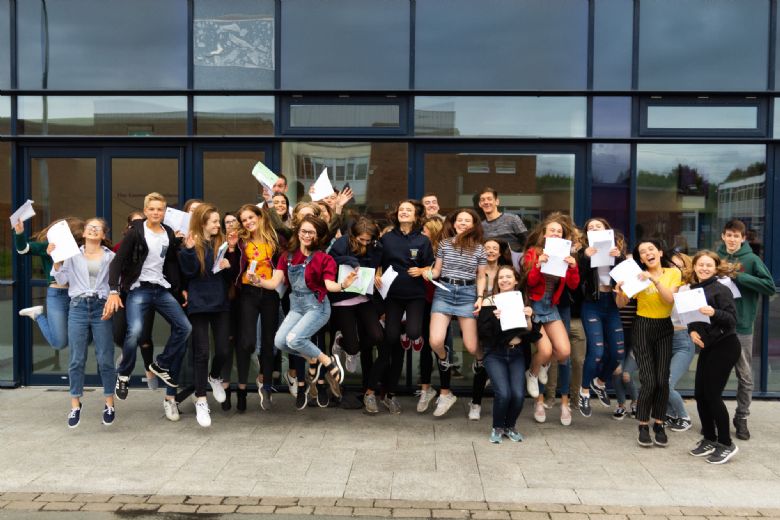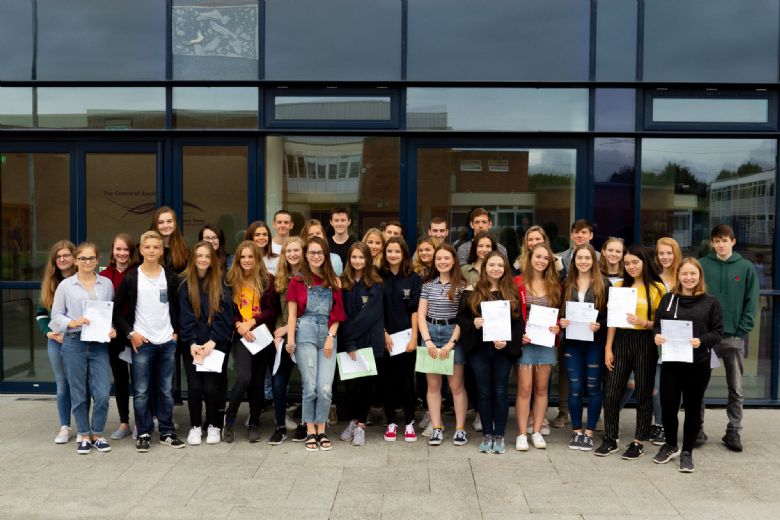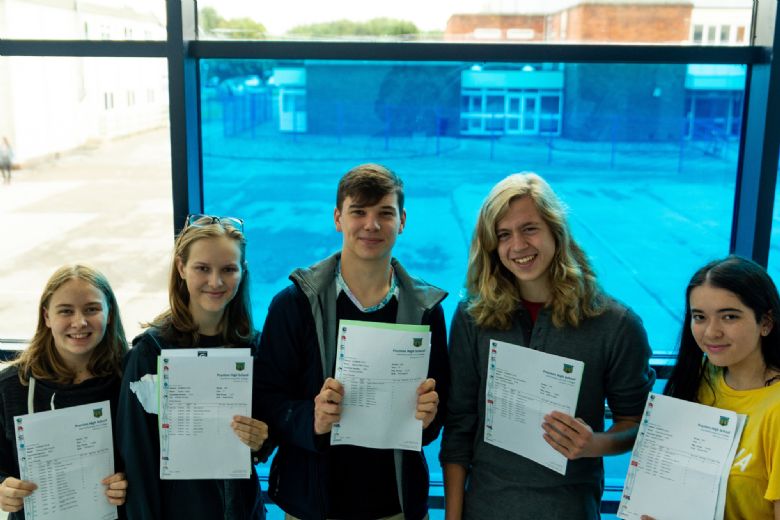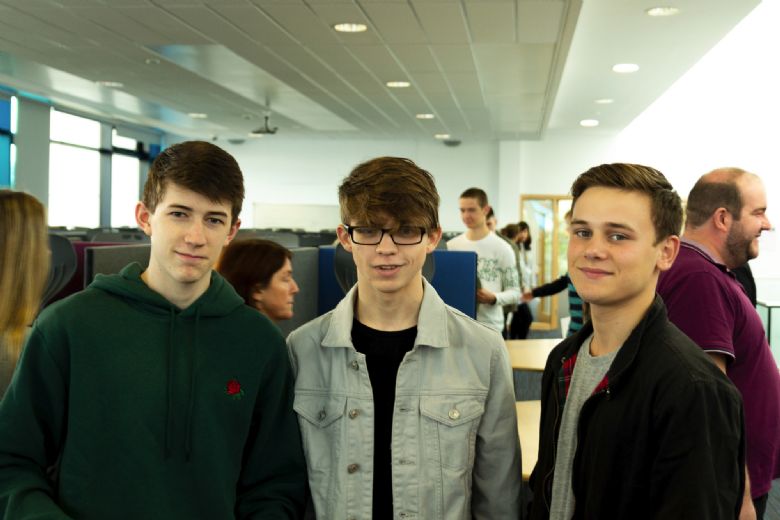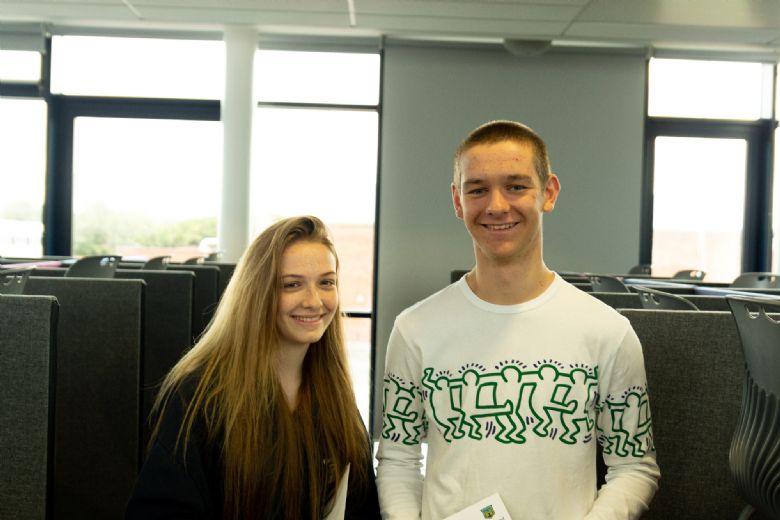 2018 A Level Results
"…Poynton High School Sixth Form students are simply inspirational!"
The "Sixth Form Class of 2018" are a truly awe inspiring set of young people who have achieved the best results we have ever had within our sixth form; their success builds on the record levels of achievement for each of the last 5 years. Their results represent thousands of hours of hard work and revision and extensive support and guidance from our expert and dedicated staff and extremely supportive parents. Upon learning of the post 16 students' achievements, David Waugh, Head Teacher said "…once again, Poynton High School Sixth Form students prove that they are simply inspirational."
Students and staff are celebrating another record-breaking year at Poynton High School Sixth Form. This summer our 150 Year 13 students took over 450 A-Level examinations and BTEC assessments and have achieved record results across the board including 10% of all A-Levels being graded at the highest possible, prestigious A* Grade and 30% graded as A* or A. Student results have been exceptionally high at all levels and in all subjects with 5 students gaining straight A* grades, approaching 80% of all A-Levels graded at A* - C and an overall pass rate in excess of 99%.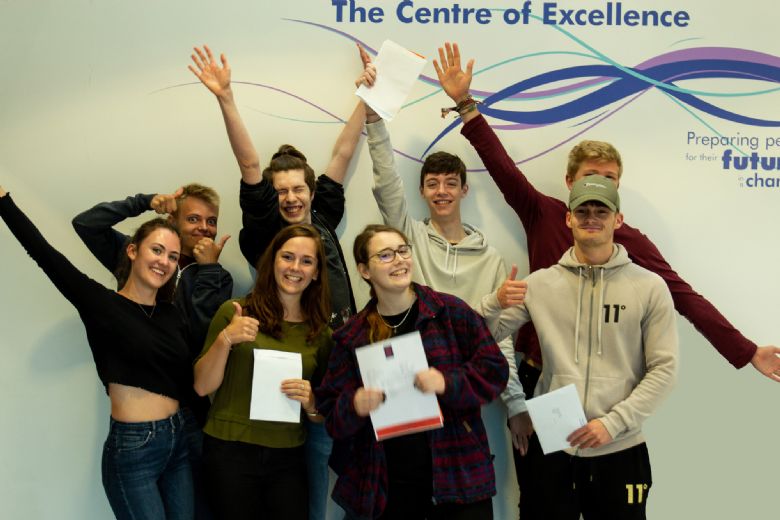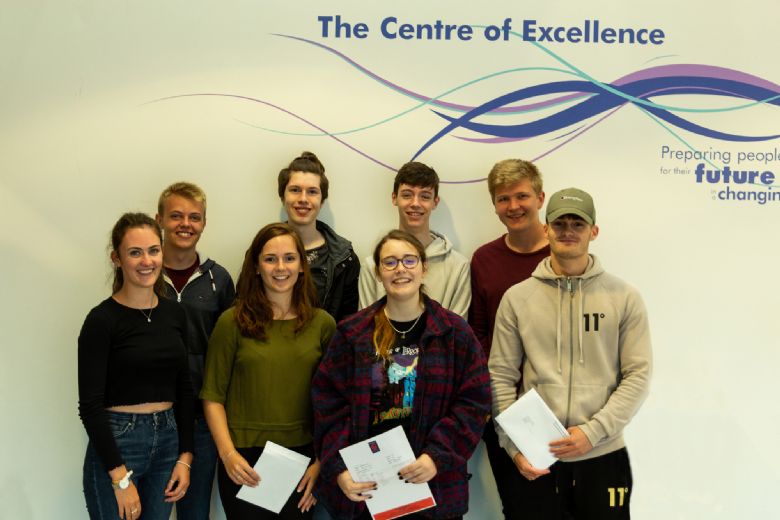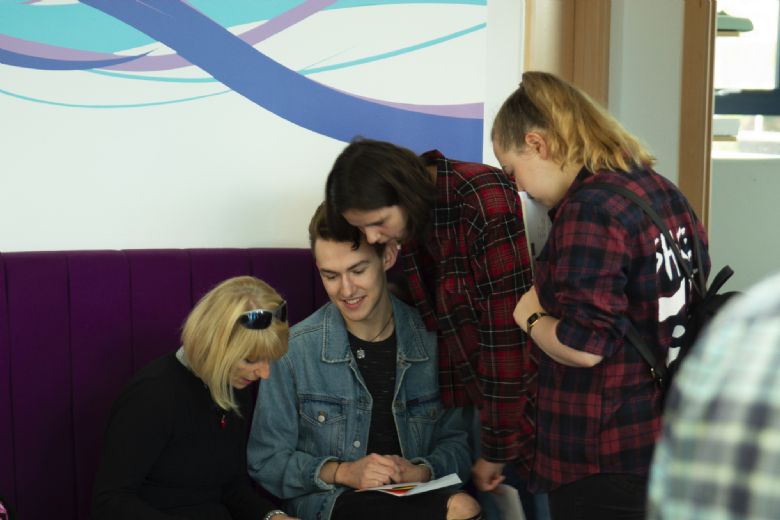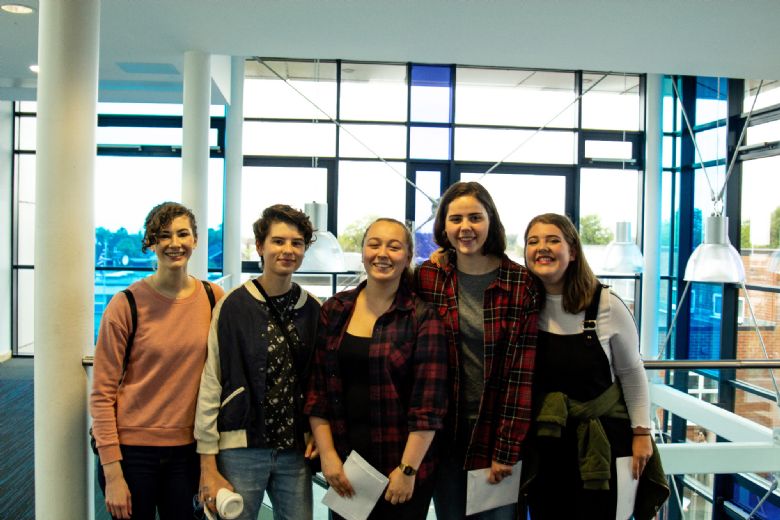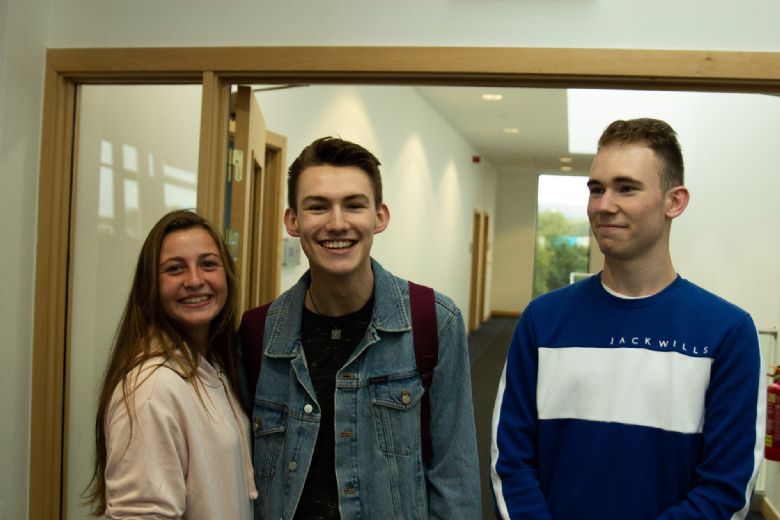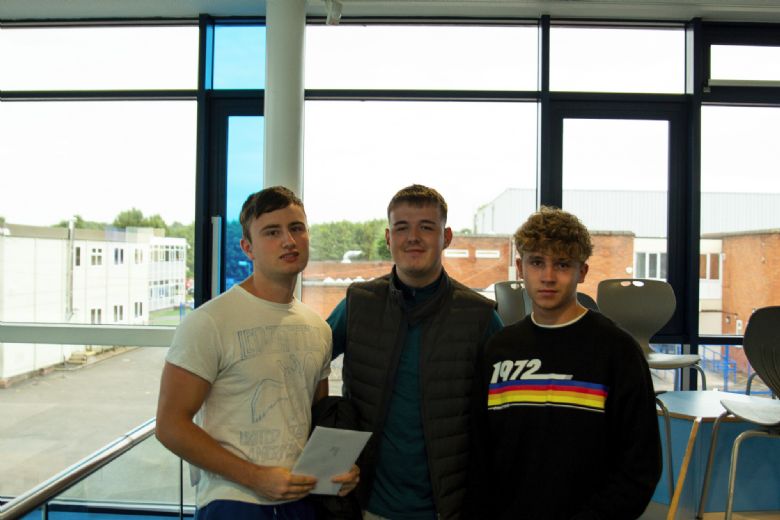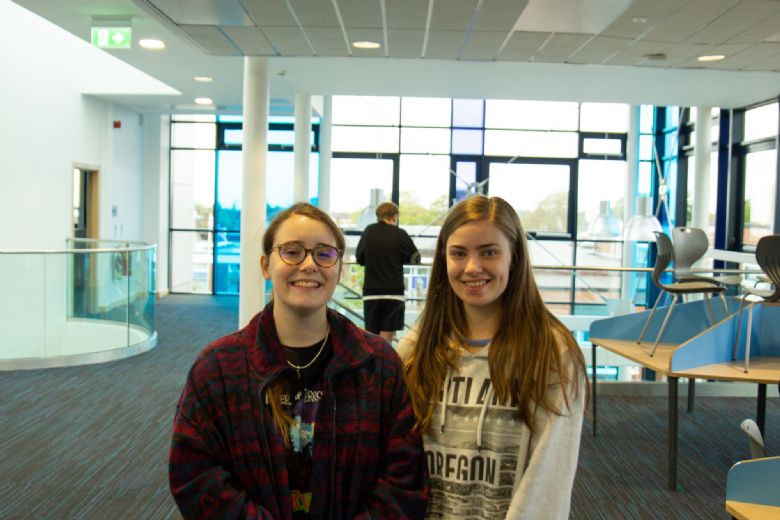 ---
Examination Results 2017
Poynton High School students have again achieved impressive results at GCSE and A Level. David Waugh, Head Teacher, said "…it is wonderful to see such amazing results and individual success stories. These results are a real testament to the hard work of all our students, their families and our great staff who have supported them every step of the way. The government has set down the challenge of harder, more academic GCSEs and our students have met that challenge with distinction across all subject areas."

Progress 8 - + 0.07
This is the second year Progress 8 has been used as a measure and our students have again showed that they are making better progress than students nationally. It is particularly pleasing that our students combine this good progress with very high attainment levels.

Attainment 8 - 52.7 points
Our attainment is very strong. It is significantly better than both the Cheshire East and the England average.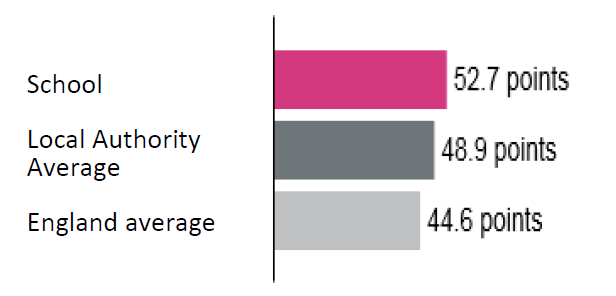 Grade 5 or above in English and Maths
A 5 is a strong pass equivalent to an old B or high C. We outperform the England and Cheshire East average.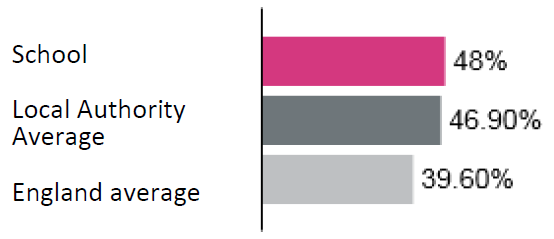 Achieving EBacc at grade 5/C or above
Our curriculum is a broad academic curriculum. Our EBacc figure (Maths/ Science/ English/ Humanities/ MFL) is significantly higher than the England and the Cheshire East average. We are pleased that so many of our students succeed in the EBacc subjects.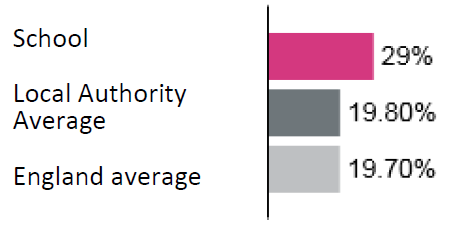 Entering EBacc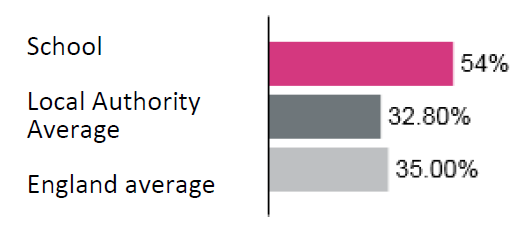 Staying in education or entering employment with training
We are proud of the destination of our students. The figures are from GCSE and there is again impressive performance in terms of destinations after our Sixth Form.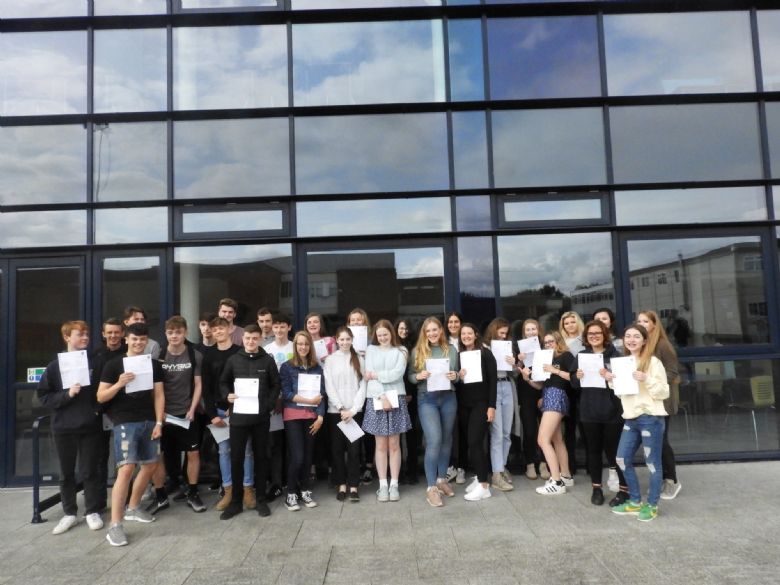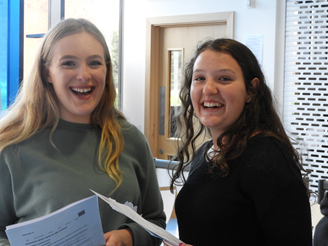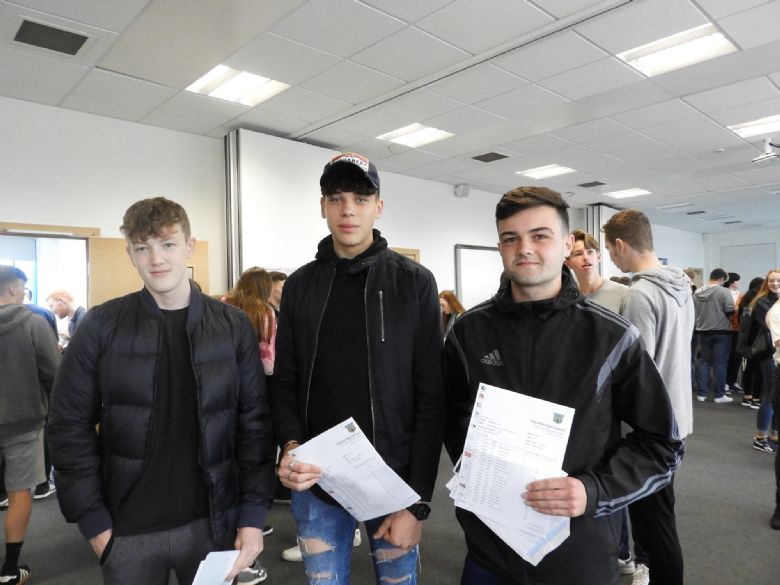 Link to the 2017 Performance Tables
https://www.compare-school-performance.service.gov.uk/school/111436?tab=secondary
A Level Examination Results 2017
Poynton High School students also achieved impressive results at A level. Mr. Richard Hardman, Director of Sixth Form, said, "…our tradition of high academic achievement has continued; it is once again another record breaking year. Students, families, staff and governors are celebrating the successes of their endeavours with 15% of our students gaining straight A and A* grades in all of their A level subjects and more students than ever securing their progression to places at Cambridge, Durham and other Russell Group Universities. The range of universities and courses our students are now progressing to is truly inspiring from University College, London to Bristol, from Medicine to Physics, from Ancient History to Art Foundation."
Sixth Form Student Progress
These figures tell you how much progress students who studied qualifications at this school made between the end of Key Stage 4 and the end of their Sixth Form studies, compared to similar students across England.
We are really proud that our students are working above national levels and making more than expected progress.
A level – Level 3 Value Added Score +0.01
Academic Qualifications – Level 3 Value Added Score +0.02
Applied General Qualifications – Level 3 Value Added Score -0.05
The Applied General refers to the three students studying Double BTEC Sport. These students achieved an average grade of Distinction + in this qualification.
Tech level – not applicable
Sixth Form Average Grade Achieved
The Average Grade Achieved score shows the value of the final average grades achieved by students at the end of their studies. This takes into account all ability levels across our student body. All grades from A* to E are full pass grades at A level and grades range from Distinction* to Pass in BTEC Applied General qualifications.
The percentage of students achieving A* was 10%, while 53% achieved A*-B and 79% achieved A*-C.
A level - C
Academic Qualifications – C
Applied General Qualifications – Distinction+
Tech level – not applicable
English and Maths Progress Measure
This figure measures the progress made by students who are resitting GCSE English and maths to achieve a Standard Pass (Grade 4) or higher while studying their Level 3 qualifications with us in the Sixth Form. The figures show excellent progress made by these students compared to the national figures.
Average progress made in English +1.00 (England average for state funded schools -0.10)
Average progress made in maths +0.50 (England average for state funded schools -0.1)
Retention – the proportion of students who get to the end of their main programme of study.
Retention rates are well above national figures and show how successful students are within Poynton Sixth Form at completing courses that they start. The high quality induction and the guidance given on types and models of suitable programmes of study mean that students complete the courses they begin.
A Level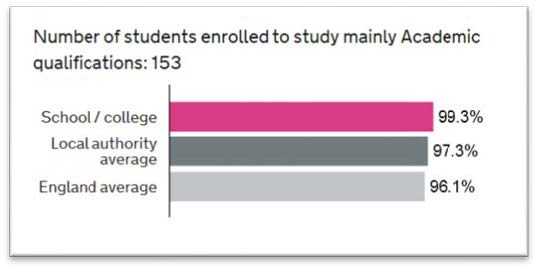 Applied General Qualifications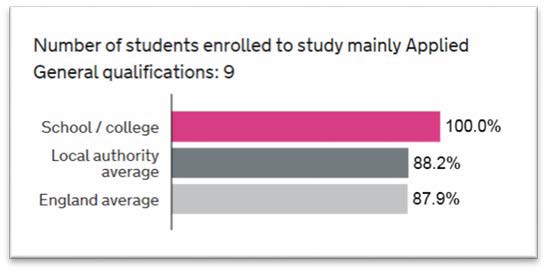 Tech Level – not applicable
Destinations – this is the percentage of students who continue in education or training or move to employment at the end of 16 to 19 study
Students plan and achieve high quality outcomes in terms of destinations when they complete their studies with us in our Sixth Form. Around 80% of the students successfully embark on university courses as their chosen destination beyond Sixth Form. Between 35 and 45% of these places are accepted at Russell Group universities each year. The remaining students often seek and accept placements on high level Apprenticeship programmes or choose to enter the world of work directly after their Sixth Form studies.
Student Case Studies
• Jack Peacock has achieved 3 A* Grades and has gained a place to read Human, Social, and Political Sciences at Sidney Sussex College, University of Cambridge
• Alistair Greenwood has achieved A*A*AA and is going to Cambridge University to study History
• Calum Kendall is going to read Arts and Sciences at University College London after achieving an A* grade and 2 A grades
• Joe Parker has successfully gained his place at Nottingham University to read Physics after achieving 3 A* grades
• Antonia White, after achieving A*A*A*, is leaving PHS is read Biological Sciences at Cardiff University
• Lucy Brissenden achieved 3 A* grades and a Grade A and is going to read Physics at Lancaster University.
• Kate Robertshaw is starting her next adventure at Birmingham University studying Ancient History after achieving A*A*AA grades
• Matt Ball is leaving PHS to read Medicine after successfully gaining two A* grades and a grade B in his three A-Level subjects.
• Bradley Lloyd is about to embark on an Advanced Apprenticeship with Greater Manchester Police after gaining his 3 A-Levels
• Alicia Vermeulen is going to read Geography at Leeds University after achieve straight A grades in her A-Level subjects.
• Chloe Leach is going to Salford University to study Integrated Practice in Learning Disabilities Nursing and Social Care after gaining 4 A-Levels at BBCC grades.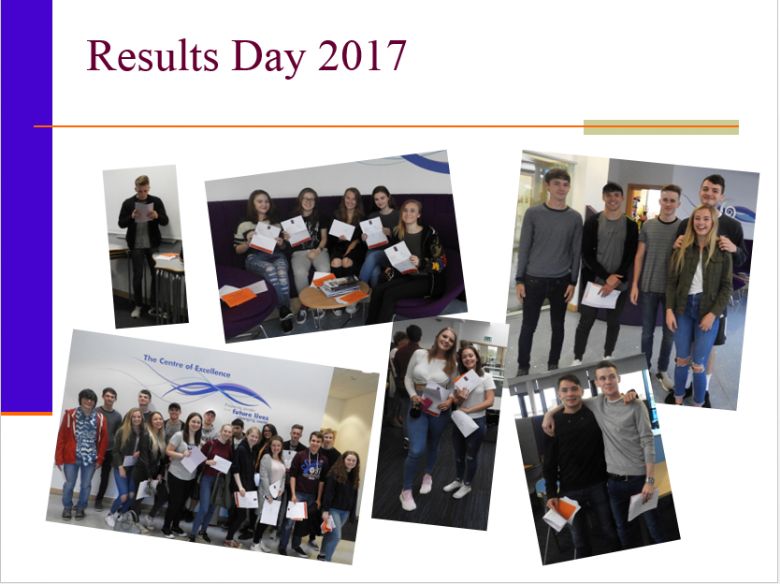 16-18 Performance Tables
https://www.compare-school-performance.service.gov.uk/school/111436?tab=ks5-16-to-18