Job Vacancies
Kitchen Staff - Cook (35 Hours)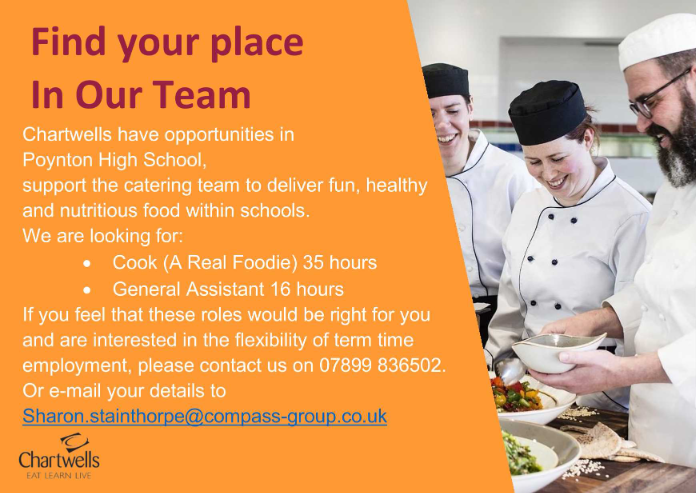 Click here to email for more information
Kitchen Staff - General Assistant (16 Hours)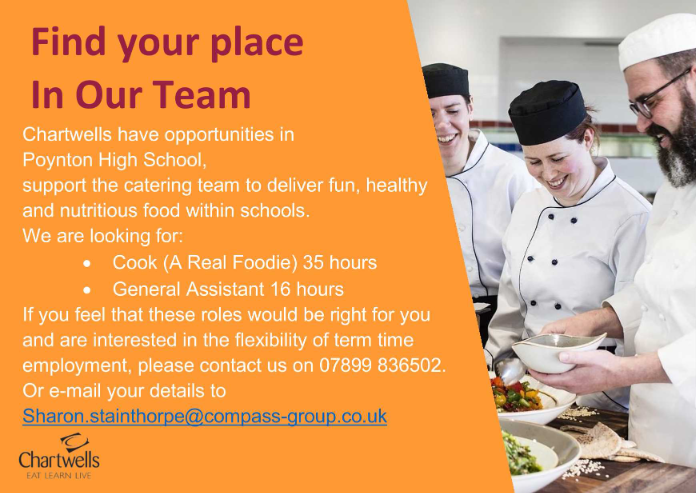 Click here to email for more information
Exams Officer
Required September 2022
Grade 6 points 12-17
Actual pay (£19,887 - £21,955)
Permanent Full Time (37 hours per week)
40 weeks (term time + 10 days)
Must be available for the period of GCSE and A-level results in August.
We are looking to appoint a talented and flexible individual to manage the administration and organisation of all aspects of internal and external examinations in accordance with the regulations laid down by the awarding bodies.
Closing Date: Thursday 7th July 2022
Interviews will take place soon after the closing date
Thank you for researching the opportunities we have available here at Poynton High School and The TRUE Learning Partnership. Our school, and the schools we work with, are truly great schools, full of inspirational young people and exceptionally talented staff. As Head Teacher I am proud to have such a supportive, expert and engaged staff team and I hope that you will wish to move forward with an application and look to join us in due course.
Poynton High School has served the families of Poynton, Disley, Adlington and surrounding areas since 1972 and we lie at the heart of this community's learning needs. We pride ourselves in our vision as a school which serves our community and work in partnership as part of a community based, values focussed, cross phased multi-academy trust.
We have approximately 1400 students in Years 7 to 13 and offer a wide range of A levels in our Sixth Form. The opportunities for career development are extensive as part of our T&L CPD programme and our Ambitious Leadership CPD programme. Not only would you have access to a personalised CPD programme to support your development as a practitioner in the classroom but you would also have access to our leadership CPD programmes to support any future career development plans. Alongside targeted and individualised CPD and support through your mentor, all teaching staff also receive their own Microsoft Surface Pro to aid the quality of teaching and learning in your classroom.
Our staff support our students in an extra-ordinary amount of ways and at the heart of this lies our House System. Every member of staff and every student is in one of our four Houses and we have an extensive programme of House activities on offer; from House water polo to House fishing, from House general knowledge to House dragons den; as well as the traditional football, rugby, lacrosse, athletics, basketball, etc.
Our school motto is INSPIRE ACHIEVE CELEBRATE and we apply that to every element of school life. Our role as staff is to ensure that we inspire every student to achieve the best they possibly can in everything they do, whether that be academic, sporting, cultural or spiritual and at the heart of our culture is a celebration of that achievement. We hope that as a prospective member of staff you will share our mission of "…inspire and empower all within our learning community to fulfil their individual potential and ambitions so that all are able to be active and successful citizens in our global society".
Poynton High School is a very calm and purposeful learning environment and our students are exceptionally engaged in their learning and the life of their school. I am a passionate believer in the welfare of our staff as without you, without your great talents supporting our students, we will never transform our students lives and empower them to be the best they possibly can be.
I would encourage you to visit our website (www.phs.cheshire.sch.uk) to get a fuller understanding of life here at Poynton High and if you have any questions that you would like to ask please do not hesitate to contact me directly. I very much hope that you want to join our team and I look forward to receiving an application from you in due course.
Matthew Dean
Head Teacher

The TTLP is committed to ensuring that Poynton High School is an exceptional place for all our staff to work. A recent Ofsted report, Teacher well-being at work in schools and further education providers, made some recommendations. Below is a summary of our response.
As part of this work we are have achieved recognition through the Valued Worker Scheme and we are also a pathfinder school for the Ethical Leadership in Education Programme.