Sixth Form Results 2022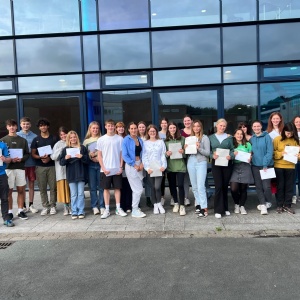 With the publication of this summer's examination results this week, Poynton High School was celebrating excellent results from its A Level and BTEC students on Thursday 18th August. Students were rewarded for their hard work, dedication and resilience with outstanding final results across the full range of academic and vocational subjects.
7 students received at least three A* grades in their A levels with 36 students gaining at least 3 A* and A grades in their A level or BTEC qualifications. Overall half the entries were graded as an A* or an A. We are particularly proud this year as the students' entire Sixth Form experience has been during the COVID pandemic and to gain such impressive results shows their determination and resilience.
These results have enabled students to progress to a wide array of different university courses right across the country. 96 of our students were placed in their first choice of university which is impressive in such a competitive year. Students have also been successful in attaining places on very competitive Degree or Higher Level Apprenticeship courses and others have moved into employment with further training. A small number of examples of these successes can be seen below:
UCL History and Politics of the Americas
Oxford University Geography
Durham University Natural Sciences
University of Leeds English literature
Trainee Chartered Accountant with Mazars
University of Birmingham Law
University of Sheffield Chemistry
University of Liverpool Medicine (in 2023 after gap year traveling in Europe)
University of Leeds Psychology
Degree Level Apprenticeship in Engineering at Bentley Motors
University of York German and Spanish
University of Lancaster Human geography
Edge Hill University Adult Nursing
Level 4 Apprenticeship with Allianz Insurance
University of Birmingham History
University of Nottingham Natural sciences
University of Roehampton Primary education with QTS
Newcastle University Economics
Degree Level Apprenticeship with Solutions PT
University of Warwick Biomedical Systems Engineering
Loughborough University Sport and Exercise Science
Cardiff University English Literature and Creative Writing