April 2018
Poynton high School - Year 10 Parent and Carer Bulletin
Dear Parents and Carers of Year 10 students,
With almost a full academic year working on the GCSE and BTEC courses our Year 10 students will be working in lessons to ensure that they can respond effectively to questions in the written papers which will test their knowledge and understanding of each subject. We have our mock exams starting on Tuesday 24th April.
You can find our full Year 10 mock exam timetable here: https://www.phs.cheshire.sch.uk/attachments/download.asp?file=793&type=pdf
In our last assembly before the exams we will be talking about the importance of being fully prepared for the papers. All students must make sure that they have a full set of equipment needed for the exams.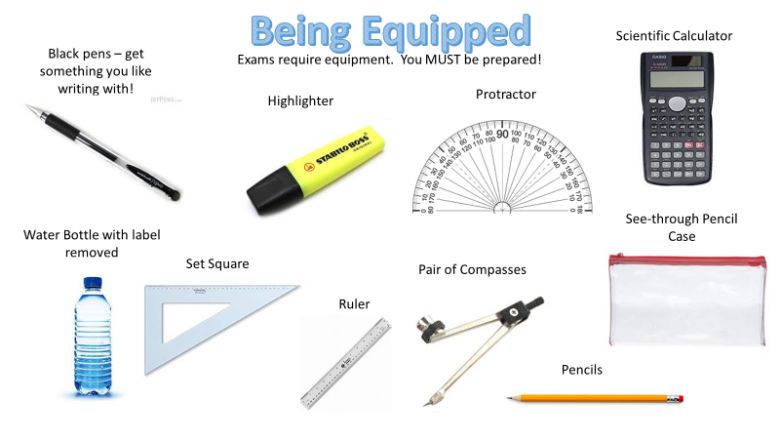 We have also recently looked as a year group at the revision process. They should be fully aware that effective revision always involves working with the content they are revision, simply reading notes is not effective, even if they have convinced themselves of this!
We have looked at revision as a 3-part process, you can see this here: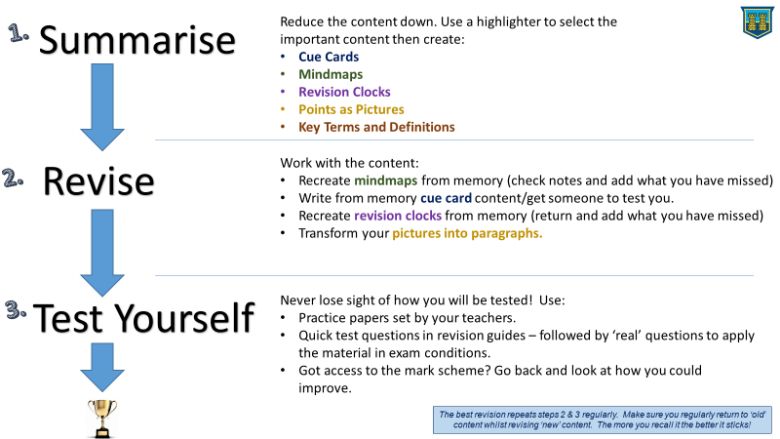 German
The German exam will test Writing and Reading. The topics will be the first three units of the course: school, free time and family.
For Foundation students, there will be a picture to describe in four sentences, a 40-word written task and a choice of two 90 word tasks. There will also be 5 sentences to translate into German. There will then be reading passages with comprehension questions.
For Higher students, there will be a choice of two 90-word writing questions, a choice of two 150 word questions and a short paragraph to translate into German. There will then be reading passages with comprehension questions.
For all students, there will be a Speaking test after your exams are finished. Your teacher will talk to you about this in advance of the test.
You should use your exercise book and vocabulary booklet for revision.
Product Design
The students have been covering a range of topics including Timber, in their theory lessons. Students will need to revise this for their exam plus use their revision guides to have a wider understanding of Product Design.
If any student would like a revision guide and question booklet, these can still be ordered through us at a reduced cost of £5.10 for both books.
We would like to remind you of the Upcycling competition, which was launched when Jon Hutchinson from ProjectUp visited our year 10 lesson. The deadline for all products is not until the start of May but there are a few things to do before this time. If your child is entering this competition, please ask them to see me for the consent letters etc.
Also the finals will be at Congleton Town Hall on 16th May 5pm
– 6.30pm. All are welcome. If you would like to attend, then please let me know as Jon requires final numbers for the night.
Religious Studies
Before the Easter holidays all students will have had a revision lesson with their teachers and know fully what to revise. They will be given an A3 revision sheet with a breakdown of topics to revise and exam questions tips. The topics covered so far are:
Christianity - Worship and festivals (in Year 9), Key beliefs, Christ and salvation (Year 10 autumn) and Role of the church in the local and wider community (Yr10 autumn)
Themes - Crime and punishment (Yr10 autumn) and Relationships and families (Yr10 spring)
The Year 10 exam is 1 hour and 45 mins in length. Students will complete 4 whole questions which are sub-divided into 1, 2, 4, 5 and 12 mark questions.
Students will need to make sure they revise everything in their yellow and purple exercise books.
Maths
Please see separate letter attached detailing our launch of the PiXL maths app.
English
Year 10 will be having a mini mock unseen assessment on Macbeth in their usual English lessons towards the end of next half term. (They won't have another mock for English Language).
They should make sure they have completed their GAPP packs well in advance of this to help their understanding of the text. Also, they should ensure they are up to date with the reading of Macbeth and they could watch Macbeth revision videos on you tube (Mr Bruff or Stacey Reay).
Science
The Year 10 mock exams start the week beginning 30th April. The Science mock exams will assess all GCSE topics taught in Biology, Chemistry and Physics from all of Year 10 and the GCSE topics covered at the end of Year 9.
· Triple Science students: will sit 3 papers (Biology, Chemistry and Physics). Each paper is 1 hour 45 minutes in length
· Double (Combined) Science students: will sit 3 papers (Biology, Chemistry and Physics). Each paper is 1 hour 15 minutes in length.
Below is the overview of which topics will be assessed in each paper:
Exam paper Topics
Biology Paper Biology topics 1 – 4: Cell Biology; Organisation; Infection and response; and Bioenergetics.
Paper Chemistry topics 1 – 5: Atomic structure and the periodic table; Bonding, structure, and the properties of matter; Quantitative chemistry; Chemical changes; and Energy changes.
Physics Paper Physics topics 1 – 4: Energy; Electricity; Particle model of matter; and Atomic structure.
Revision material to support students preparing for examinations:
· Mock revision: students will be given revision material to complete to help prepare for the mock exams.
· Revision videos: These are an excellent resource for revision for mocks and topic tests and are currently free to view:
GCSE Biology: http://www.youtube.com/playlist?list=PLsorq7UsrfYuQh785J72FDeraUMJxNOqj
GCSE Chemistry: https://www.youtube.com/playlist?list=PLsorq7UsrfYsFLSgTetRVjzN6QYvf3jpC GCSE Physics: https://www.youtube.com/playlist?list=PLsorq7UsrfYvIzoB1sMqSYdy4KtH4eJC9
· BBC Bitesize revision website- this has newly been updated for the new GCSE specification:
BBC Bitesize for Double (Combined Science) students: https://www.bbc.com/education/examspecs/z8r997h
BBC Bitesize for Tripe Science students:
Biology: https://www.bbc.com/education/examspecs/zpgcbk7
Chemistry: https://www.bbc.com/education/examspecs/z8xtmnb
Physics: https://www.bbc.com/education/examspecs/zsc9rdm
Many thanks for your continued support.
Science Department
Thank you, as ever, for your ongoing support. We hope that the Easter period provides a great chance for our Year 10 students to relax and also manage their time to ensure that they revise effectively.
Andy Bennett
Assistant Head Teacher – Director of Standards and Student Progress.