POYNTON HIGH SCHOOL INVOLVED IN SHAPING SOLUTIONS TO NET ZERO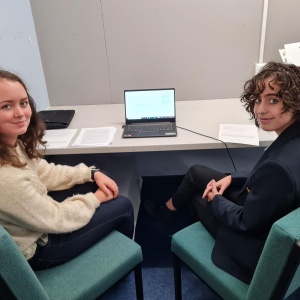 POYNTON HIGH SCHOOL INVOLVED IN SHAPING SOLUTIONS TO NET ZERO
Two students, Emily from Year 9 and Anna from Year 13 have taken part in a national summit designed to explore ways engineers can help achieve net zero.
The Tomorrow's Engineers Week Schools COP Summit saw over 50 pupils from across the UK come together to explore how engineers are at the heart of addressing the climate crisis.
Students heard from inspirational engineers at the forefront of reducing the effects of climate change and then held discussions hosted by broadcaster Fayon Dixon and former BBC presenter Susan Bookbinder that mirrored those being held at the COP26 Climate Summit in Glasgow.
All attendees were given the opportunity to focus on areas of interest, such as protecting wildlife from the worst effects of climate change or motivating more young people to be more eco-conscious. They brainstormed ideas for how engineering can reduce the carbon footprint of the UK and how they can make an impact on reaching net zero themselves.
The Schools COP Summit is part of Tomorrow's Engineers Week, which highlights to young people that engineering is a creative, problem-solving, exciting career that improves the world around us and is playing an active part in achieving net zero.