Examination Results
Examination Results 2021
GCSE Success for Year 11
It was fantastic to see our Year 11 students receive their GCSE and other results this year. This year group has faced real challenges as we went in to the national lockdown while they were in Year 10 but through their hard work and the support of their teachers they definitely rose to the challenge. Our congratulations to them all.
In line with the other local schools, we will not be releasing headline measures this year but there are many impressive achievements to celebrate in terms of attainment and progress made since joining our school.
The students below achieved seven or more qualifications at 7+ - a fantastic achievement! Two of our students, Amelie Lewens and Luke Davies achieved 9 grade 9s in their GCSEs
Jasmine Allen
Sasha Asal
Ruby Barber
Catherine Bellingham
Grace Bingham
Isabel Brundrett
Millie Carman
Maximilian Collins
Samantha Currie
Lily Daniels
Kitty Darby
Luke Davies
Holly Durban
Isabella Dyke
Benjamin Fantom
Matilda Fenton
Isobel Ferguson
Eve Forman
Thomas Glasgow
Annabelle Graham
Ben Grundy
Maximilian Hallam
James Hand
Freya Hannam
Abigail Harvey
Hannah Hunter
Lucy Jackson
Madeleine James
Kimia Karami-Shahrokhi
Krish Khambhu
Alice Knight
Erin Lee
Amelie Lewens
James Lilley
Amelie Look
Rosie Maguire
Daniel Mallender
Bethan Martin
Libby McMillan
Bradley Melville
Kiran Mukherjee
Heather Nichol
Rory Noden
Umar Nouri
Beatrice Oldham
Abigail Rule
Lucy Ryan
Mackenzie Ryden
Fiona Shaw
Samuel Tonks
Rohan Vickers
Ellie Western
Heartley Wild
Alexander Zughaid
Sixth Form Success
With the publication of this summer's examination results this week, Poynton High School was celebrating outstanding results from its A Level and BTEC students on Tuesday 10th August. Students were rewarded for their hard work, dedication and resilience with excellent final results across the full range of academic and vocational subjects.
12 students received at least three A* grades in their A levels with many more gaining A*s in one or two A level qualifications.
These results have enabled students to progress to a wide array of different university courses right across the country. 90% of our students were placed in their first choice of university which is impressive in such a competitive year. Students have also been successful in attaining places on very competitive Degree or Higher Level Apprenticeship courses and others have moved on into employment with further training. A small number of examples of these successes can be seen below:
Anna C studied A Levels in Maths, Biology and Chemistry, plus an Extended Project Qualification and will now be embarking on a career in Medicine with the University of Sheffield.
Euan C studied A Levels in Maths, Further Maths, Chemistry and Physics and will be studying a General Engineering degree at the University of Sheffield.
Louise B studied A Levels in History, Psychology and German and will be realising her ambition to study Archaeology at the University of York.
Saskia G who studied A levels in Computer Science and D&T (Product Design, and a Level 3 BTEC Extended Certificate in Information Technology will be joining AJ Bell Investment in Manchester following a Degree Level Apprenticeship in Digital and Technology Solutions.
Jack M who studied A levels in Business, Economics and Biology will be joining Lloyd Piggott Accountants on an Accountancy Apprenticeship.
Rachel G studied Maths, Further Maths, Geography and Chemistry and will be joining the prestigious Bird College to study Professional Dance and Musical Theatre.
Nicholas J studied A Levels in History, Biology and Business and will be designing buildings of the future when he has completed his degree in Architecture with the University of Liverpool.
Aimee B studied A Levels in Art, History and Religious Studies and has secured a Degree Level Apprenticeship Paralegal Studies with SAS Daniels Law in Macclesfield.
Philippa L studied A Levels in Art and Business, and A BTEC Level 3 Extended Certificate in Information Technology and will be progressing to Macclesfield College to complete an Art Foundation course.
Lucas H studied A level Media Studies and BTEC Extended Certificates in Sport and Business and will be studying Football Business and Media at the UCFB in Manchester (University Campus of Football Business).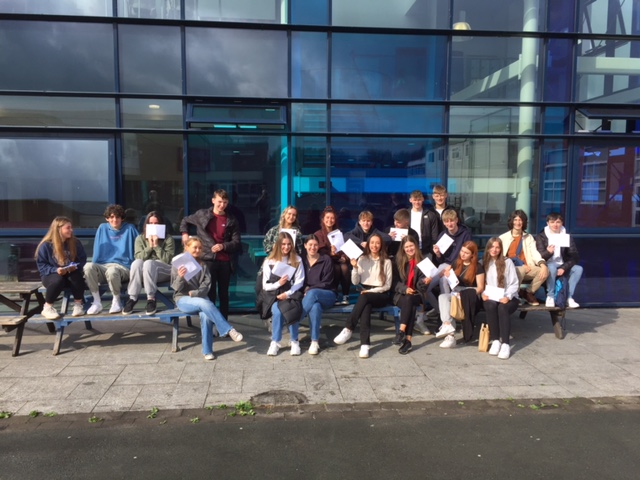 Limited information is published by the government on 2021 results and no information has been published nationally about 2020 results. The link above takes you to the performance tables for our school.
Examination Results 2020
Poynton High School Year 11 have been simply AMAZING! These are truly bizarre and surreal times and there really has never been an exams season like this one! Today, our inspirational Year 11 students collected their GCSE and BTEC results. Our Year 11 students have been recognised for their hard work, their dedication and their sheer brilliance. This has always been an exceptionally hardworking, dedicated year group and I know I speak on behalf of all of our staff when I commend their results to our community as a fair reflection of their ability and their knowledge.
These really are outstanding results and do give a fair reflection of this year group. They have been an inspirational year group since they arrived with us in 2015, always "…jumping in with both feet". Our Year 11 go forward with their passport to the future and we are very excited to be welcoming so many of them back into our Sixth Form as we fully open in two weeks' time.
Head Teacher, Mr David Waugh said, "…this year group has faced such herculean challenges in recent times and are so very special for so many reasons. They have today been awarded an amazing and justifiable set of qualifications. On behalf of all of our staff, governors, trustees and our community, I want to commend their results to you and to thank them for all of their hard work, dedication, challenge and support in ensuring that Poynton High School remains one of the highest achieving schools in the country."
Over 240 Year 11 Poynton High students have today received their final GCSE and provisional BTEC grades, known as "Centre Assessed Grades" and if these were 'normal times' then I would be quoting how these are the best results ever achieved, but these are not 'normal times' and these are not 'normal grades'. There is such mixed emotion flying around with regard to these grades, in all schools nationally. With the cancellation of all exams this summer, students across the country today have received grades based on their work over the last 2 years within school, supported with a robust quality assurance process. As agreed with all other head teachers in Cheshire East, we will not be releasing headline measures this year, suffice to say we are celebrating amazing outcomes and progression routes for our students.
We have 247 brilliant Yr11 students, who are unfortunately too numerous to mention in this press release. As a flavour of our great students, we have included below some examples of the brilliant things our students are going to progress on to:
Luc Singleton – All 9's! WOW, all 9's. What a fantastic achievement. Luc is planning on returning to Poynton High school Sixth form to study Physics, Maths, Further Maths and German.
Anna Jones - All 9's! We are very excited to be welcoming Anna back to Sixth form to study Maths, Geography, German and Physics.
Olivia Buckley - All 9's! Olivia is a true perfectionist. There is nothing more perfect than achieving a 9 in every subject. Oliva is returning to sixth form to study Maths, Physics German and History.
Poppy Ardley – what an incredible set of results! Poppy has her own health challenges but never uses this as an excuse or allows it to be a barrier to her achievement. Congratulations for achieving 100% attendance.
Joseph Bradley – Joe has not found this year 'easy' but he has achieved some fantastic results that he should be incredibly proud of.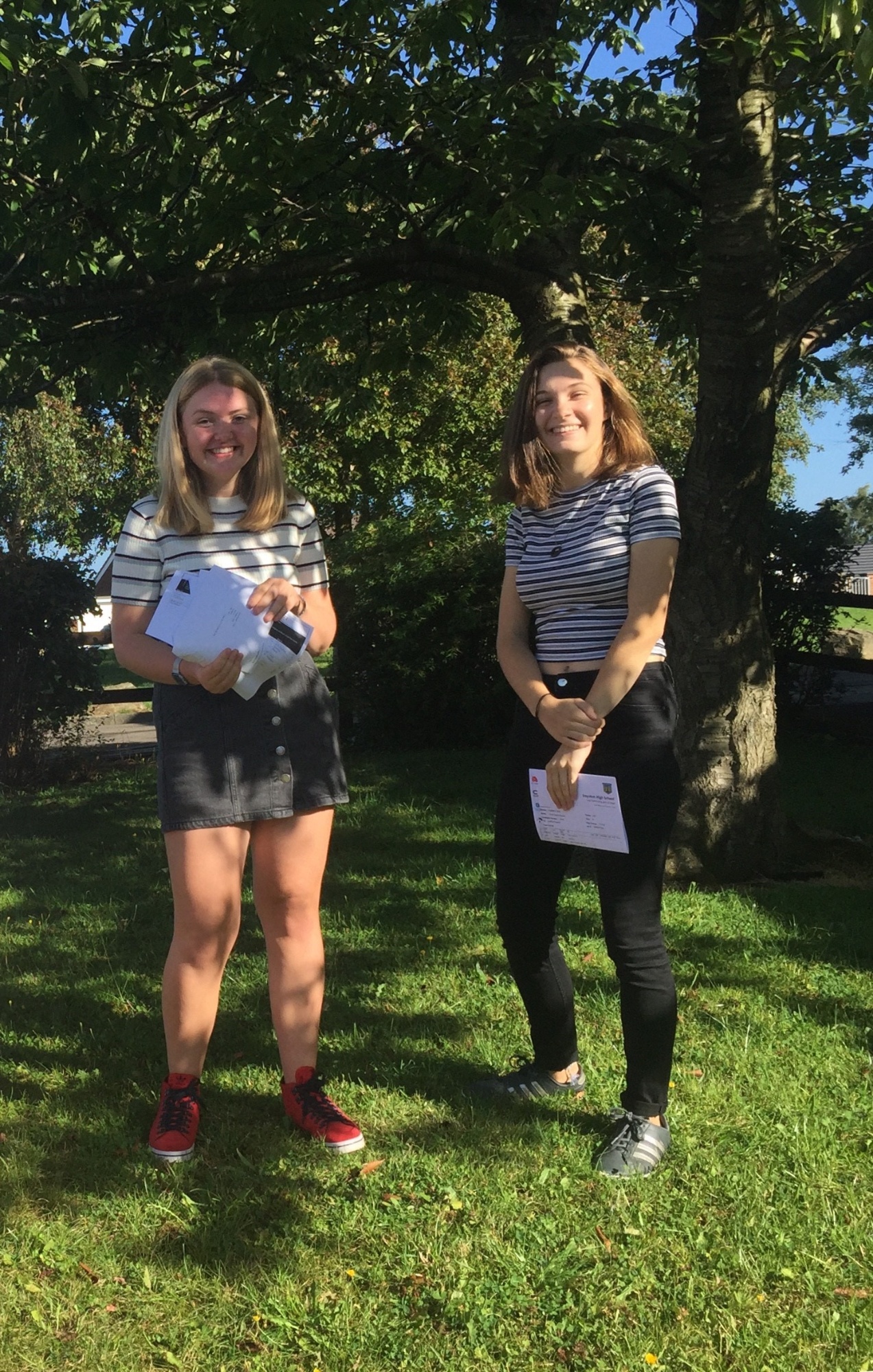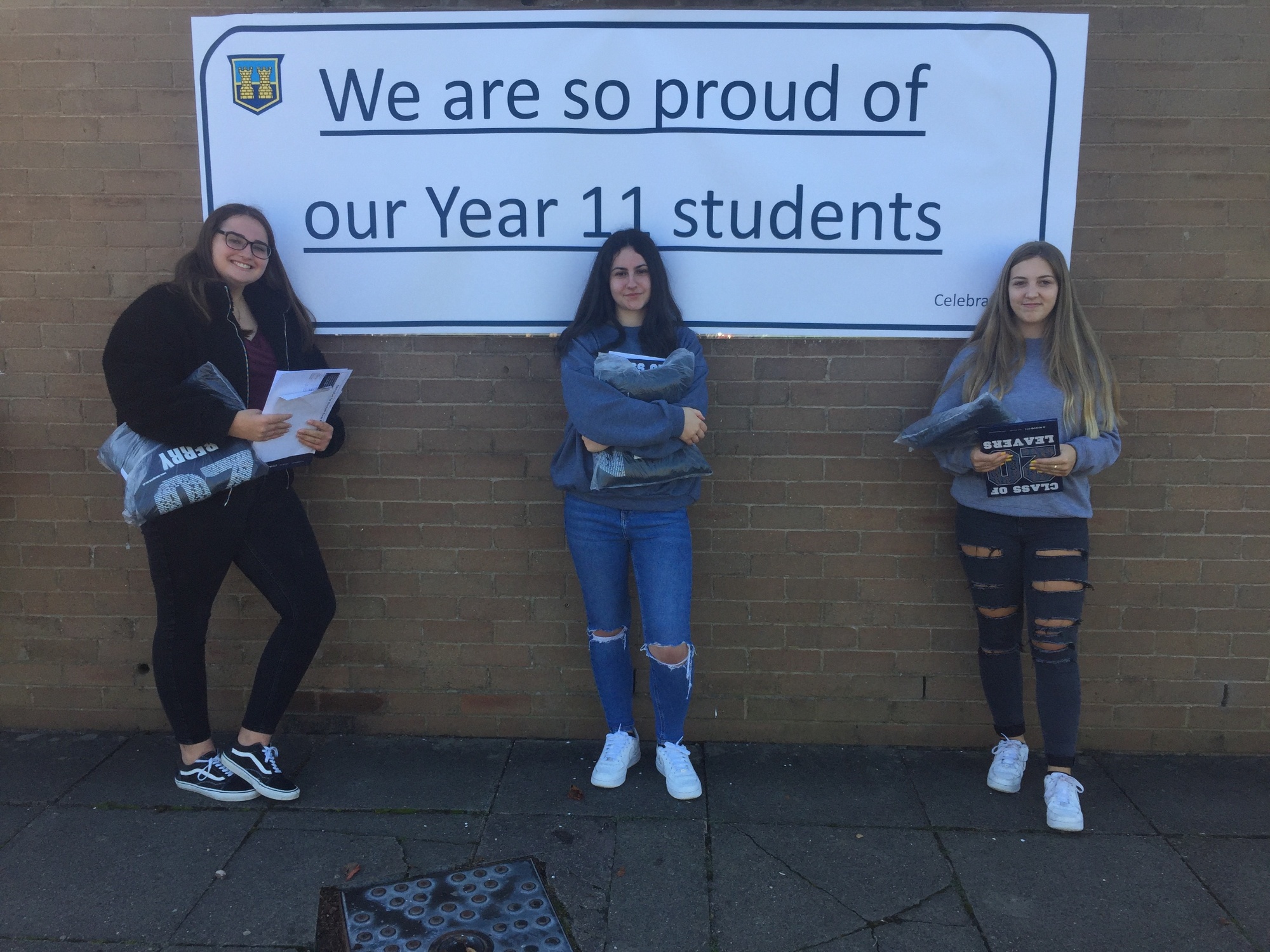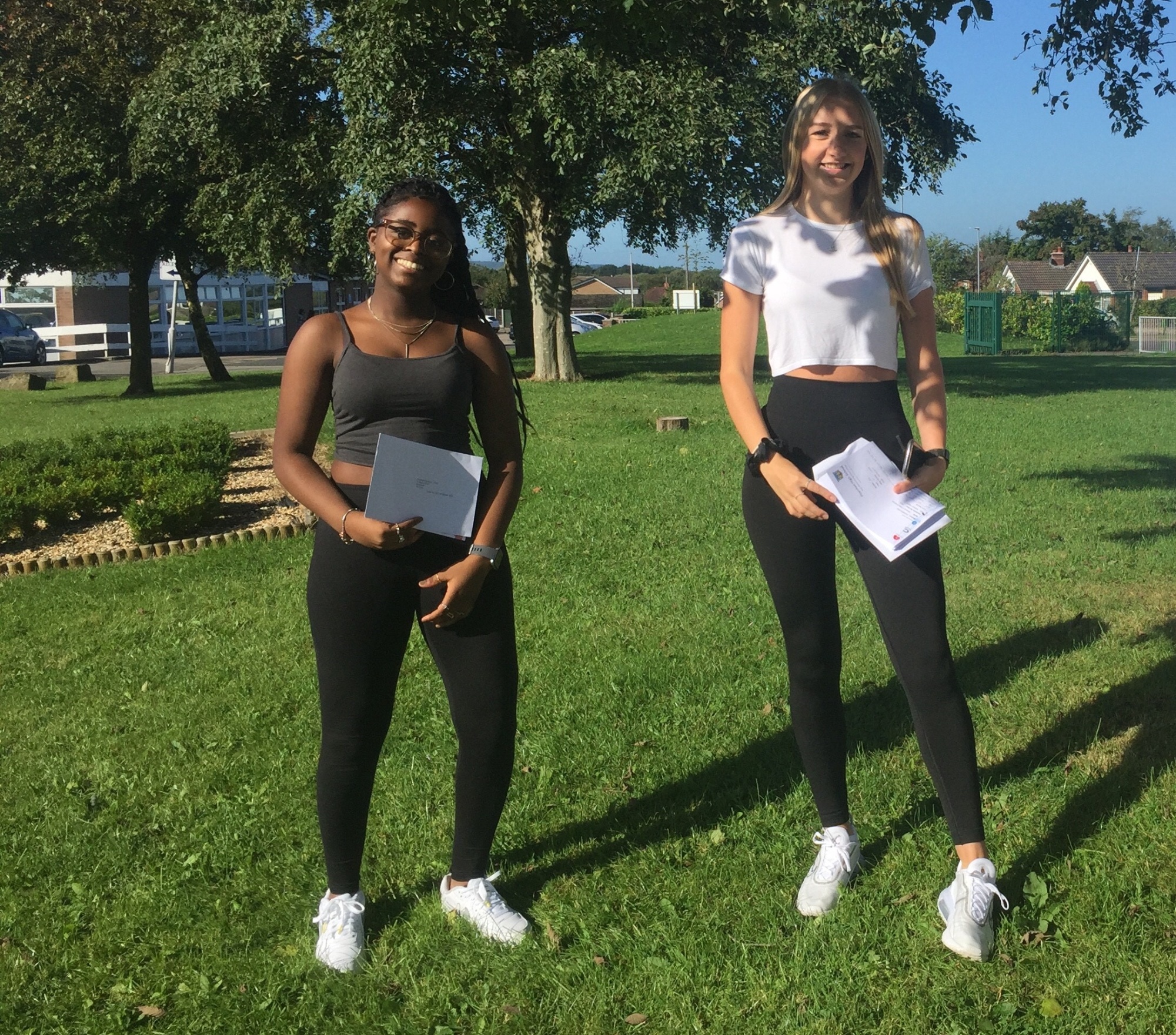 The most recent performance measures are for the 2019 results and more information about these can be found here
https://www.compare-school-performance.service.gov.uk/school/111436/poynton-high-school/secondary
Examination Results 2019
Once again our students have achieved outstanding results at both GCSE and A level. Our students embraced the challenge presented to them by the reformed qualifications and achieved impressive progress. This group of inspirational young people have excelled, with nearly 30% of all students being awarded an A or A* at A level and 80% achieving 5 or more GCSEs at grade 4+, including English and maths.
2019 GCSE Results are now available on the government school performance website (see above). We are proud that in 2019 our students' results were the best in Cheshire East for:
Attainment 8
% of students achieving 9-4 grades in English and Maths
the EBacc average points score.
The progress students made was even better than in 2018, when we were recognised by the SSAT for exceptional student attainment as we were in the top 10% of non-selective state schools nationally for student attainment.
Progress 8 - + 0.29
This is the fourth year Progress 8 has been used as a measure and our students have again showed that they are making much better progress than students nationally. It is particularly pleasing that our students combine this good progress with very high attainment levels.

Attainment 8
Our attainment is very strong. It is again significantly better than both the Cheshire East and the England average.

Grade 5 or above in English and Maths GCSEs
A 5 is a strong pass, equivalent to an old B or high C. We outperform the England and Cheshire East average.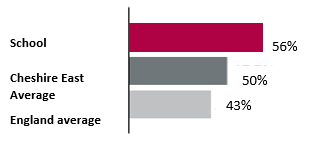 EBacc average point score
Our curriculum is a broad academic curriculum. Our EBacc average point score (Maths/ Science/ English/ Humanities/ MFL) is significantly higher than the England and the Cheshire East average. We are pleased that so many of our students succeed in the EBacc subjects.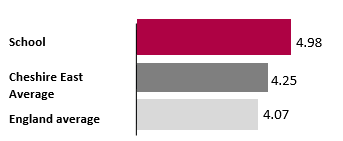 Entering for the EBacc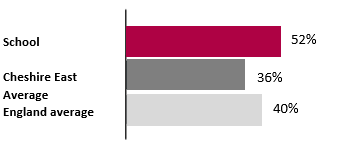 Staying in education or entering employment

Link to the 2019 Performance Tables
https://www.compare-school-performance.service.gov.uk/school/111436/poynton-high-school/secondary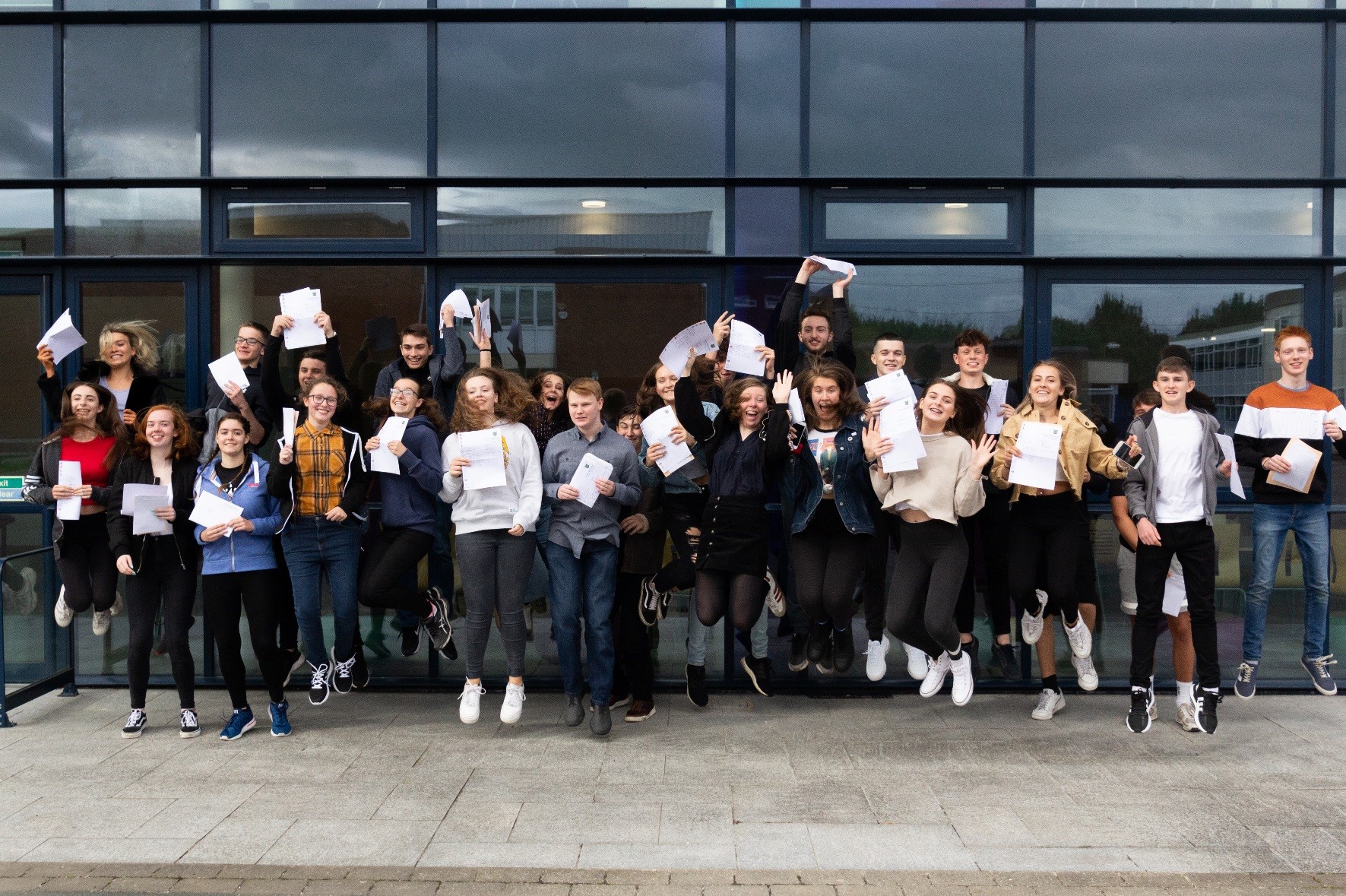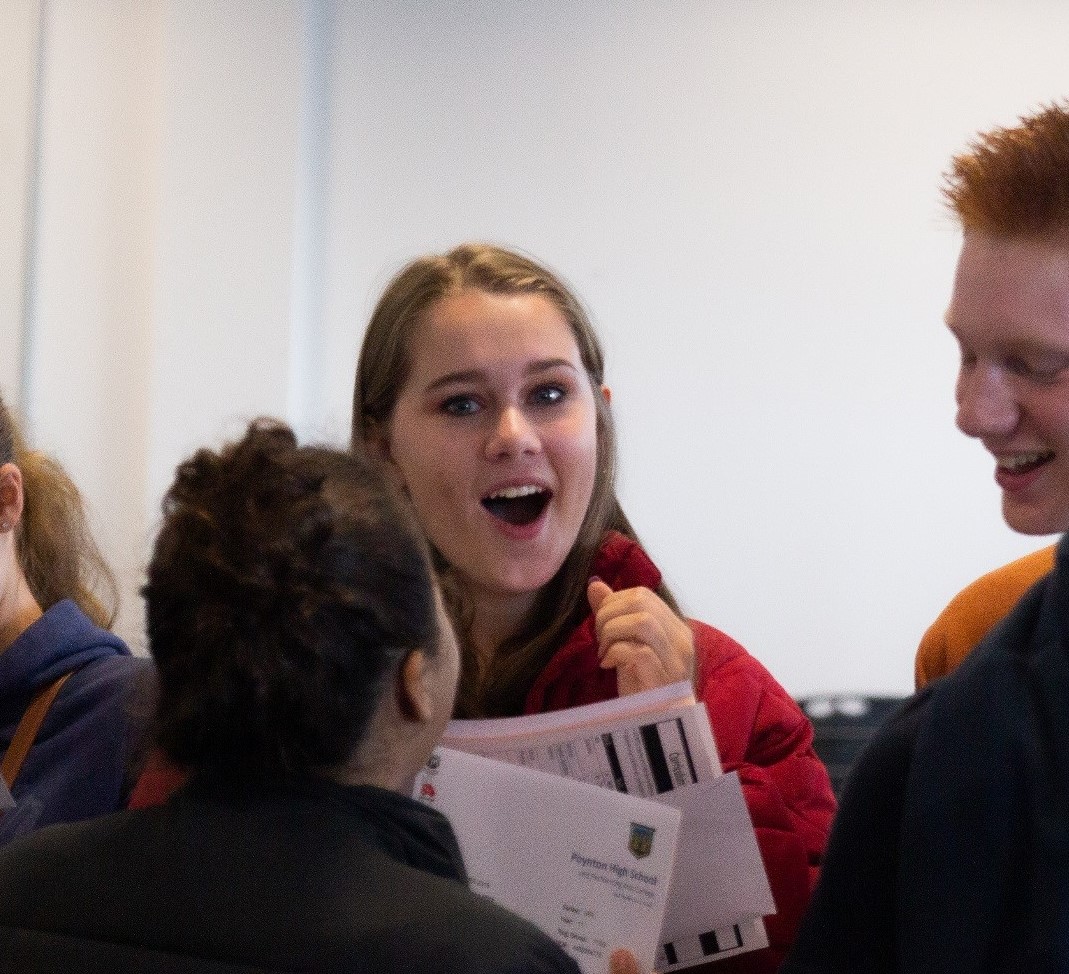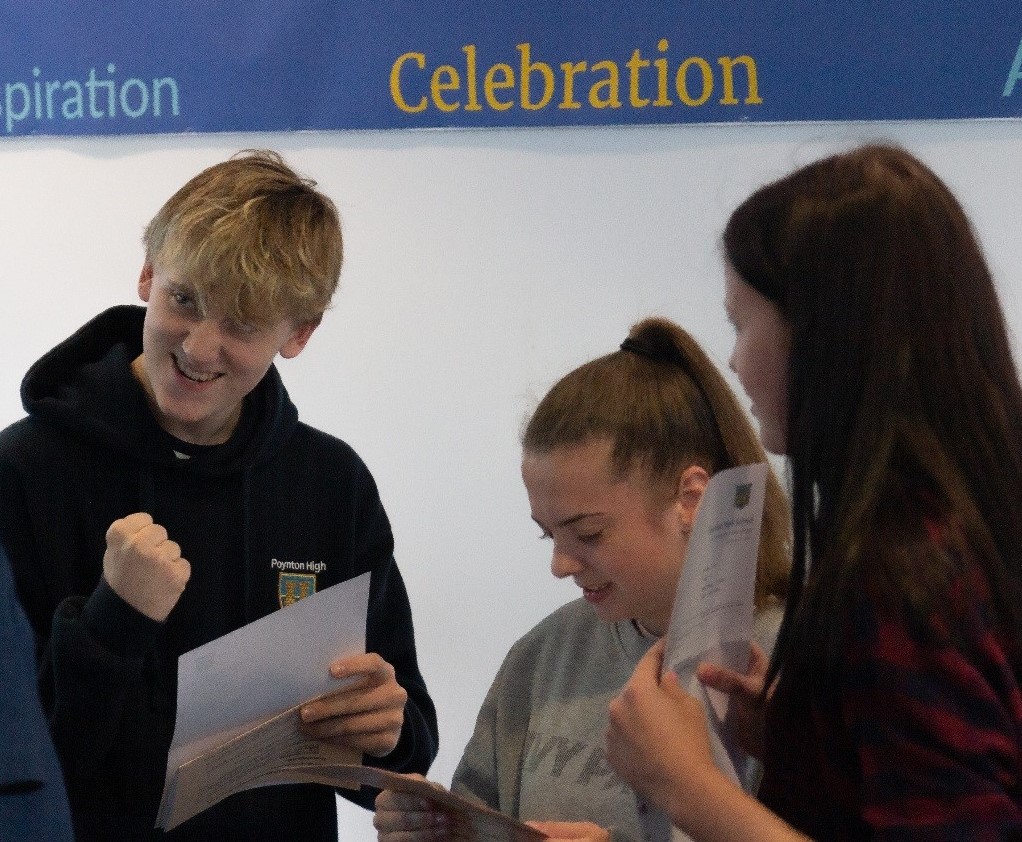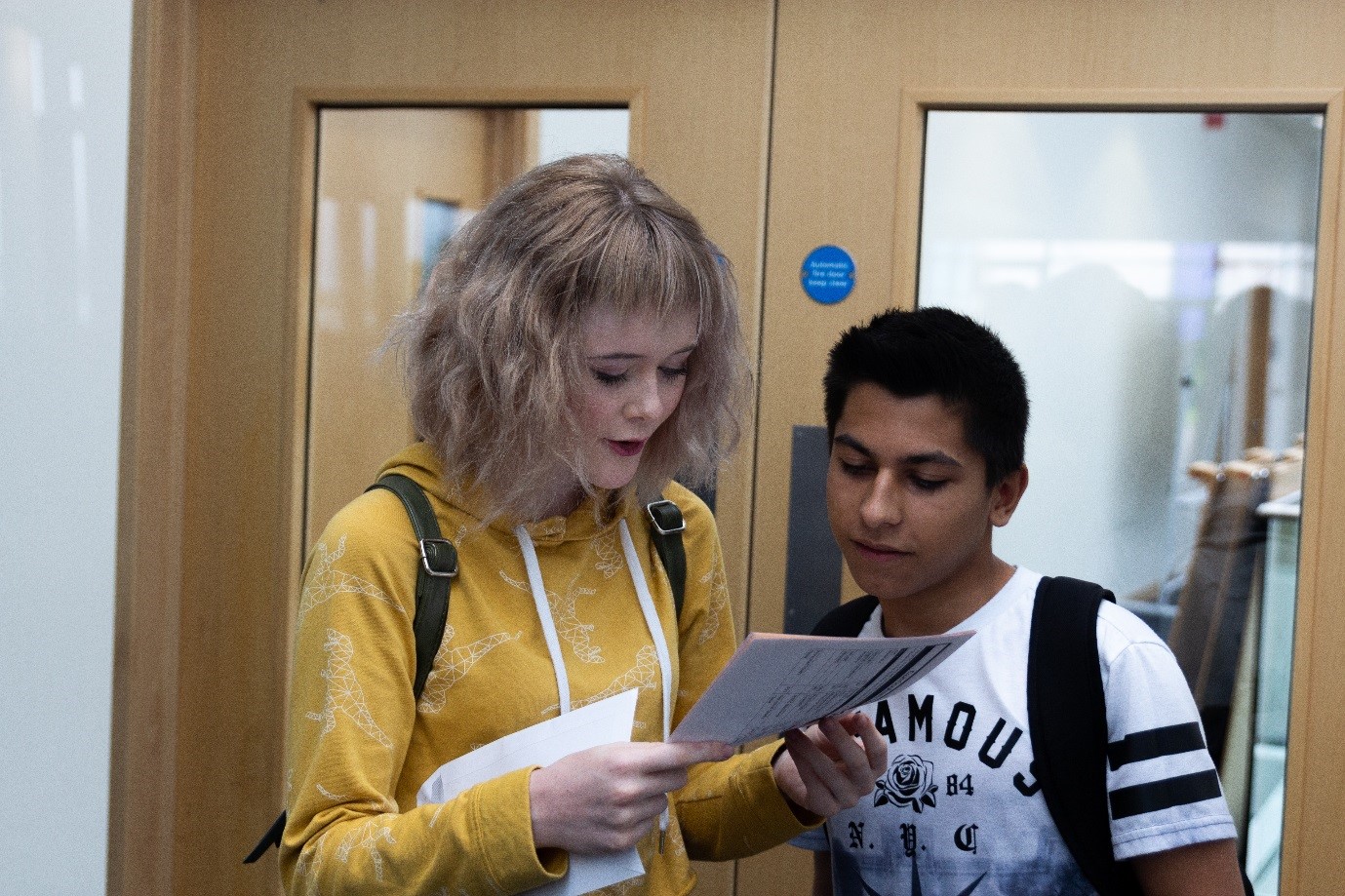 A Level Examination Results 2019
This summer our 152 Year 13 students took over 450 A- Level examinations and BTEC assessments and have achieved record results across the board, including almost 10% of all A-Levels being graded at the prestigious A* grade and 30% graded as A* or A. Student results have been exceptionally high at all levels and in all subjects with 17 students gaining straight A*/A grades and 80% of all A-Levels graded A*-C, with an overall pass rate in excess of 99%.
It is yet another year of great success by our students and recognition of all the hard work by them, their families and our staff. These results are transformational for them with the vast majority going on to follow courses at their first choice of university.
Examples of destinations for individual students this year are below:
•Daniel O gained A* A* A* in his A Levels and will be reading Natural Sciences at Durham University.
•Christopher H gained B B B in his A Levels and will be reading Computer Science with an Industrial Placement at Newcastle University.
•Matthew H gained A* A* A* in his A Levels and will be reading Mathematics at Durham University.
•Ben P gained B C D in his A Levels and is joining Siemens to undertake a Digital Coding apprenticeship.
•Megan J gained C C C in her A Levels and will be reading Applied Terrestrial and Marine Ecology at Bangor University.
•Isobel S gained A* A A in her A Levels and will be reading Liberal Arts and Sciences at the University of Birmingham.
•Lucy S gained B B and Distinction* in her A Levels and BTEC course and will be reading Interactive Media at the University of York.
•Theo C gained A A B in his A Levels and will be reading Biomedical Science at the University of Sheffield.
•Benjamin H gained A B C in his A Levels and will be reading Sports Management at Loughborough University.
Sixth Form Student Progress 2019
This figure tells you how much progress students who studied qualifications at this school made between the end of Key Stage 4 and the end of their Sixth Form studies, compared to similar students across England. We are really proud that our students are working above national levels and making more than expected progress. The 2019 results show even greater progress than the pleasing 2018 results.
Academic Qualifications Progress score

This score shows progress across A levels and other academic qualifications such as the EPQ.
Average Grade Achieved
| | | |
| --- | --- | --- |
| | Average result | Points |
| School | B- | 35.02 |
| Cheshire East | C+ | 33.82 |
| England | C+ | 34.33 |
English and Maths Progress Measure
This figure measures the progress made by students who are resitting GCSE English and maths to achieve a Standard Pass (Grade 4) or higher while studying their Level 3 qualifications with us in the Sixth Form. The figures show excellent progress made by these students compared to the national figures.
In English, 100% of the students required to re-sit their GCSE Language qualification during 2018-19 (19 students) passed this qualification. The national figure was 33.7%.
In Maths, 65% of the students required to re-sit their GCSE Maths Mathematics qualification during 2018-19 (11 students) passed this qualification. The national figure is 27.5%. This gave us an average progress score of 0.92 compared with a national figure of 0.1.
In both cases, these results are significantly above all national figures.
Retention
Retention figures show the percentage of students completing their main study programme.
Retention rates are well above national figures and show how successful students are within Poynton Sixth Form at completing courses that they start. The high quality induction and the guidance given on types and models of suitable programmes of study mean that students complete the courses they begin.
In 2018 98.1% of students completed their main study programme which was a higher figure than Cheshire East (95.1%) or England (94.2%).
2019 data will be available in March 2020.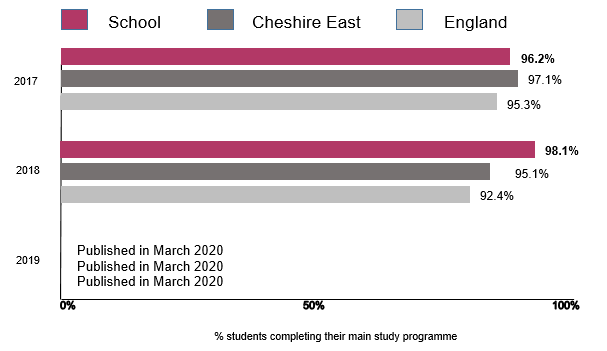 Student destinations
(The data below was published in January 2020 and refers to the 2017 leavers).
Students progressing to education or employment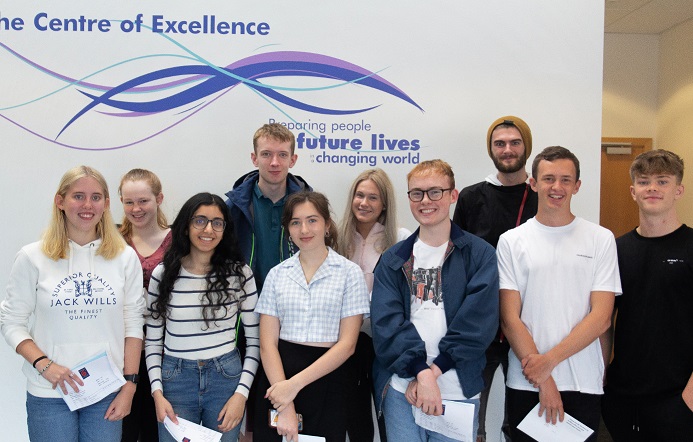 16-18 Performance Tables
https://www.compare-school-performance.service.gov.uk/school/111436?tab=ks5-16-to-18