Donation from Poynton Charity starts School's Minibus Appeal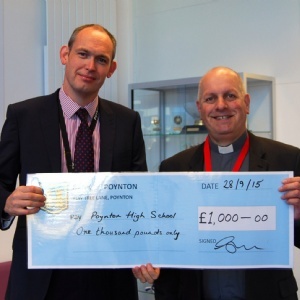 Rob McLaren, Vicar of St Georges Church on Chester Road in Poynton, recently came to Poynton High School to present them with a cheque for £1000 towards their new Minibus Appeal.
The money was raised through the Lady Warren Bulkeley Charity- a local Poynton charity which awards one-off funding for those in Poynton in genuine need. Much of the money was raised by the Captains of Davenport Golf Club and was presented to the school at a special assembly.
David Waugh, Head Teacher said , "This major project's target is to raise £25,000 to purchase a Minibus replacement for our old one which has finally come to the end of the road, no pun intended! This donation is very much appreciated and hopefully we shall soon reach our target as a school minibus is vital in supporting many of the school's activities."
Rob McLaren said, "Lady Warren Bulkeley was instrumental in setting up the first school in Poynton 200 years ago, so it is good that this long-serving local charity can encourage the school in its educational aims."