GCSE Results 2015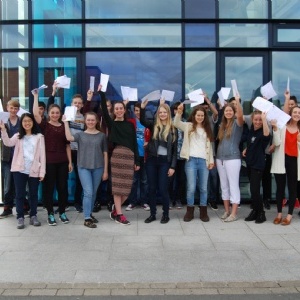 Truly Fantastic Grades Achieved.
Once again the students at Poynton High School have achieved outstanding results in their GCSE examinations and early analysis shows that they are once again in line with the top 10% of all students in the country.
"It is wonderful to see such amazing results and individual success stories. With approaching 10% of all our GCSE examinations being graded at the very prestigious A* Grade and approximately 40% of students achieving the gold standard English Baccalaureate we are once again celebrating the outstanding achievement by our students. All of our staff and governors are so very proud of each and every student – they have done themselves, and their families, proud." said Mr David Waugh, Head Teacher.
Poynton High School traditionally delivers an inclusive academic curriculum and our cohort of students this year have achieved brilliant results in all of their subjects and especially in the core areas such as 85% A*-C in GCSE English Literature, 85% A* - C in GCSE History, 82% A*-C in GCSE Geography, 95% A*-C in GCSE Biology and Chemistry, 90% A*-C in GCSE Physics, 80% A*-C in GCSEs French/German/Spanish leading to 13 subject areas gaining a minimum of 80% of their students gaining A*-C with 9 gaining a minimum of 90%. With 71% of students gaining the national benchmark of 5 A* - C grades including GCSE Mathematics and a GCSE in English our students have once again shown that their hard work and dedication has paid off.
33 students have gained at least 8 GCSEs graded at A and A* with our top performing student being Joseph Parker who gained an A* in all 11 of his GCSEs closely followed by Isabel Mawhood who fabulously gained 10 A*s, a grade A and a double starred distinction for Computing/ICT.