Come and Join us for Poynton Family Fun Day!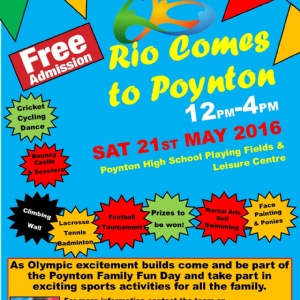 Saturday 21st May 2016 at Poynton High School Playing Fields and Leisure Centre.
12pm - 4pm. Free Admission.
As Olympic excitement builds come and be part of the Poynton Family Fun Day and take part in exciting sports activities for all the family.
For more information contact Poynton Town Council on 01625 872238 or email youth@poyntontowncouncil.gov.uk.