MP's visit on the menu at new improved school restaurant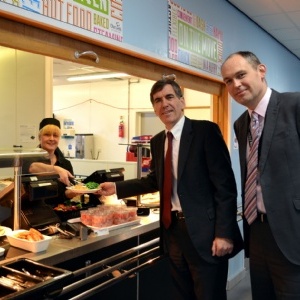 Local MP David Rutley pays a visit to the school.
In an age where we all seem to work, learn and play at 100mph, Poynton High School is leading the way in ensuring its students have modern and spacious dining facilities. The school has recently invested over £125,000 in a new restaurant space to support students to come together to eat a meal, share in social time and take the opportunity to catch up on their days activities.
The new improved space is proving popular, with an increase of 20% in students who now have regular school dinners, with numbers still rising. Head Teacher David Waugh said "…it is wonderful to be able to invest in a brand new, state of the art Restaurant facility, which can seat approximately 500 students. Our new Restaurant has a range of dining options from freshly baked hot baguettes to a range of full dinners, from a sandwich bar to a salad bar. In our modern society we all work at such great speeds and a lot of adults simply grab lunch on the go and never take the time to eat properly. It is vital that we encourage our students to understand the value of the social benefits of meal times, coming together to simply talk over a meal in nice surroundings with proper crockery and cutlery; something which is so sadly often lacking in our modern society".
Poynton High School welcomed Mr David Rutley MP, to sample the vast range of meal options now available to the students within the school. Mr Rutley also took the opportunity to view the new "Emotional Health and Wellbeing Centre" that the school is establishing on its site saying "…the investment the school is making into not only the nutritional health of their students but also their emotional health is fantastic. I am very much looking forward to visiting again in a few weeks for the formal opening of the G8Way Centre which will provide great opportunities to bring together mental health services and schools services for the benefit of the students of Poynton."
Pictured are David Rutley and David Waugh with Lisa Thorpe