Poynton High School Stockport Foodbank collection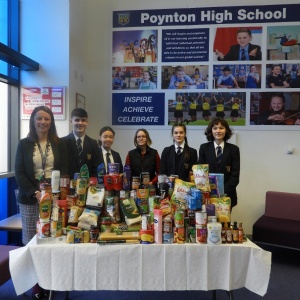 Students at Poynton High School have sprung into action to support the work of a local food bank in Stockport.
Year 10 students have been learning about the work of local food banks as part of their GCSE Religious Studies course and were asked to bring in donations of food items. There was an excellent response from so many of the students, with items such as tinned foods, packets of rice and cereals being donated. Students were clearly moved when they learnt about the desperate plight of so many people in the local area and did not need asking twice to help.
Janet from Stockport Foodbank met staff and students and was overwhelmed with the items collected. She said 'we are delighted to receive such a marvellous donation of food and other items from the students at Poynton High School. To have the ongoing support of the school during these difficult times is immensely important to us and we'd like to take this opportunity to thank everyone who donated to the Stockport Foodbank collection. If anyone would like further details as to how they can help the Foodbank, please contact us on 07483 115249.'
Mr Dean, Head Teacher said 'I am really proud to see our students supporting such a worthy cause. We are pleased to be able to continue this link with the Foodbank and to bring students' study of RS alive in such a positive way.'