Poynton Students Attend Oxfam Climate Change Conference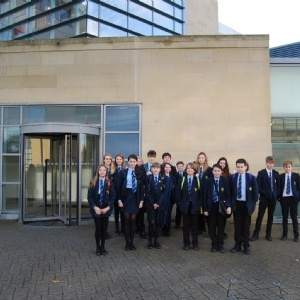 Oxfam World Shapers Launch Event Thursday 12th November
20 students from Poynton High School joined students from Wilmslow High, Middlewich High and Knutsford Academy at AstraZeneca Alderley Park Conference Centre. Students were there to learn and develop an understanding about the human impact of climate change and to be inspired and supported to take action about climate change.
Students enjoyed a range of activities and sessions which encouraged them to think about climate change and interact with each other. At the end of the day they all gave a presentation in the site's auditorium about the things they had learnt and how they intended to make changes in their lives to protect the things they loved from climate change. All came back from an inspiring day determined to make a difference and impart their new knowledge to their peers at school.
Liz Newbon, Education and Youth Advisor from Oxfam said "Climate change is already having a huge impact on millions of people all over the world, making it an urgent issue to resolve. Friday's event provided a fantastic opportunity for the students to learn and think critically about the human impact of climate change, as well as to consider what action can be taken. A big well done to all the students involved!"
Sam Rimmer, Year 9 student at Poynton High School said about the day. " It was educational and entertaining with lots of activities for us to help understand and learn about the issue. We hope to develop a school garden and a compost bin and eggshell bin in Food Tech to help with the issue of waste"
For a gallery of photos taken on the day please click here.