December 2019
Year 9 Parent and Carer Bulletin – December 2019
Dear Parents and Carers,
Inside this bulletin you will find a celebration of a fantastic half term for the Year 8 students. They have continued to take the challenge of taking responsibility in their stride and have had a really positive half term, for which they should be very proud. There is also an update on form time activities, extracurricular opportunities and some information about the different topics that the Year 8s will be studying next half term. It has been a pleasure working with the students this half term and we look forward to seeing all of the brilliant things they do next year!
English
Currently completing/finishing Of Mice and Men;
Moving on to begin studying for their English Language GCSE. This will start in January with a focus on Language Paper One: Creative Reading and Writing. Details of the GCSE English Literature texts and how to purchase them will also be coming out in the New Year;
Encourage students to read as many books as possible! The more they read, the more they become used to understanding a wide variety of texts. This will also assist with their completion of the Reading Challenge Project for the end of the year;
All home learning is being set on a weekly basis on Doddle so please encourage students to complete this work. There is a tracking sheet in the back of exercise books that you can sign to track and monitor their engagement with home learning tasks. From January they will be explicitly linked to the GCSEs so students should be completing them on paper and keeping them in a safe place (perhaps a folder could appear in their Christmas Stocking?!);
Encourage students to ask as many questions as possible and get involved with the various activities and learning experiences on offer!
Maths
'Mathemagicians'

We are truly amazed by the hard work and dedication the pupils in key stage 3 have shown to their studies in mathematics. This has been recognised with over 50 students being awarded with the title of 'Mathmagician.'Amazingly over 30 of these students are in KS3! A fantastic job from all involved. The overall winners will see their name immortalised on the maths corridor as well as certificates which will be coming home with the successful pupils. Well done!

Maths Challenge

The intermediate maths challenge takes place at the start of Feb. This is the national competition which encourages mathematical reasoning, precision of thought, and fluency in using basic mathematical techniques to solve interesting problems. This competition is open to students in year 9, your maths teacher will give more details to those involved. Good luck to all of those who take part.

Assessments

The dates for next half term are - w/c 6th January 2020 – Year 9 Termly Test
Revision lists will be made available 2 weeks before each subsequent exam via Doddle
Science
Students have completed their first GCSE topics and have been examined on these. Praise cards have been issued to those who performed very well.
Students will continue with GCSE topics:

Biology: Photosynthesis and adaptations
Chemistry: Separation techniques and Atomic structure
Physics: Particle model

We encourage students to use doddle to complete homework and mini quizzes
Geography
This half term, the students have been continuing to look at the Risky World topic – focusing on disease risks, tornadoes and conflict around the world.
This will culminate in an assessment on California: A Multi Risk zone
Next term, the students will move on to the next topic of Population – looking at changing population structures around the world, the issues this may bring and the ways in which different countries have attempted to cope.
Remember to keep up to date with the news for world events that we talk about in the classroom!
History
The students have been working really hard this term to build up their history knowledge and skills
Year 9 have successfully completed their Haig assessment and will be moving on to new topics of 'Why did Hitler become Chancellor of Germany?' and 'What was the Holocaust?' in the new year.
Year 9 will also be taking part in a Holocaust project run by 2 of our Sixth Form History students and have homework to complete on this due in January. Please see Doddle for details.
PE
Students have been completing their 2nd block of activities this half term and also have been involved in some house competitions during their PE lessons.
After Christmas, Year 9 will move onto their next activity. They have been told in their PE lessons what they are moving onto and what kit to bring for this.
There has been a fantastic amount of students who have attended PE clubs both at lunch time and after school. Well done to those students who have been attending the PE clubs – they have been achieving a H1 for every club. If you want to attend a club, all you need to do is turn up to the PE department and join in. Lunch time clubs do not need kit, but afterschool clubs, students need their PE kit for the club.
There will be plenty more fixtures for different sports and selected students will be notified of each fixture.
Please follow us on Twitter for updates on extra-curricular clubs, fixtures and more. @PHS_PhysEd
Religious Studies
Year 9 have had some amazing discussions this term about ethics, in particular around capital punishment.
They also did us proud in welcoming the youth workers from three of the local churches to share ideas about how a Christian makes an ethical decision.
Next half term they will be looking at religion and technology and how changes in technology might affect the way we talk about God, faith and what it means to be human.
Music
This half term Year 9 have been learning how to use Music Tech software to help them compose a soundtrack. They watched the trailer for "Spectre" James Bond and had to create their own music to accompany the action on screen or chose one of the several famous leitmotifs - Bond's own little tunes that stick with him throughout the film.
It has been great to see students who sometimes shy away from performing as a soloist gain strengthen and enjoyment in creating music which they don't have to perform live. There are so many jobs available these days to musicians as well as performing on stage!
It's also been amazing to see so many Year 9's getting involved in the activities within The Music Department this term. We've had Year 9's performing in the Concert and Jazz Band, performing in the Xmas Festival on Park Lane, the Music Concert this week and the BIG school show "Sister Act" to name but a few. No clubs or activities are ever closed once they have started in September, so regardless of the time of year, if you want to get involved and join an activity please do ask any of the music staff for details and we will be more than happy to get you started. You will meet new friends and
Message from Miss Holyland
You can claim free school meals for each child who attends school in Cheshire East if you receive one of these benefits:
Income Support
Income based Jobseeker's Allowance
Income related Employment Support Allowance
Support under Part VI of the Immigration and Asylum Act 1999
The guaranteed element of State Pension Credit
Child Tax Credit - as long as you have a yearly household income of less than £16,190 (as assessed by HM Revenue and Customs) and do not get
Working Tax Credit

Working Tax Credit run-on (paid for 4 weeks after you stop qualifying for Working Tax Credit)
Universal Credit with no earned income or with net monthly earnings less than £616.67
You can apply for nursery-age children if they attend before and after lunch sessions at a local authority nursery school, nursery class or an Academy nursery if it has the same Ofsted number as the primary school.
Phone 0300 123 5012 for further information and help or you can apply online at https://www.cheshireeast.gov.uk/schools/free_school_meals.aspx
Coats and Hoodies
Just to clarify the school rules regarding coats. We encourage students to wear a coat to and from school we just ask that they put them in their locker or bag once inside the building.
Hoodies/sweatshirts are not part of the school uniform and must not be worn under blazers this included being a replacement for a coat on the way to and from school.
Hoodies/sweatshirts will be confiscated.
We appreciate parents invest a lot of money in school coats please make sure they are named as if they are misplaced it is easier for them to be returned if found.
Mental Health First Aid Training
There are 15 free places available for a Youth Mental Health First Aid training for parents in Poynton – this is first come first served.
Please see poster below for further details: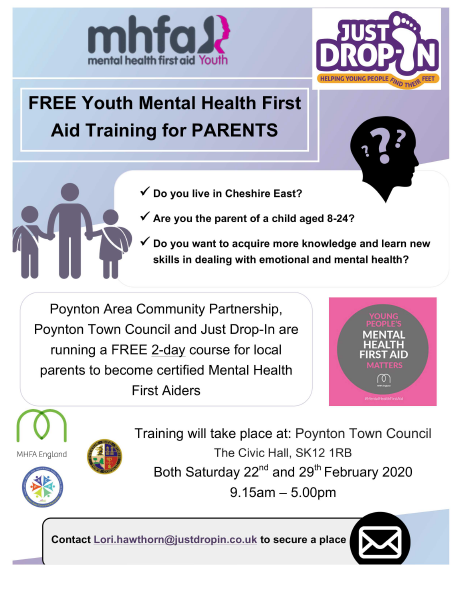 KS3 Homework Club
KS3 Homework Club will run every Thursday in Room 39 with Miss Keaveney from 3-4pm
This will give students the chance to work through their homework on doddle whilst being supported by at least one member of staff
Cultural Passport
It has been amazing to see the Cultural Passport sessions in form times throughout this half term
The students have made a fantastic effort to complete all of the challenges set to them
Next half term, Year 8 will be looking at 'Honesty' and set challenges around this theme!
Remember – follow @PHSYear8and9 on twitter for regular updates on the Cultural Passport sessions and the challenges
Well done once again to all of the students and a final thank you and well done on such a brilliant term. It has been a pleasure working with all of the Year 9 students this term and we are looking forward to celebrating all of your amazing achievements next term. Have a lovely and restful Christmas and we wish you a very Happy New Year. We look forward to welcoming the students back on Monday 6th January.
If you have any queries about anything school related, please do not hesitate to get in touch.
Thank you for your continued support.
Emma Keaveney Laura Swaffer
Director of Learning for KS3 Welfare Leader for Year 8 and 9
eke@phs.cheshire.sch.uk lsw@phs.cheshire.sch.uk