April 2019
Year 9 Parent and Carer Bulletin
Dear Parents and Carers,
Inside this bulletin is a celebration of all of the fantastic achievements from the Year 9 students this half term as well as information about the forthcoming Year 9 Mock Examinations taking place after the Easter holidays. This half term has been very busy and the students have taken all challenges and opportunities in their stride. It has been great seeing the Cultural Passport sessions in form times and in this last week of term revision has been the focus; the students have been interested and engaged and are set to be well prepared for their mock exams.
Year 9 Exams
The Year 9 Exams will take place Wednesday 1st May to Friday 3rd May.
A timetable has been distributed to all students outlining the days of the exams, the timing of each exam and where they will be sitting the paper.
All of the exams will be taken in the Gym or the Hall, and some students will be in the Old Sixth Form.
A separate copy of the timetable can be found on the website:
Wednesday 6th

Thursday 7th

Friday 8th

8.45 – 9.00

Form

Form

Form

9.00 – 10.10

English (1 hour)

Maths (1 hour)

Science (1 hour 30 mins)

10.10 – 11.00

Lesson 2

Lesson 2

11.00 – 11.15

B R

E A

K

11.20 – 12.30

Geography (1 hour)

History (1 hour)

RS (1 hour)

12.30 – 1.20

Lesson 4

Lesson 4

Lesson 4

1.20 – 1.55

L U

N C

H

1.55 – 3.00

Lesson 5

MFL (1 hour)

Lesson 5
English
Moving on to studying for their English Language GCSE with a focus on Non-Fiction Reading and Writing;
After Easter they will be completing an Unseen Creative Reading Paper for their Year 9 Exam;
They will be reading An Inspector Calls alongside their study of Non-Fiction Reading;
In the final half-term, they will be taking a Speaking & Listening examination for their English Language GCSE;
There will be a range of revision tasks set on Doddle over the Easter holiday that will support students in their preparation for the exam;
Almost everyone has now purchased their GCSE texts so these will be distributed to students after Easter. The folders will be kept in school until the start of Year 10;
Encourage your child to engage with non-fiction texts such as newspaper articles, blogs and magazines – can they identify the writer's point of view and explain why. This will help with the final unit of work this year;
Help students to revise key language terminology – they should have these written into their books and be able to identify them in a text;
Encourage students to go through their notes, identifying things that they are not sure about so that they can come back and ask teachers!
Maths
Year 9 exams. We will be sitting two papers in maths, Paper 1 is a non-calculator paper taken in the gym/hall on the 2nd May and the calculator paper is in class on the 7th May. Revision lists are available on Doddle.
The Mathematical Challenges aim to stimulate mathematical problem solving. The Junior Challenge is aimed at students in Year 8. It is the UK's most popular mathematics competition with over 300 000 students taking part each year. Poynton High School will be selecting a group of high performing students to take part in the challenge at the end of April. Your maths teacher will give you more information when you come back!
Science
In Year 9, students start the first few topics of their GCSE course. The Year 9 Science exam is taking place between 1st and 3rd May. The exam is 1 ½ hours long with 3, 30 minute sections: one for Biology, Chemistry & Physics.
The following topics are studied:
| | | |
| --- | --- | --- |
| Biology Topics | Chemistry Topics | Physics Topics: |
| Cells | Atoms, elements and equations | Energy |
| Photosynthesis | Separation techniques | The Particle model of Matter |
| Adaptations and Ecology | Atomic structure & Periodic Table | |
Revision techniques:
Mind maps for each topic, clue cards, read paragraph in revision guide then summarise it into a few sentences. Get someone to test you.
The BBC bitesize revision website has interactive resources, revision notes, activities and tests: https://www.bbc.com/bitesize/levels/z98jmp3
Past papers can be found on the AQA website along with mark schemes.
History
Year 9 have been producing excellent work on the causes of World War Two and have shown great empathy whilst studying the Holocaust this term.
Over Easter students should be revising for their end of year exam. The exam will cover all that we have studied this year:

Causes of WW1
Recruitment into the army
Trench system and life in the trenches
USA and WW1
End of War
Rise of Nazis
The Holocaust
Causes of WW2

We wish them the best of luck in the end of KS3 assessment
Geography
Year 9 have worked really hard this half term looking at the topic of Population.
They have focused most recently on migration to the UK and we have looked at the Refugee Crisis in Europe.
The exam after Easter will focus on everything the students have studied this year and will be split into two sections: Risky World and Population.
The Year 9 Geography Revision List has been assigned to all students on doddle.
Wishing them all good luck for their mock exams!
Religious Studies
Year 9 have done a great job looking at the basics of Buddhism, such as karma and the 5 precepts.
After half term we will be revising to prepare for the end of year exam and then will be starting the new GCSE! The first topic will be about Christianity, focusing on worship and festivals.
Food and Textiles
The students will be having an assessment after the Easter holidays.
They have been assigned revision homework on Doddle to help them to prepare for this.
Art, Craft & Design
Students have been researching artists who produce work based upon different styles of portraiture and have used self-portraiture in their work. The artists studied have been contemporary ones 'Pure Evil' and Andy Butler amongst others.
The students have completed studies, collages with photography based upon the artists. Examples of student's work is to be found on the Art Dept Instagram at 'Poynton Art Dept'
PE
DISTRICT CHAMPIONS. The Year 9 Football Team got into the Macclesfield District Final v Tytherington. The boys played extremely well after being 2 goals down to win 5-2. Goals scored by Pollard x2, Wassell, Bilotta and Towns!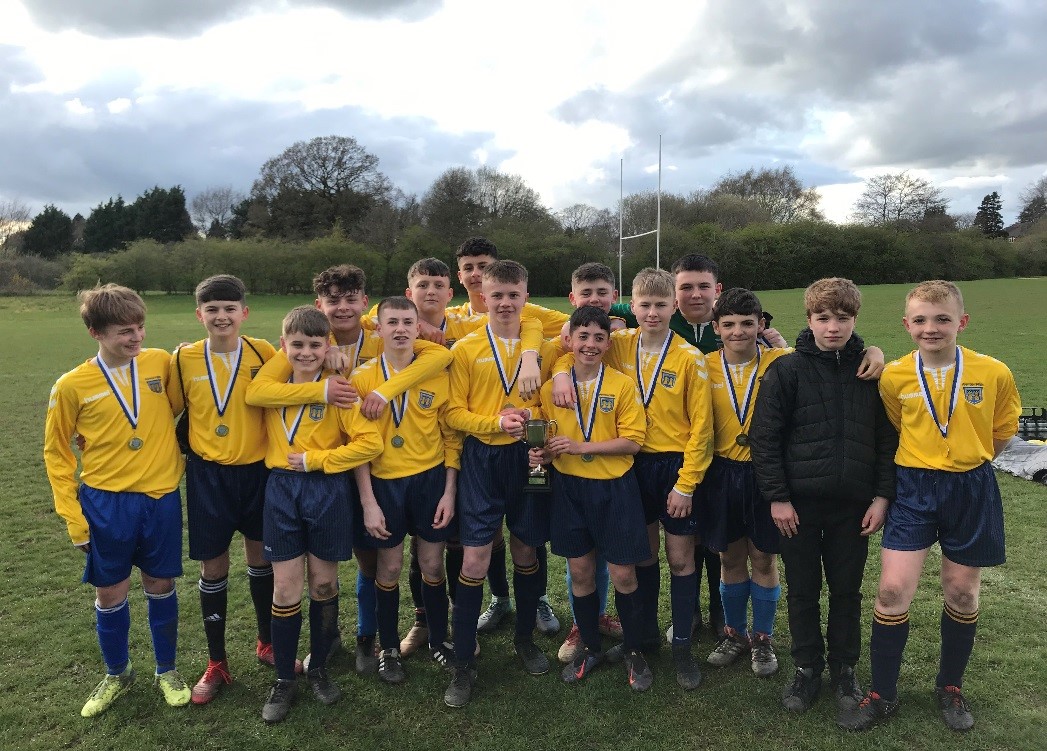 Well done to all the students who have regularly attended the Netball training sessions and the fixtures against other schools. You have all represented the school extremely well in your attitude, effort and behaviour throughout.
Year 9 PE activities will change after Easter as below:
| | |
| --- | --- |
| Boys 1 | Tennis/Cricket |
| Boys 2 | Tennis/Cricket |
| Mixed | Trampoline |
| Girls 1 | Rounders |
| Girls 2 | Rounders |
It has been a brilliant half term full of lots of exciting opportunities and experiences for the students. Thank you to Year 9 for tackling every challenge with maturity and enthusiasm and we have really enjoyed working with them again this half term. In addition to this bulletin, the Revision Tips assembly, exam timetable and blank revision resources can be found on the website and there are some revision resources available on doddle. We hope you all have a restful Easter break so that the students will come back ready and prepared for their mock exams. The Year 9's have been fantastic – keep it up! We look forward to welcoming them back on Wednesday 24th April.
Please contact us if there is anything that we can help with at all.
Thank you for your continued support.
Emma Keaveney Laura Swaffer
Year 9 Director of Learning Welfare Leader for Year 8 and 9
eke@phs.cheshire.sch.uk lsw@phs.cheshire.sch.uk