July 2017
Poynton High School - Year 10 Parent Bulletin
Year 10 Parent and Carer Bulletin July 2017
As we approach the end of Year 10 and begin to embark on the final year of our GCSE studies there are a few useful pieces of information that may help:
In the Autumn term, our Year 11 students will have both their mock examinations and our Year 11 Parents Evening.
Now that we are at the end of Year 10 we have actually studied the majority of the course content that will be assessed in our final exams. Over the summer it is useful for students to spend some time creating revision resources for each of their subjects. This could be cue cards, mind maps, mnemonics, questions and answers, points as pictures info sheets etc…. these resources certainly prove useful in the run up to the mock exams.
Lunch Pass – as you are aware we have sent our Year 10 students home with a lunch pass letter to be signed and returned to Student Services by the 14th July. Students are allowed off site in Year 11 as a privilege and we will regularly be reviewing which students are able to make use of this opportunity.
Wednesday 19th July is our final Student Development Day of this academic year. The focus will be on Careers and Enterprise with guest speakers in from a variety of industry areas leading sessions with our students.
Thursday 20th July is our sponsored walk. We are raising money for the 'I Love Manchester' appeal amongst other charities. It has always proven to be a brilliant day in the past and we look forward to our Year 10 students being fantastic role models for the younger year groups throughout the day.
---
English
The final English lessons are being used to complete four more of the fifteen power and conflict poems that students must know for their English Literature exam. All students have their own poetry anthologies where there should be detailed annotations on ten of the poems by the end of the year. Students should be re-reading these poems, as well as using a variety of revision websites to add to their notes.
Useful poetry revision websites:
There are also some fantastic revision guides that can be found here:
When students return after the summer, they will spend the entire first term studying the Shakespeare play 'Macbeth'. In preparation for this, we have assigned all students with a preparation GAPP Pack which will support their understanding when they start their reading of it in September. Please regularly check where your child is up to with this as this is a summer project that is made up of a range of activities. They should hand in their GAPP Pack work during the second week back in September.
The summer break is a perfect opportunity for students to re-read their GCSE Lit texts: 'An Inspector Calls' and 'Jekyll and Hyde' as part of their long-term revision. Please encourage this as it will make a huge difference to their understanding of the texts, but also their confidence when tackling their exams in Year 11.
---
Maths
All KS4 students should have submitted their feedback from the final mock through the PiXL Maths App. From this, they will have received a feedback sheet detailing areas of strength and weakness. An electronic copy of this can be found in the "Gap Analysis" section of the PiXL Maths App (using the "My school filter" button). The best preparation they can now undertake over the Summer holidays is to address the identified areas of weakness through the "Design a test" feature of this PiXL Maths App. Before they return in September, these topics should be showing "Green" understanding on the app. If they are stuck and struggle to do this, they can access the therapy videos and powerpoints directly from the app which will explain exactly what they need to do. As a reminder, the school ID is PY4438, their username is the same as it is for Doddle (FirstLast12) and the password is poynton. If there are any problems accessing this resource, they should speak to Network Support before the Summer holidays.
---
Business Studies
Y10 WJEC GCSE Business. Students will begin their controlled assessment in September. This represents 25% of their final grade and will be completed during the first half term of Y11. They will be tasked with "investigating the environmental or ethical practices used by businesses". They are required to carry out research over a 6 week period and then complete a 2000 word typed report in 3 hours under controlled conditions. The report will compare the environmental or ethical practices of two businesses and the effect these practices have on their business activities and performance.
Students will be briefed and supported during their regular class time but will be required to carry out significant research outside of class – as a result no additional homework will be set during the first half term. It would be really beneficial if you could support, encourage and discuss progress with your son/daughter during this time. Students will be set some pre-reading and Doddle tasks to be completed during the Summer holidays in order to best prepare them for this.
Y10 BTEC Business Students are currently preparing for their mandatory, externally assessed module on Business Finance (unit 2). This represents 25% of the final grade and students must receive at least an L2 Pass in order to receive an overall L2 qualification. They will sit a 1-hour online exam during the first half term of Y11. In order to prepare for this test students will be set a range of Doddle tasks that must be completed during the Summer. In addition, they should review the materials on the following website to help prepare them.
http://www.beebusinessbee.co.uk/index.php/business-qualifications/archive-courses/revision-exams/121-btec-unit-2-finance-exam-revision-resources
---
Product Design
In September all of our Year 11 Product Designers will begin their major practical course work. They will manufacture a high-quality product, test and evaluate this and then create a marketing presentation showing innovative ways of promoting this product.
All students will be discussing their material needs before the end of term. All students will need to arrive in September with the required materials to manufacture their project.
This coursework will account for 30% of their final GCSE grade.
One lesson every fortnight will have a revision focus for the two examinations in the summer. Each of these has a 20% weighting towards their GCSE grade.
The end of this term marks the last chance for any year 10 to improve their course work from this year. This also has a 30% weighting towards their final GCSE grade.
---
BTEC PE
Students have completed 2 units this year – Performer in Action and Sports Leadership. They will move onto Practical Sport and Fitness for Sport in year 11. For the practical unit, students will have to research 1 team and 1 individual sport, looking at the rules, scoring and officiating of each. This is something they could be thinking about over the summer break. The Fitness unit is assessed online. Students can choose to do this either in December or January. More information concerning this assessment will be given at parents evening.
---
Religious Education
All students study the Religious Studies Full Course GCSE Specification A (8062). They will take 2 exams in the summer of 2018:
Component 1 The study of religions: beliefs, teachings and practices
A study of the beliefs, teachings and practices of Buddhism and Christianity.
Component 2 Thematic Studies
Relationships and families
Religion and life
Religion, peace and conflict
Religion, crime and punishment
Religion, human rights and social justice
Hyperlink to the course:
http://www.aqa.org.uk/subjects/religious-studies/gcse/religious-studies-a-8062
Here you can find the specification and sample exam questions. There are no past papers as this is a new course.
Hyperlink to textbooks:
http://www.aqa.org.uk/resources/religious-studies/gcse/teach/textbooks
AQA GCSE (9-1) Religious Studies Specification A
AQA GCSE Religious Studies A: Buddhism
AQA GCSE Religious Studies A: Christianity
There is no requirement for students to purchase core textbooks but they may be helpful for revision purposes near the final exams.
Suggestions for summer work for Year 10 students
Over the summer students could spend some time revisiting/revising topics studied from Year 9 and 10. They could make mindmaps, revision cue cards etc to aid planning for future exams and assessments.
---
GCSE Art & Design
Congratulations to the GCSE Year Ten Art & Design groups for their hard work and effort throughout this year. It has been exciting and pleasing to see the work produced by the students.
The groups are now working on their second coursework project. The Art & Design teachers will be setting work for this second project over the summer break.
By the end of this term students will have, or already have had, the marks for their first coursework project. Any amendments and corrections for their first project are to be tackled during the summer break. If any student requires further help or clarification about what to do on this first project then they should ask for help from their teacher before the end of the term.
In September the department will be staging catch up sessions one day per week after school. Each teacher will probably have their own designated day to hold the session and we will contact parents to keep you informed.
If you wish to contact your daughter's/son's Art & Design teacher then the email addresses are-
Mrs E.Oakeseoakes@phs.cheshire.sch.uk
Mrs P.Guestpg@phs.cheshire.sch.uk
Mr S.Georgesg@phs.cheshire.sch.uk
Departmental staff are available during the school day and term time via the email addresses above.
We look forward to seeing how student's work develops next year and wish everyone an enjoyable summer break.
S.George
Subject Leader Art & Design
---
Geography
Students have been set a number of tasks to complete over the Summer break, these can be found on Doddle.
· Complete Coasts booklet (either print off or write up in exercise books) using revision guides, textbook chapter on Doddle and internet research
· Revise Urban Issues and Challenges and Hazards by having a go at the exam questions in the booklets on Doddle. Start by having a go without your books, then go back and improve them. Then make revision clocks for each topic.
---
Music
Summer Holiday work:
Listening Unit:
Year 10 are currently studying the music of The Beatles. The three tracks to be studied in detail from the album "Sgt.Pepper's Lonely Hearts Club Band" are;
"With A Little Help From My Friends"
"Within You, Without You"
"Lucy In The Sky Of Diamonds"
Each student has their own album to study the set tracks but are also advised to listen to the whole album. Several weeks ago, I advised Year 10 to listen to the album at least once a week and that they must know the three set study pieces backwards before the listening examination next year.
Over the summer holidays Year 10 need to independently study:
Using their copy of The GCSE Music Study Guide - Read and complete Pages 88-97. Youtube is a great resource to listen to examples and research keywords. Research about the different instruments, composers mentioned and recording techniques etc. Again, there are often lots of good videos on Youtube to help with this.
Study pages (Colour handout)Read 109 - 114 - Voices in Pop, Instruments of Pop, Rock 'n' Roll, Rock Music and The Beatles.
As soon as we arrive back in September we can start to record the performance pieces - the course work. Over the summer you must rehearse your solo piece and if you haven't started looking at your ensemble piece you should learn the class ensemble piece which I allocated to you as a class project and as a back up.
Read pages 193 - 205 to remind yourself of the Performance unit.
As long as you are at your best standard, I recommend recording your performances as soon as possible so that you can concentrate on your compositions for Mr Rawling.
Each week on a Friday lunchtime, (13:30-13:50 in room 4) there is an open theory session for pupils who find the theoretical aspect of the course challenging.
---
Year 10 Battlefields.
Last week the History department and 40 year 10 students made the trip to Belgium and France to the Battlefields of World War One. Our first day of visits was based around Ypres, we had the opportunity to visit Essex Farm, where John McCrae author of the poem 'In Flanders fields,' worked at a casualty clearing station. Within the cemetery, we paid our respects to a young recipient of the VC Valentine Strudwick. Later on, we went to Tyne Cot, the largest British war cemetery in the world, where some year 10 students were able to find relatives remembered. Our day continued with all of the students jumping in with both feet, quite literally, into the trenches at Hill 62. We finished our day with a very moving ceremony at the Menin Gate. On the second day, we made our way back to France and down onto the Somme. We made a stop at Lijssenthoek Military Cemetery, where the great uncle of one of the students was buried, we also visited the grave of one of only two women to be buried in Military cemeteries during the war. We continued to visit Beaumont Hamel, walking in the footsteps of the Newfoundlanders on the first day of the Somme, where 86% of their regiment were killed in the first 30 minutes of battle. We visited the area where another student's great uncle was fighting at the Ulster Tower. We then stopped was the memorial to the missing of the Somme, at Thiepval, this is such an awe-inspiring monument that brought the events home to the students even further. We got to go deep into the Wellington Quarries, for a tour of the tunnels under Arras, seeing where British and New Zealander troops were based before their surprise attack. On our way home we took in one final monument to the Canadian soldiers at Vimy Ridge, with incredible views over the terrain of the Somme it was a fitting end to the visit. The students were a credit to themselves and the school, we could not have asked for greater respect shown on the visits, nor could we have asked for more engagement in the visit itself. Thank you to all the students for a wonderful trip, we are very proud to have taken you, Mrs Hall, Mrs Grey, Mrs Hicketts and Mr Rawling.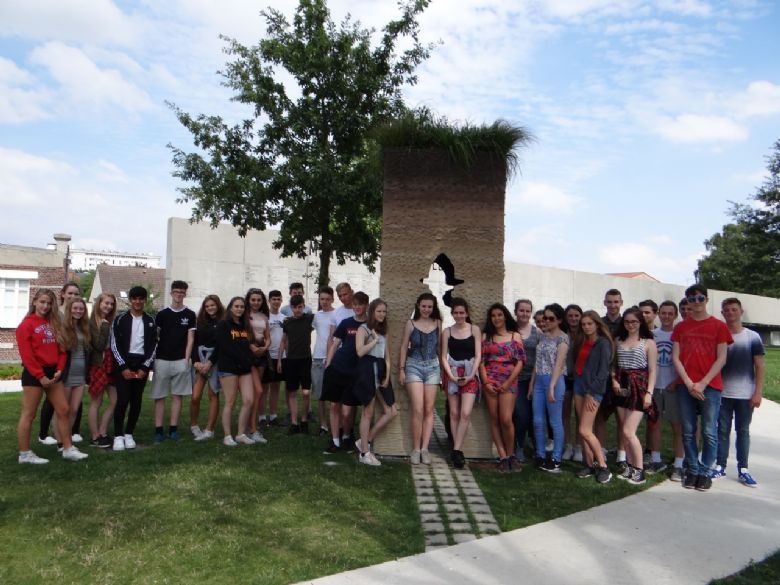 More content from our other departments will follow. If you have any questions please don't hesitate to ask.
Kind regards
Andy Bennett Anne Handby
Director of Learning (KS4) Welfare Leader (KS4)