February 2020
Year 10 Parent and Carer Bulletin – February 2020
Dear Parents and Carers,
Year 10 have made a fantastic start to 2020, our bulletin includes important information about what is coming up after the half term break for our students and includes strategies suggested by subject tutors to ensure students achieve their maximum potential.
English
Students are currently studying Macbeth by William Shakespeare;
After Easter they will be concentrating on a combination of Language Revision and An Inspector Calls;
In June students will complete a Language Paper Two mock paper so will benefit from any revision completed. Resources will be set on Doddle over Easter to support with this but some of the top tips include:
Revision of subject terminology – word types, language techniques and structure vocabulary;
Reading of a range of non-fiction texts and summarising their main points;
Completing writing of non-fiction texts that cover a range of CRAPI FORESTE techniques.
Centralised home learning tasks continue to be set on Doddle every Monday. These tasks form a significant part of students' revision as they encourage research and/or retrieval of prior knowledge. All students have been given Revision folders and should be completing tasks in these every week.
Ensure all home learning tasks are completed/revisited to aid revision as they will support students in achieving marks for AO3 in Literature and basic technical writing skills for Language.
---
Science
Assessments
Student are currently completing their second assessments for Biology and Physics and will be completing their Chemistry the week beginning 24th February 2020.
Students will sit an end of year mock exam in June, which will assess all the Science content covered from Y9 and Y10.
Revision
Science Six
This will be launching in the next half term. Students will be set this task on Doddle every 2 weeks to complete in the back of the relevant science books. It is essential students complete these tasks to ensure they recap content from Y9 and the beginning of Y10. More details will be given out when this is launched.
Revision resources
If you did NOT purchase either revision guides or a subscription to MYGCSEScience.com, and would like to purchase yourself, the links are listed below:
Double Science revision guides:
Higher tier (recommended for students in sets 1 or 2): https://www.cgpbooks.co.uk/secondary-books/gcse/science/combined-science/sahr45-grade-9-1-gcse-combined-science-aqa-revi
Foundation tier (recommended for students in sets 3 and 4): https://www.cgpbooks.co.uk/secondary-books/gcse/science/combined-science/safr45-grade-9-1-gcse-combined-science-aqa-revi
Triple science students (will need separate ones for Biology, Chemistry and Physics):
https://www.cgpbooks.co.uk/secondary-books/gcse/science/biology/bar45-grade-9-1-gcse-biology-aqa-revision-guide
https://www.cgpbooks.co.uk/secondary-books/gcse/science/chemistry/car45-grade-9-1-gcse-chemistry-aqa-revision-gui
https://www.cgpbooks.co.uk/secondary-books/gcse/science/physics/par47-grade-9-1-gcse-physics-aqa-revision-guide
MYGCSEScience.
Full details and prices can be found here: https://www.my-gcsescience.com/pricing/
---
Tech Award in Enterprise
To support students understanding of local businesses, Oliver's Chocolate of High Lane have agreed to run a chocolate workshop with our students. Students will learn about how the business was established and how it has expanded before designing, making and pitching their own ideas for a new chocolate bar. This will give our Year 10's evidence towards their Component 1 assignment and our Year 11s will have the opportunity to practice their pitching skills before their final pitches at the end of March. Letters will be sent home with more details.
---
Product Design
On Thursday 6th February a small number of your 10 students accompanied A Level Product Design students on a factory tour of Senior Aerospace, Bird Bellows.
The company is a market-leader in the supply of precision sheet metal fabrications to the Aerospace industry. The tour allowed students to observe the process of receiving raw materials through to the fabrication of Bellows that will form a crucial part of the operation of Aircrafts. Students were able to see the development of the product at each stage and ask questions about specific processes. It was fantastic to hear students engaged in a real world setting and make the links from their learning in the classroom to industry.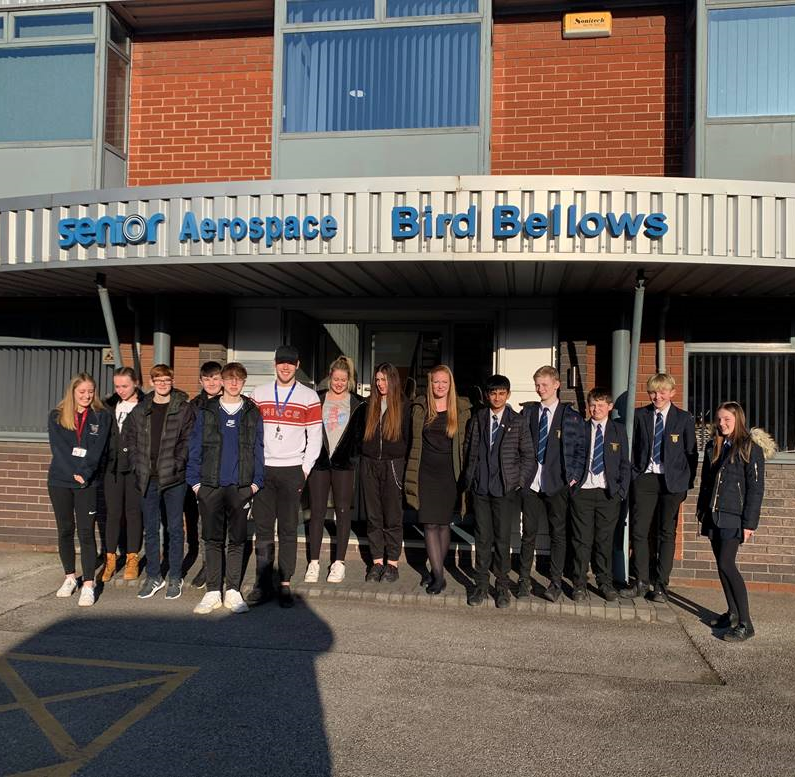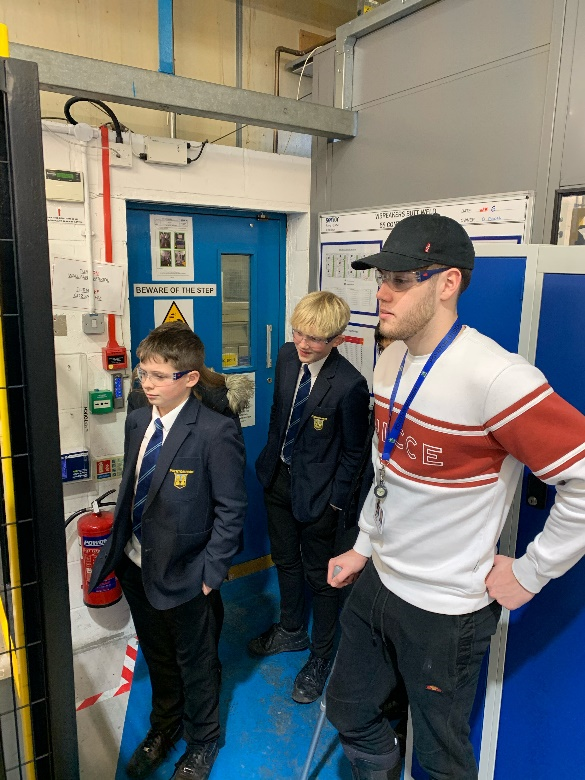 ---
Music
It was a joy to listen to their solo performances last term, with many students already performing at a high standard. This term we are working on our ensemble performances. This requires a little more organisation as they need to get together as a group and rehearse regularly. The deadline to perform and record their ensemble performance is Friday 3rd of April. They should be ready for a short preview of the performance during the performance lesson period 2 Friday 28th February.
---
Free school meals
You can claim free school meals for each child who attends school in Cheshire East if you receive one of these benefits:
Income Support
Income based Jobseeker's Allowance
Income related Employment Support Allowance
Support under Part VI of the Immigration and Asylum Act 1999
The guaranteed element of State Pension Credit
Child Tax Credit - as long as you have a yearly household income of less than £16,190 (as assessed by HM Revenue and Customs) and do not get working Tax Credit
Working Tax Credit run-on (paid for 4 weeks after you stop qualifying for Working Tax Credit)
Universal Credit with no earned income or with net monthly earnings less than £616.67
Phone 0300 123 5012 for further information and help or you can apply online at https://www.cheshireeast.gov.uk/schools/free_school_meals.aspx
---
Child and Adolescent Mental Health
Cheshire and Wirral Partnership NHS Foundation Trust's (CWP) nationally recognised Child and Adolescent Mental Health website 'MyMind' has been refreshed and relaunched in time for this year's World Mental Health Day.
MyMind is a dedicated website for young people across Cheshire and Wirral experiencing mental health difficulties. With support from local young people from our Child and Adolescent Mental Health Services (CAMHS), MyMind has now been given a modern makeover!
MyMind provides advice and guidance around the key topics identified as most important to young people and their families: how to cope with mental health challenges, how to get help and what to do in a crisis.
The site includes a host of interactive self-help resources for young people, parents/carers and anyone who works with young people around the topics of Mood, Lifestyle and Relationships, as well as details on local mental health services in your area.
Visit www.MyMind.org.uk
---
Attendance
In light of a number of bugs and virus' going around at the moment, it is important to remind parents that any absences that exceed 5 days self-certified must be evidence with a doctor's note.
Thank you for all of your hard work year 10 and well done on such a brilliant half term. Have a lovely and restful holiday and we will look forward to welcoming you all back on Monday 24th February.
Please contact us if there are any issues or if you have any questions at all.
Thank you for your continued support.
R Dempsey (rdempsey@phs.cheshire.sch.uk )
Director of Learning to key stage 4
A Handby (ahandby@phs.cheshire.sch.uk )
Welfare Leader to key stage 4