November 2017
Poynton High School - Year 11 Parent and Carer Bulletin
Dear Parent/Carer,
We have been really impressed with the focussed and dedicated attitude that our fantastic Year 11 students have shown over the past few weeks. They have faced the challenge of mock exams in English and maths far earlier than year groups before and have tackled these well.
The results for English and maths mocks will be sent out to yourselves and students in the week commencing 27th November. Alongside this we are close to embarking on our main mock examination period which will run from Monday 11th December through to Friday 22nd December. The mock timetable will be soon available on our website.
Please find below some key information from subject departments:
English
Year 11 students have just completed two mock exams for their Language GCSE.
They are now moving on to complete the final cluster of poems from their anthologies. There are some fantastic revision guides to support with their revision of these poems found here:
Every fortnight they are set their Revise Five questions and a reading task on Doddle that should support them with their revision of both English Language and English Literature.
Most students are starting to purchase and prepare folders with dividers that help them organise their revision. We will soon provide them with booklets of mock questions for each section of the four exams.
To support their Literature GCSE students should be starting to re-read their texts (An Inspector Calls, Jekyll and Hyde, and the previous 10 poems from the AQA Anthology.
Maths
A fantastic resources for revision is the PiXL Maths App for revision. If you want to check your young person is working on this, ask them to show you their "score". This should be increasing over time. Their username and password is the same as for Doddle, and the school ID is PY4438. If they are still struggling to access this, they should see network support.
-Students have been given GAPP packs to complete over this half term. The deadline for completion is 14th November.
Science
Science Six home learning tasks are set on week 1 Monday please check the work is completed using their revision guide
Next Science assessment is the December mocks. This will assess work taught in Y9 and Y10 and students will sit a full Paper 1. Science six work will help students revise for the Dec mocks.
Science drops ins are on a Tuesday lunch and after school for Chemistry and Thursdays after school for Biology and Physics. Any students can attend these to get help with their science work.
Physics - Y11 Physics Revision Club after school on Thursdays in lab 64, 3pm to 4pm. All students welcome. Some students have already been asked to attend by their teachers. Miss Drumer will be contacting home this week via email for other students who should be attending to improve their progress – could parents/carers keep an eye out for this email.
Geography
All students will be issued with revision logs this half term. On top of normal homework being set, we expect students will make a constructive start to their Geography revision. We will be expecting students to be spending between 1-2 hours on revision of Year 10 topics per week. The revision logs will enable parents and teachers to monitor this.
Students will receive the result of their Paper 3 mock exam next week.
History
"Year 11 students should be starting the revision for their mock exams which will be held in December. Year 11 students will have 2 History papers, one will be on Medicine and the other will include the Reigns of Richard and John and The American West. Students should be working through these topics and creating revision resources based upon them. There is a selection of revision material available on doddle which it would be useful for students to complete as a method of revision.
Students should also be practicing past questions in order to prepare for the mock exam. The following link will take students to edexcels website where the past papers can be found.
https://qualifications.pearson.com/content/dam/pdf/GCSE/History/2016/specification-and-sample-assessments/GCSE-History-QPs-ONLY-Collation-WEB%20978144692583.pdf
Medicine begins on p17, The Reigns of Richard and John on p53 and The American West on p105.
We wish all of our Year 11s good luck in the approaching exams. If any student feel like they are missing work to complete the exams they should aim to see their teacher in the next couple of weeks.
The History Department."
Religious Studies
Upcoming key assessments.
Year 11 mocks mid December.
They will have a 1 hour exam, which will consist of 2 x 30min papers - 1 for Buddhism and 1 for Christianity.
The other exam will be 1hr 45mins and it Component 2 Thematic Studies.
Links to revision guides or resources.
https://www.amazon.co.uk/Revision-Notes-Religious-Studies-Specification/dp/1510404791/ref=pd_sim_14_3?_encoding=UTF8&psc=1&refRID=3HTRPF6N5BT90BKQPFX4
Revision guide to buy on Amazon for £8.99.
This isn't compulsory, though may be useful.
Students will get comprehensive departmental revision guides made by Miss Long in the Spring term Yr11.
Students are currently studying 'Religion and Life'. They will be studying the value of the world, how humans use animals for testing and food, the sanctity of life, abortion, euthanasia and life after death.
ICT
Students are currently working on their controlled assessment briefs, which is worth 60% of their final grade. We are running extra support sessions in rm 36 on Wednesdays and rm 28 on Thursdays after school.
All students have been issued with Revision Guides and Revision Booklets, which they should be using to help them with revision for their fast approaching mock exams. All home learning tasks are being set weekly based on these aids.
Computer Science
Students should continue to develop NEA (Coursework) until Christmas
Deadline for NEA 22nd December 2017
After school sessions every week on Wednesday Room 29 (3-4:15)
MFL
Speaking exams November / December 2017
Yr11 will all sit their mock Speaking exam on 24th November – 1st December. This will be treated as an official exam and will count for 25% of their mock grade.
Each individual teacher has been given time off timetable to complete the examination. They will give their classes appointment times in the next few weeks.
Students will have an appointment time which will be the start of the official preparation time, 15 min before the exam starts. In that time, students will prepare answers to a role play and a photocard they have to describe.
The exam:
Timings: Foundation: 7-9 min and Higher 10-12 min + preparation time (12 min)
3 parts: a role play (unseen), a photocard (unseen) and a general conversation
It will be recorded to allow time for marking and standardisation across the team.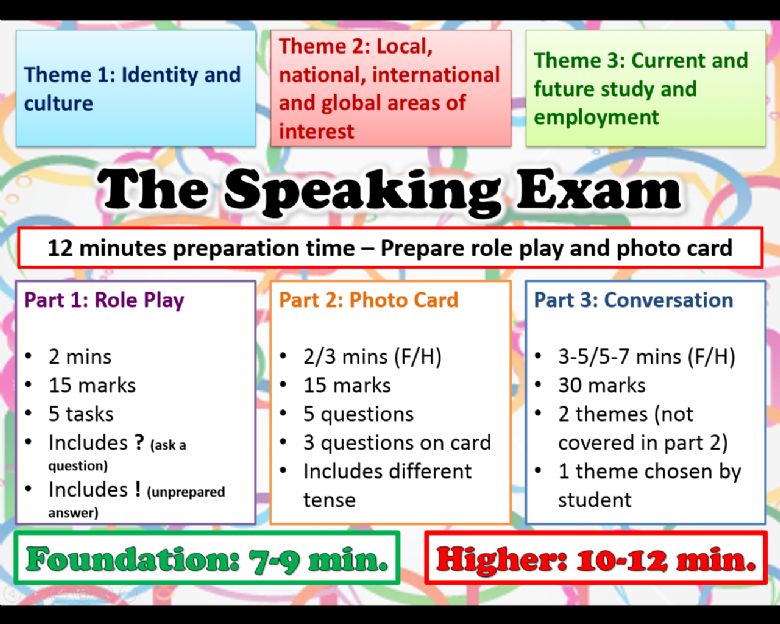 Preparation for Speaking:
Start preparing for the general conversation as soon as possible = as soon as the questions are given out, start answering them. When they've been marked by you teacher, start learning them! DON'T leave it till the week/ night before! A little often pays off!
Complete all class work and homework on time = The more you do in class and for normal homework, the better prepared you will be to answer general conversation questions on your own
How can you help your child for the speaking exam?
All preparation questions, and related homework will be corrected by the class teacher beforehand.
Try and ensure students spend as much time practising their Speaking questions at home. They can record them on their phones or use www.voki.com where they can write paragraphs and hear them in the foreign language
Get together: Practise their speaking questions with someone else. With a friend, your child can choose a topic and speak for one minute about it.
Memorisation techniques for Speaking and Writing tasks
Remember that we Learn:
10% of what we READ; 20% of what we HEAR; 30% of what we SEE; 50% of what we SEE and HEAR; 70% of what is DISCUSSED with OTHERS; 80% of what is EXPERIENCED PERSONALLY; 95% of what we TEACH TO SOMEONE ELSE
Some techniques to help you remember
Running Dictation put a text somewhere, walk to it, try and remember as much of a short section and go back to your desk to write it
First letters write the first letter of each word before you rewrite your answer. Missing Link write a paragraph with blanks (difficult words, verbs etc…)
Sing-a-longa-French! Remember your passage using a rhyme, song etc…
Pictionary use pictures to remember some difficult words/ sentences
Treasure Hunt place your writing in other parts of the house (toilets, fridge, shower etc…) and try and learn them. Jigsaw puzzle cut up your paragraph and put it back together
To remember, or not to remember… learn little every day (10-15min)
Translate each paragraph into English to help your remember you were trying to say. Try and write the translation on alternate lines
Read, cover, check write a sentence at the top of a piece of paper, cover it, write it underneath and check. If you made mistakes, try again. If not, go onto the next part.
Mock exams
Weeks starting 11th December and 18th December:
Trial Listening, Reading and Writing examinations to be completed in an examination room (Hall, Gym etc…)
Listening – F tier - 35 mins, 40 marks H tier - 45 mins, 50 marks students will sit both Tier
Reading – F tier - 45 mins, 60 marks H tier - 1 hour, 60 marks
Writing – F tier – 1 hour, 50 marks H tier - 1 hour 15 mins, 60 marks
Other useful information:
At the start of the summer term, students will sit their formal Speaking exam which will be recorded and sent to the exam board for marking. Until then, they will have plenty of opportunity to practise in class and at home.
We will agree the entry for all 4 skills examinations in January. Students will also get the opportunity to complete the Tier they did not take for the Reading papers in their own time if they wish to do so.
Music
Listening Unit
Using their copy of The GCSE Music Study Guide and the analysis we have covered in the listening lessons, they must now make their own personalised revision aids for all three study pieces from The Beatle's Album "Sgt. Pepper's Lonely Hearts Club Band". They must have a good understanding of the features studied but also able to identify them in the actual music on the CD to ensure they have the best understanding for the examination next year. We are finishing off this section and moving on to the other study pieces very soon.
Performance Unit
The music students have had their individual solo performance examination dates since we started back in September. The information can still be found on the Music Twitter page. They should now be close to having a polished solo performance ready to perform and be assessed for their coursework to the best of their ability during December. Read pages 193 - 205 in the study guide to remind yourself of the Performance unit if needed. The students also have their ensemble performance examination timetable for next year. This is given well in advance so that they can make arrangements to rehearse with the musicians of their choice. They must be well organised with rehearsals and communicate to their group in order to be successful in this area. AQA will allow the students to work with pupils in and outside of the music group, school, and can include adults.
Composition Unit
The students are currently working on one of their compositions. It is essential that they work on their composition just the same as their performance pieces on a weekly basis. Good progress is best made by working on their compositions in and OUTSIDE of the lesson in their own time. During their timetabled composition lesson, they receive feedback and advice on the previous week's work and a target in order for it grow further in the following week.
Every Thursday, 3pm to 4pm, in room 4, CGW holds a composition and performance clinic for students who would like more help and advice.
Drama
We are in the last month of an incredibly full rehearsal schedule for those in Fiddler on the Roof. Many of our year 10 and 11 students are in leading roles and are doing superbly. They will be working every Saturday until the show. Well done for their commitment and dedication and good luck for the show.
Coming up for Year 10 and 11 drama students is a play on 23rd January coming here. Splendid Theatre Company who are experts in the style of Brechtian theatre and they are performing Metamorphosis. All students can use this both to inspire their practical work and write about it in an exam and is mandatory for all Drama GCSE students. Cost of £6.00 a ticket and anyone is welcome.
Year 11 Drama students have their mock and technical practical exams at the end of January and will perform to an examiner mid-February. Rehearsals are ongoing.
Sixth Form News - November 2017
It was lovely to welcome so many of you to our Sixth Form Open Evening on the 8th November. As you will have been made aware on the night, applications for Sixth Form entry 2018 are now open. We provide a comprehensive support programme for our students which we are sure will assist your son/daughter in making their choices for the next stage of their life.
We request that all Application for Entry forms are completed and returned to us by the 24th November. This deadline will give you and your son/daughter the opportunity to speak to subject teachers at the Year 11 Parents' Evening on the 16th November about their suitability to study the subjects of interest to them.
We will use these subject choices when preparing our Curriculum Options form which will be distributed in January. It is at this time that your son/daughter will have the opportunity to select their preferred combination of subjects. They will attend Options Subject Talks on 24th January, which will give them the chance to find out more in-depth information about the subjects they wish to study. The Curriculum Options forms are to be returned shortly after this, by Wednesday 31st January. The Sixth Form Team looks forward to the meeting all the Year 11 applicants to discuss their option choices in more detail next half term.
The Sixth Form has seen a busy first term, with a number of events for students. Year 13, who are currently hard at work on their UCAS applications, were all involved in Peace Day in September. Guest speakers from a variety of charities, religious organisations and pressure groups lead the day's activities enabling students to hear, discuss and debate wide-ranging viewpoints on world conflict.
Sixth Form students were quick to snap up places to a regional TEDx Conference being hosted by the Fallibroome Academy which took place on Wednesday 8th November. Our students heard a diverse, interesting range of viewpoints and had the opportunity to network with students from other local schools.
Our Year 12 Career Ready group are preparing to go to London to participate in The Capital Experience in early December. They will be given the chance to visit a top UK company and attend a national student conference to kick-start their Career Ready journey. The Year 13 Career Ready group are about to deliver presentations about their summer internships, and we look forward to hearing about the skills that following the Career Ready Programme has given them.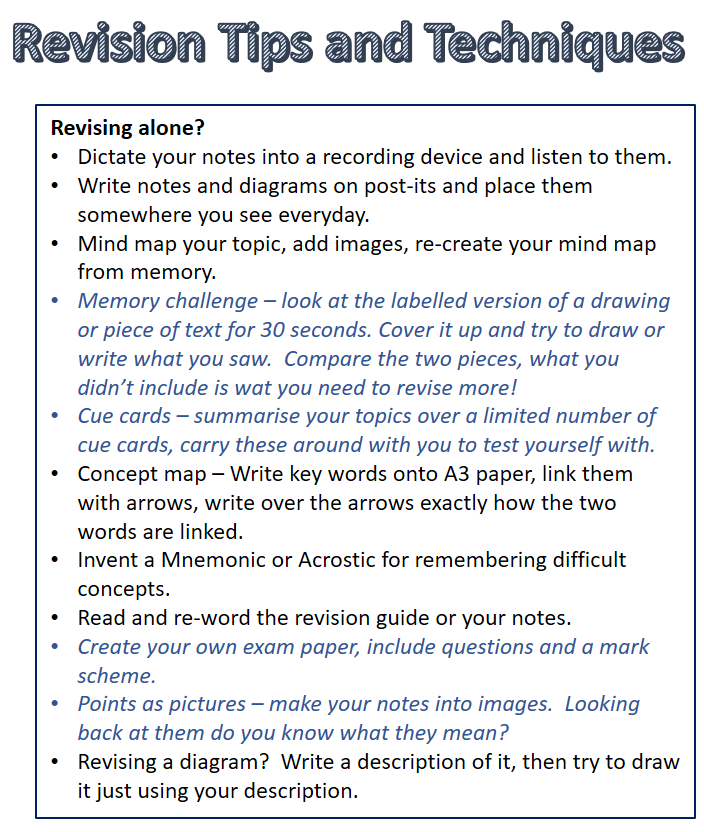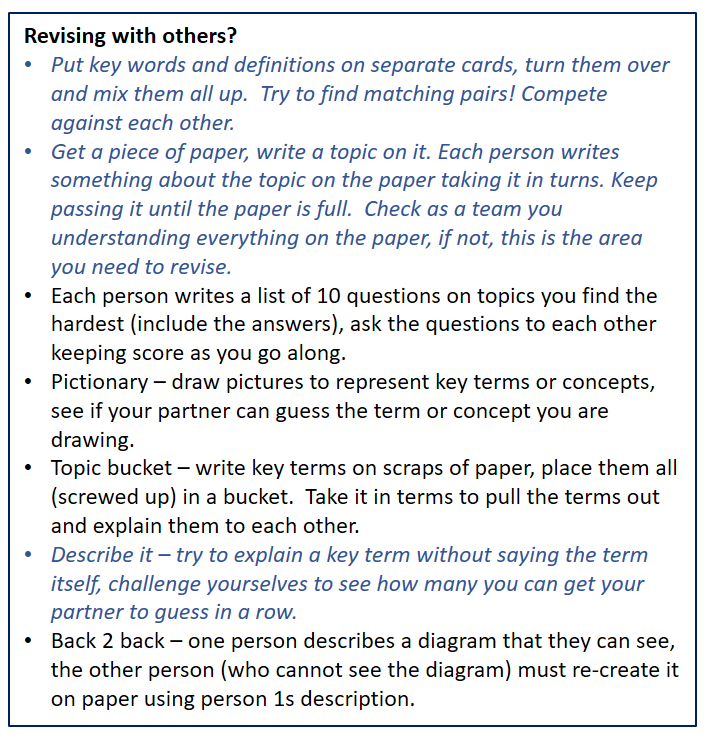 Useful Twitter accounts to follow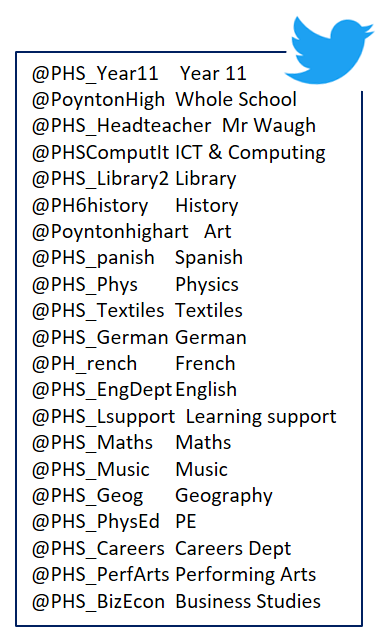 If you have any further questions relating to any of the content in the bulletin please don't hesitate to contact us at info@phs.cheshire.sch.uk
Kind regards
Andy Bennett
Assistant Head Teacher – Director of Standards and Student Progress