Physical Education
Director of Learning - Mr H Roberts Email
Physical Education is a department offering lots of opportunities to students at Poynton High School.
At Key Stage 3 students follow a wide range of activities which allow them to experience challenge, be active, develop skills and understand how to evaluate performance. Activities covered include football, rugby, netball, basketball, badminton, fitness,swimming, gymnastics, dance, tennis, softball, athletics, rounders and trampolining making full use of our fantastic facilities which include a swimming pool, a large sports hall, gymnasium and multi-gym.
At Key Stage 4 all students continue to develop their skills and understanding of Physical Education. Students can choose to follow courses in activities which they have already enjoyed at Key Stage 3 there are also opportunities to try out new activities such as Zumba, cheerleading and fitness training in the multi-gym. Students who wish to study this subject in more depth can opt to follow examination courses in GCSE PE or BTEC Sport. These courses are growing in popularity and we have an very good record of success with 97% of students achieving A* - C grade in Summer 2015 Physical Education GCSE.
In the Sixth Form examination courses in A Level PE and BTEC National Sport are offered. These courses have proved very popular and the departments results are excellent, consistently achieving higher than national standards.
Extra Curricular
We offer an extensive range of extra curricular clubs at school and we strive to ensure that these are fully inclusive to all students and cater for all abilities. We have fostered strong links with many external clubs where a number of our students regularly train and compete. Any student that is interested in pursuing a sporting activity outside of school should speak with a member of the team.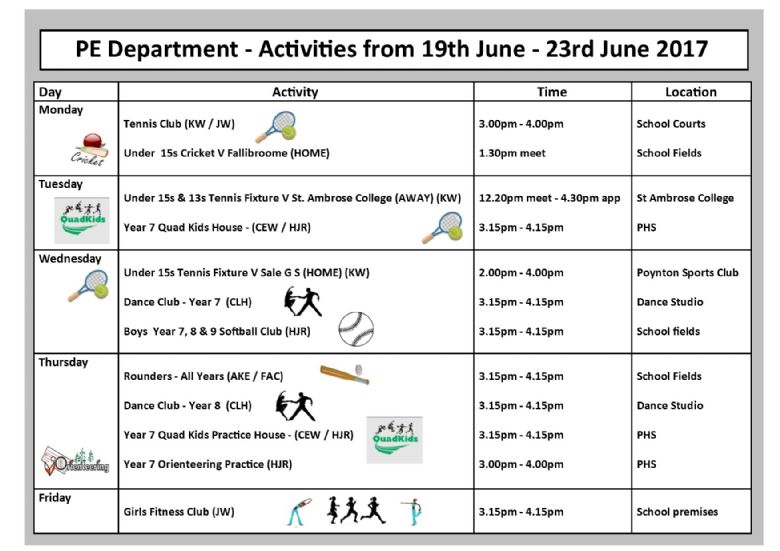 In winter we play regular fixtures in football, rugby and netball. There are often other competitions in sports such as basketball and badminton. In summer we have teams in cricket, tennis, rounders, orienteering, lacrosse and athletics. In addition we work in collaboration with external specialist coaches to provide access for our students to activities outside those taught on the curriculum.
A large number of students represent the school in inter-school fixtures and from this a number have been successful at District and County level.
The Physical Education Team

Director of Learning

Mr H Roberts

Core Physical Education Coordinator

Mr K Wooding

Examined Physical Education Coordinator

Miss C Wilson

Vocational Physical Education Coordinator

Miss J Wooldridge

Teachers of Physical Education

Mrs A Kennedy

Miss J Hancock

Mr M Henderson

Swimming teacher

Mrs C Thwaites
Key Stage 4 (Years 10 and 11)
At Key Stage 4 all students will continue with Physical Education as a core subject.
For students who so wish we offer a number of examination courses which they can opt to study including:
GCSE in Physical Education following OCR syllabus;
Edexcel BTEC Level 2 First Award in Sport;
These subjects have proved to be popular in recent years and results have been very positive. In 2015 97% of students achieved A* - C in GCSE Physical Education.
Key stage 5 (AS and A Level)
Students have the opportunity to study either A Level PE (OCR syllabus) or BTEC Level 3 Diploma in Sport (Edexcel syllabus).
These courses are very popular and our students have achieved excellent grades which have led to many progressing onto Further Education Sports based courses.